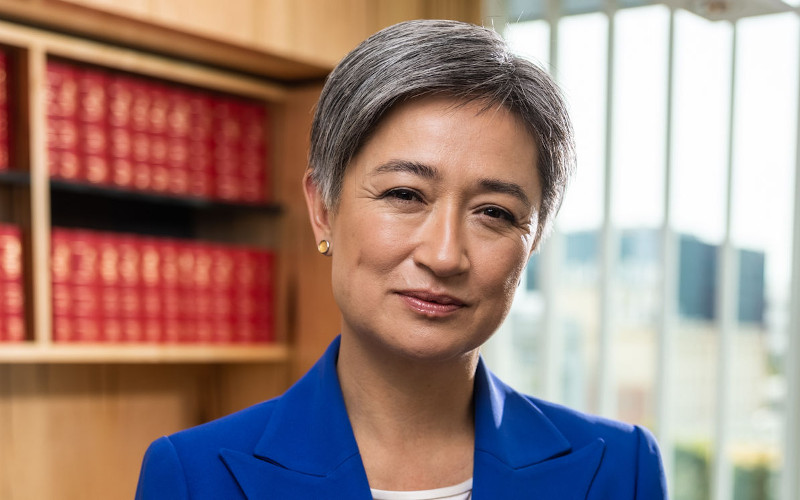 What are Southeast Asians'attitudes towards Australia? Distrust, bewilderment, admiration, contempt, indifference – pick your prejudice. How about disbelief? The best and latest indicator came with reaction to Foreign Minister Penny Wong's introducing the new Australian government to the people next door – in Indonesian.
Shock, horror – an Australian minister who's a polyglot. Aren't Oz politicians supposed to be cultural stumblebums? Like former PM John Howard, who dismissed anxieties about the decline in studies of overseas languages because English is 'the lingua franca of Asia'.
Such Anglo-arrogance assumes foreign leaders will speak our language, so make no big issue of visitors' linguistic skills. But the Senator's one minute Twitter clip (523,000 views) 'stuns nation' according to a breathless TV report.
Other Wow! responses revealed ignorance of a woman who's been in Parliament for two decades. In 1977 eight-year old Wong moved to Australia from the Malaysian state of Sabah with her Australian mother Jane Chapman when her marriage to Malaysian Chinese architect Francis Wong collapsed. Indonesian is based on the Malay language.
Wong's personal story of achievement and tragedy reinforces the multicultural society message. She deserves credit for opening up as she usually keeps her private life 'fiercely guarded ' while Asians want to know the personal ahead of policy.
But will it provide the tool to grind off the colonial leg-irons? No, according to James Chin, Professor of Asian Studies at the University of Tasmania:
'The biggest problem is the widely held perception among the Southeast Asian elites that Australia is 'deputy sheriff' to the United States … Many are sceptical that Wong (or anyone else) can change this position in the foreseeable future.'
The image promoted by Howard of a lone gunslinger drawing faster than the baddies dates back to 1999 when Australia infuriated Indonesia by backing the East Timor independence referendum. If Chin is right there's much road repair ahead, but we're still resurfacing, not fixing the potholed foundations.
The paucity of fresh thinking is clear because Wong appears to be using the same speech-writers as her predecessor Senator Marise Payne. Both laud the Association of Southeast Asian Nations though they know it's a dog's breakfast of disparate states long past its use-by date.
As reported on this website, Payne told diplomats and the media in Jakarta last September that 'engaging with ASEAN and supporting our partners in Southeast Asia is one of the best investments Australia can make in a stronger, more prosperous, and more secure future for our region.'
Now we have Wong in Singapore telling the International Institute for Strategic Studies that Australia is committed to the 'centrality' of ASEAN which has 'helped bring order, security and prosperity… Its rules-based approach to managing relations between its diverse members is one of its strengths.'
Among its many weaknesses is a rule prohibiting members from interfering in each others' affairs, however vile. It operates on the principle of musyawarah described as 'a common voice that's arrived at by a continuous process of discussion'. Long ago cynical Indonesians dubbed it NATO – No Action, Talk Only.
Apart from 'centrality' which is a political construct rather than an objective reality according to Singaporean diplomat Bilahari Kausikan (more from him later), the rest of Wong's plaudits are nonsense. But first some background:
Indonesia's second president, the kleptocrat and genocidal General Soeharto who ruled for 32 years, set up ASEAN with Thailand, the Philippines, Malaysia and Singapore in 1967. The intent was to block the advance of Communism. Ironically two latecomers are Red – Vietnam and Laos.
Myanmar, formerly Burma, is geographically the largest country in mainland Southeast Asia, aka Indochina. It joined ASEAN in 1997.
Two decades later the Myanmar junta started slaughtering its citizens, the mainly Muslim ethnic Rohingya. The killings intensified with last year's military coup after the nation of 54 million voted 87 per cent for the civilian National League for Democracy led by Aung San Suu Kyi. The 1991 Nobel laureate is now in jail.
At least 1,500 opponents of the putsch have been killed, and maybe thousands more according to Reuters. Close to 9,000 are still behind bars.
Wong's 'order, security and prosperity' claim for ASEAN would be news to those who live in terror or who've fled to neighbouring countries. Camps in Bangladesh's Cox's Bazaar hold almost a million Rohingya refugees.
Later in her speech Wong 'respectfully' added 'that the crisis in Myanmar is undermining regional security and stability' contradicting her earlier praise of ASEAN as a 'rule-based order'.
Myanmar is not the only worry. The former French protectorate of Cambodia, aka Kampuchea, is politically close to China. It's one of the world's most corrupt countries (ranking 157 / 180 according to Transparency International) in a region where graft rules – along with unchecked outrages against human rights.
A US State Department report claims forces under PM Hun Sen – a former Khmer Rouge commander who has held power since 1985 – 'have committed frequent and large-scale abuses, including extrajudicial killings and torture, with impunity'.
Bilahari Kausikan, the former Permanent Secretary of Singapore's Ministry of Foreign Affairs says ASEAN has failed 'quite miserably… we have meetings with all of our dialogue partners. (There are 11 and include Australia). However, the meetings have been extremely ritualistic, nothing much of substance is discussed.'
The peace has been kept because many of ASEAN nations are run by despots crushing critics. Three of the ten members are flawed democracies according to The Economist Intelligence Unit –Indonesia, Malaysia and Singapore – the rest are places where truth-tellers, dissidents and journos live in dread.
Kausikan wants ASEAN's roles redrawn and set up 'parameters with Great Powers.'
ASEAN is outdated and useless as Kausikan has admitted, but there's currently no other grouping to give Australia entrée to a region of 655 million people. Another anti-Red conglomerate, the eight-member Southeast Asia Treaty Organization set up in 1954, collapsed in 1977.
Despite its impressive title SEATO was dominated by the West – Australia, France, NZ, the US and UK. The British diplomat James Cable reportedly called it 'a fig leaf for the nakedness of American policy' and 'a zoo of paper tigers'.
Now Canberra has to either negotiate with each SEA state separately – or encourage Indonesia, Singapore and Malaysia to get involved with the Quadrilateral Security Dialogue of Australia, the US, India and Japan.
Nippon's former PM, the late Shinzo Abe, saw the Quad as an 'Asian Arc of Democracy'. There's talk of South Korea joining. Getting Indonesia on side will be difficult because Jakarta's long-standing policy of non-alignment has the status of holy writ in the Republic.
The next Quad meeting will be hosted by Australia in 2023 – a good opportunity to quietly abandon ASEAN and concentrate on the serious players in the region.
In her Singapore address Wong gave a subtle clue to Canberra's disquiet when she quoted Kausikan: 'If ASEAN did not exist, we would have to invent something very much like it to keep the peace.' That time has come.