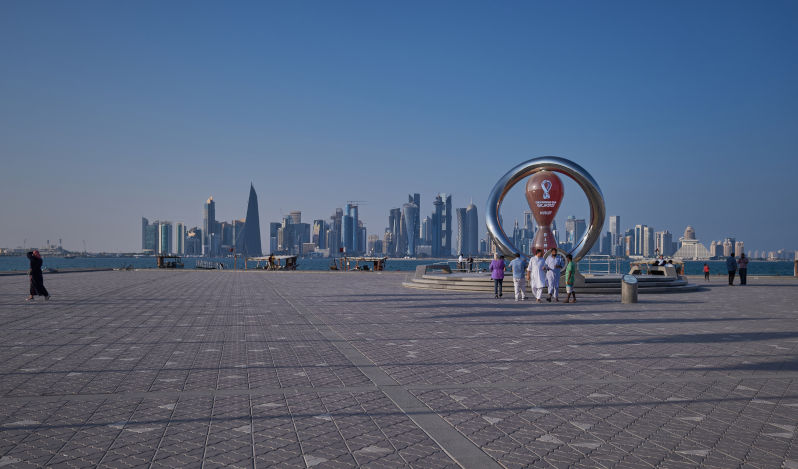 I will be watching some games – but I will do so with a bad conscience!
I am going to watch some games of the World Cup in Qatar (Nov 20 to Dec 18). I love football. I used to play it myself in Germany, Australia, and Switzerland. After the war, in Germany, it was like the circus in ancient Rome. It was the one event during the week when we forgot our empty stomachs and sad memories. Fritz Walter and Uwe Seeler were our heroes. When Germany won the World Cup in Bern, Switzerland in 1954—against all expectations!—it was a nation founding event for post-war Germany.
I have lost interest in recent years. Although I still admire the artistry of Pelé, Maradona, Messi, Beckenbauer, Neymar, Mbappé, and Co., I think that their salaries and purchase prices are obscene in a world where children are dying of hunger, where women can't feed their newborn, where millions are barely surviving in refugee camps.
I will be watching some games in Qatar—but I will do so with a bad conscience. And I object to the fact that FIFA has brought me into the situation in which what used to bring me joy, I now have to do with a bad conscience.
Qatar is hot. It is a desert. Indeed, when it was first assigned the World Cup in 2010 it was planned for June (summer). They had to postpone it to the winter. They could have given the World Cup to the Antarctic. Qatar has oil, gas, and money. That's it. They were able to buy the World Cup. Teams must play in air-conditioned stadiums—eight of them—built by migrant workers, some of whom died in the process and all of them were treated like slaves.
Corruption. There are reports that a lot of money flowed and that FIFA officials were themselves surprised that Qatar won the World Cup 2022. When it was threatened that FIFA may withdraw from the Qatar deal, it has been reported that Qatar engaged a US spy firm to monitor and influence football officials around the globe.
Human Rights. Women have little independent identity. Their freedom of movement is severely restricted. Male guardians are required for all major decisions, like being able to drive, study abroad, or whom to marry.
Homosexuality is illegal and gay and lesbian people are considered to be 'damaged in the mind'.
Migrant workers, millions of them, live and work under subhuman conditions. Their passports have been taken away and wage theft has occurred. Thousands of them have died while building the infrastructure for the World Cup.
Human Rights Watch has produced a Human Rights Guide for Reporters 2022 FIFA World Cup in Qatar where the details can be checked out. The Guide also makes reference to a long list of detailed reports of abuses.
Sportswashing. Qatar has been using sports events to make itself known. There is no problem with that. It is legitimate for a small country to secure its image and its future. But when it is done with corruption and espionage and when it denies human rights to a large section of its people it becomes morally problematic.
The Media. The press will be important. Their job will be delicate and difficult. Journalists will be watched and accompanied by 'security' guards. I hope that they will inform us about the nature of the turf, the atmosphere in the stadiums, and the kind of football that was played. They should also inform us how inventive players and officials were to make their views about human rights known. Journalists should go beyond the air-conditioned stadiums and souks and gondolas and visit migrant workers and talk to them about their living and work conditions. They should talk to women, about their life, and inform us about women's football in Qatar. They should visit the families of migrant workers in Nepal and Bangladesh and find out what they think and whether they have received reparations if their husband, brother or father has died. And they should not forget about Qatar after the World Cup. They should return a year later and five years later and see whether the World Cup has had any positive influence on the society in Qatar.
With all respect for cultural identity, human rights are universal and transcend and critique culture!
Of course, we must be careful that there is no anti-Muslim or anti-Arab feeling creeping into our awareness. Although football is the most popular game in Latin America and Europe, Africa and Asia are catching up, and we should be careful not to deny to smaller countries what we enjoy. But when you have to build air-conditioned stadiums to make play possible, you wonder whether the joy of the game has been replaced by greed and politics.
We also acknowledge that many teams display moral awareness with arm bands and flags. The Australian team even posted a video with a message for diversity.
Yet, given all of that, I will still have a bad conscience while I am watching.