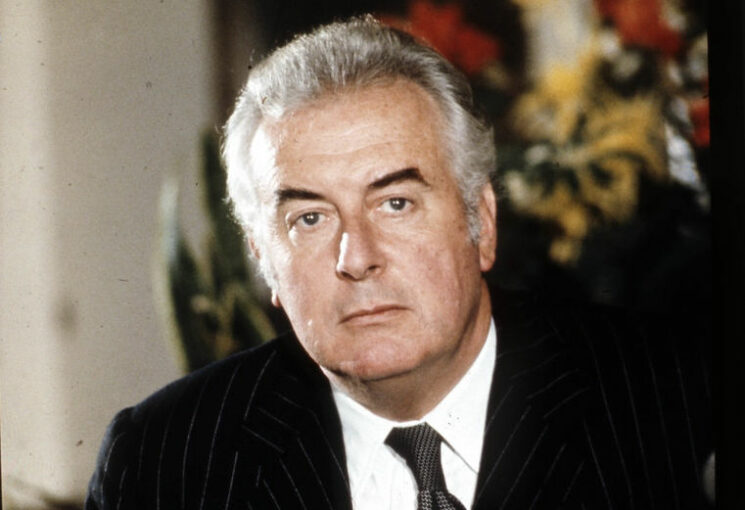 A good case exists for sacking the head of the Home Affairs department Michael Pezzullo for taking sides in internal political party matters among other activities, as recently reported by the Nine media group. There is an even stronger case that Sir Arthur Tange, the head of the Defence department should have been sacked in the 1970s.
But the then Prime Minister Gough Whitlam was the one who was sacked and Tange got off unscathed, despite presuming the right to lie to a prime minister about who ran the contentious satellite base at Pine Gap near Alice Springs.
Tange insisted on briefing the prime minister Gough Whitlam and his deputy Lance Barnard about Pine Gap immediately after Australia's December 1972 election, despite the intense pressure on their time at that stage. The briefing was skimpy, confused and inexcusably false. Tange failed to tell them Pine Gap was operated by the CIA's science and technology division, plus crucial private US contractors. Instead, he claimed it was run by a US defence agency. Nor did he tell them it was part of a vast US intercept program that captured a wide range of communications and other electronic emissions across a large part of the globe including Australia.
Tange also insisted that they could not say Pine Gap was a ground station linked to satellites. Yet the Coalition Defence minister Allen Fairhall had told parliament on 29 April, 1969, 'Pine Gap … is concerned with satellites'.
Meanwhile, eight daiquiri swilling young code clerks working in a high security vault at TRW, at a key CIA contractor in California, were briefed in much greater detail than Australia's two most senior leaders. A humiliated Tange was confronted by revelations that the code clerks held daily parties in the vault where they mixed cocktails with a special blender for destroying code cards. They brought in alcohol in special satchels which the security guards weren't allowed to inspect. One enterprising high school drop-out Christopher Boyce used the satchels to take out detailed information about Pine Gap, and plans for new satellite systems, that he sold to the Soviets.
Tange acknowledges in his memoirs that the only comment he allowed Barnard to make in a speech in parliament was that Pine Gap was "not part of a weapons system and could not be used to attack any country". This was untrue. A wide range of authoritative accounts demonstrate that Pine Gap collected, via satellite, a vast array of military communications, radar signals and other data that could be used in an attack on another country by locating targets and intercepting battlefield military signals.
Tange continued to try to control Whitlam. In October 1975, Whitlam became aware that the first head of Pine Gap Richard Stallings worked for the CIA from 1966 or earlier. He demanded Tange confirm this, which he did reluctantly.
Whitlam made a widely reported claim in Alice Springs on 2 November that the CIA had funded the National [Country] Party. He gave no details and didn't mention Stallings. The party's leader Doug Anthony denied the allegation. Based on US sources, I reported on 3 November 1975 that Stallings had worked for the CIA as head of Pine Gap and gave more details the next day. Anthony then told journalists that Stallings was a friend who had rented his Canberra house. He said the two families frequently holidayed together. On 4 November, Anthony denied in Parliament that he knew Stallings worked for the CIA. Tange tried to stop Anthony talking about Stallings. Refusing to be silenced, Anthony put a question on the parliamentary notice paper on 6 November challenging Whitlam to provide evidence when Parliament resumed on 11 November that Stallings worked for the CIA. Anthony referred to The Australian's report earlier that day that the State Department said Stallings 'had never worked for any US intelligence agency'.
Given that Whitlam knew this a lie – because Tange had belatedly told him the truth – he refused to mislead parliament by saying Stallings had not been a CIA employee. Whitlam prepared a reply making it clear that Defence (ie Tange) had recently told him that Stallings worked for the CIA. Later the same day, he read it over the phone to a horrified Tange who then told Whitlam's staff: 'This is gravest risk to the nation's security there has ever been'. Others might nominate the early days of the Pacific War as a more serious threat than confirmation of the existing public knowledge that a particular individual worked for the CIA.
Notice to terminate Pine Gap's activities could have been given from 10 December 1975. Ted Shackley, the head of the CIA's East Asia division, prepared a tough message on 8 November to send to ASIO headquarters. His telex raised the possibility of cutting off the intelligence relationship unless ASIO gave him a satisfactory explanation of Whitlam's comments on CIA activities in Australia that could 'blow the lid off' Pine Gap. ASIO passed the message onto Tange on 9 November and to Whitlam on 10 November. Once more Tange tried to control Whitlam. This time it was with a message that was false. Even if he had earlier worked for US Defence, Stallings clearly worked for the CIA in Australia, which was the point at issue.
On the morning of November 10, however, Tange sent Whitlam a note claiming that later that day the Pentagon:
"Will announce Stallings was employed by the US Defence department. This direct confrontation [with what Whitlam planned to say] must be avoided at all costs. Proposed formula for the answer to Anthony's question is overtaken by the intention of the US".
Tange should never have presumed the right to give the elected PM such a blunt order. The Pentagon made no announcement.
There was no reason for Whitlam to abandon his accurate answer based on what Tange had acknowledged earlier in the month. Shackley's telex removed any residual doubt about where Stalling worked at the time by bluntly stating, 'Stallings is a retired CIA employee'. This demonstrated that the State Department's 6 November public denial was a straight out lie, while the proposed Pentagon statement, if it ever existed, was no better.
The governor general, John Kerr sacked Whitlam at 1 pm on 11 November 1975 and installed Fraser as caretaker Prime Minister, although Labor still had a majority in the House of Representatives. There was no urgency. Supply would not have run out for another 19 days. Although information about the CIA's role in Pine Gap may have played no part in Kerr's decisión, it meant that Whitlam could not give his proposed answer to Anthony's question. I reported the gist of the telex message eight days before the election on 13 December 1975.
Tange's behaviour was highly reprehensible. No responsible public servant would have behaved towards a prime minister in such an arrogant, unprofessional, bullying and deceitful manner as Tange. He should have replied immediately to the Pentagon urging it not to make any statement that clashed with Whitlam's intention to give an accurate parliamentary answer stating the already publicly known fact that the CIA ran Pine Gap.
Given that Shackley had clearly stated Stallings worked for the CIA, it's hard to believe the US Defence department would put out a statement denying this. Despite requests to do so, Tange never demonstrated that the proposed statement existed.
He should've been sacked as soon as it was confirmed that he had lied Whitlam in December 1972.