Ignorance and prejudice on China are now entrenched in Australia, fed by media repetition of false narratives; possibly encouraged by US and UK origin foreign influences; and enabled by stubborn and inept Australian political leadership.
The Australian Financial Review (AFR) annual Business Summit 8-9 March 2021 offered a useful snapshot of the state of the Australia-China relationship as being experienced by Australian business. The title of the main panel carried the desired upbeat message from AFR:
'Beyond China: where do the new opportunities lie?
   What is at stake with Australia trade and political tensions?
   What are the opportunities to diversify China trade risk?
   How should business deal with China's assertive diplomacy?'
Panellists were mostly despondent. They saw a stagnating Australia-China policy relationship, and a complacent Morrison government unwilling to seek circuit-breakers to try to get it moving again.
This dramatic bar chart of Chinese investment in Australia 2014-2020, produced by the East Asian Bureau of Economic Research at ANU Canberra and published recently by the UK Financial Times, tells the real story: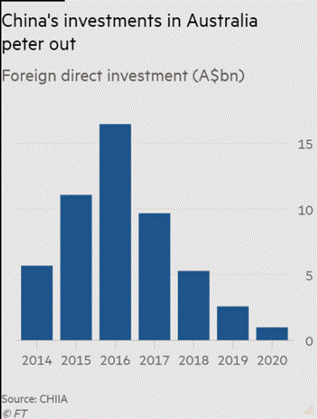 'Chinese investors turn away from Australia after Canberra crackdown', Jamie Smyth, Financial Times 28 February 2021
I have not seen this striking graph reproduced in any Australian media.
According to Smyth, the value of Chinese investment in Australia collapsed last year in the face of tougher scrutiny by Canberra, a breakdown in bilateral relations, and a global downturn in foreign investment owing to the pandemic. Five Eyes intelligence network members, 'including' US and UK, rushed to tighten oversight of Chinese foreign investment on national security grounds. Chinese investment in Australia which had peaked at A$16.5bn in 2014, the high point in the relationship, fell dramatically to A$2.6bn in 2019 and A$1.0bn in 2020.
I predict it may fall even lower in 2021, put off by hostile messages like the Australian Treasurer's veto
in August 2020 on the $600mn sale of Lion Dairy, a major Japanese-owned Australian dairy corporation – a producer of no strategic significance, already foreign-owned  – to a Chinese buyer. This was seen by Beijing as crude Sinophobia.
There has been no sign of leadership by Scott Morrison. He passionately condemned a Chinese social media meme satirizing reported Australian SAS war crimes in Afghanistan: this is the only China issue on which he has exerted himself over the past year. He declined on 19 November 2020 to rebuke Senator Abetz's McCarthyist suggestion to Chinese Australian witnesses in a Parliamentary Committee that they should condemn the Chinese Communist Party in order to prove their loyalty to Australia. A few days earlier, Morrison had said Australia will not back down to Chinese threats on security, freedom of speech or human rights.
The Australian anti-China think tank industry, nurtured by lavish Western defence industry corporate sponsorship and wealthy pro-US alliance Australian donors, would see the ANU graph as cause for celebration.  I wonder whether Peter Jennings, Director of the Australian Strategic Policy Institute (ASPI) might have a printout on display, with the caption 'We stopped these'?
The picture I take away from reading around the Australia – China relationship is that it is pretty much dead in the water now, and that the Australian public is uncomprehending and confused as to why.  It is a favourable climate for the growth of anti-China prejudice and anti-Chinese racism in Australia,  as in the US. Some Chinese Australians quietly worry about this.
It was therefore poor judgment – certainly poor timing – for the prestigious Lowy Institute to publish on 3 March 2021 a survey exploring Chinese Australian opinions on a range of current hot issues (e.g., views on democracy, views on China-Australia relations)  and comparing these with attitudes of a general Australian citizens' polling sample. The headline takeout was that Chinese Australians are less supportive of democracy than average Australians: more grist for the mill of people like Abetz. 
The Lowy study does not seem to have considered the appropriateness of such an exercise focusing on one particular ethnic group in Australia's multicultural society. How would other communities, e.g., Jewish Australians, like to be publicly put under the microscope in this way, testing their possible deviations from average Australian views? This survey is another sign to me of how Australian policy elites have lost balance and perspective on China.
The abnormal is being normalized. We have allowed the incompetent and borderline racist Morrison Government to lead Australians blindly towards a possibly permanent estrangement from China – a great power that is already by Purchasing Power Parity GDP data the world's leading economy. This was completely unnecessary. We had a good relationship with China when President Xi visited Australia in 2014. Since then there has been a tragic failure by Australian policy elites to perceive and defend Australia's real national interests.  
The Chinese government for its part is now walking away from Australia without regret. They must consider that they have done their best, and if Australia is too dim and ungracious to respond to their offered olive branch from Foreign Minister Wang Yi through Kevin Rudd, then so be it. Australia as a diplomatic partner is no longer of much interest to them. They have bigger fish to fry.  
Our remaining bilateral economic relationship – still substantial in monetary terms, it is true – is a historical legacy of better times, to be wound back by China once they have developed friendlier sources of reliable supply through resource investment elsewhere. The love and mutual respect is gone.
This situation is quietly deplored by more thoughtful people in the Australian business sector, while being celebrated by Australian outliers of the Five Eyes anti-China information warfare industry. Key influencers of public opinion here – mainstream newspaper and network television senior editors and commentators, strategic think tanks like ASPI, and the intelligence agencies – now pretty much speak with one voice.  They applaud, for Western alliance strategic reasons, the major economic and political decoupling of Australia from China that is going on. What better way to demonstrate our loyalty to our great ally? They happily point fingers at the alleged 'aggressive' policies of the Chinese Communist Party. They shrug off the damage being inflicted on the Australian export economy and its long-nurtured human relationships. Complacently, they advise Australian business to work harder to develop new markets – having themselves vandalised the best world market Australia has ever had or will ever have.
It is unknown, perhaps unknowable, how much these policies are being steered by Washington and London. Whatever Five Eyes clusters of influence have been set up in Australia over past decades, their traces have become so naturalised in Australian policymaking elites now that US or UK sources of foreign influence are hard to pinpoint. This is not to say they do not exist. It is logical and supported by history that they would exist.
Meanwhile, pro-China relationship voices in Australia are being intimidated and elbowed out of the public marketplace of ideas. Geoff Raby, still Australia's leading independent China expert, on 2 February 2021 endured a disgraceful attack under Senate privilege by maverick Independent Senator Rex Patrick. One has to wonder who encouraged Patrick and fed him data on Raby's directorship of the Chinese coal company Yancoal which has major assets in Australia, and its tax dealings with ATO.
Raby had, correctly under Australian law but no doubt painfully registered himself as an agent of Chinese influence under the 2018 Foreign Influence Transparency Scheme Act.
Bizarrely, Patrick now accused Raby of 'selling his influence to foreign corporate tax dodgers'. Raby has no way to defend himself. The intention seems to be to discredit Raby as a source of expert national interest-based advice on Australia-China relations.