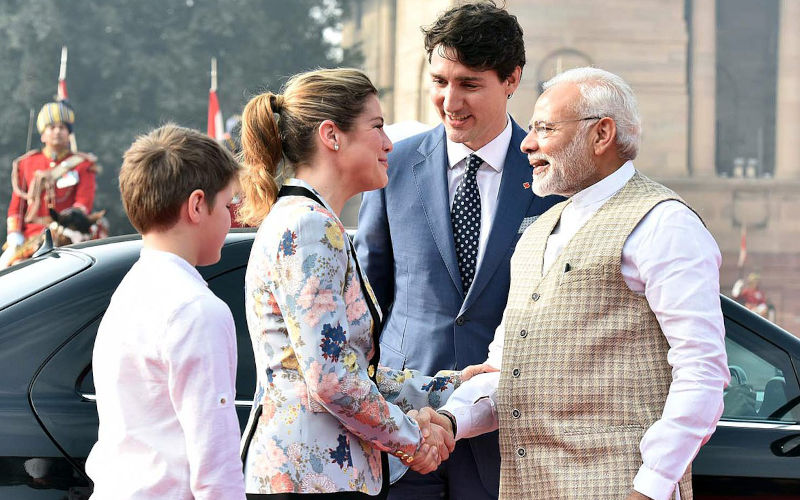 In Asian media this week: Canada, India tensions have sorry history. Plus: BRI shows most countries shun 'decoupling'; Myanmar rebels 'will never give up'; China to dominate green car market; Putin and Kim lead 'axis of outcasts'; China decline the fashionable chatter in Washington.
By the time of this month's G20 summit in New Delhi, ties between Canada and India had become so frosty that Justin Trudeau skipped the official world leaders' dinner.
The Canadian Prime Minister had been expecting a formal bilateral meeting with his Indian counterpart, Narendra Modi. Instead, he got what was called a "pull aside". The Hindu newspaper said the meeting was acrimonious.
As leaders returned to their home countries, India should have been feeling the warm glow of praise for its diplomacy and its rise as a global power. Articles like a South China Morning Post commentary calling the G20 India's triumph and an opinion piece in The Japan Times, on India's quiet rise as Asia's other demographic giant.
Instead, Trudeau dominated the news with his accusation that India was thought to be linked to the assassination in Canada of a Sikh independence leader, Hardeep Singh Nijjar. There followed reciprocal diplomatic expulsions and visa restrictions.
As Singapore's The Straits Times said, if the allegation is true "this is one serious matter".
This commentary, by senior columnist Ravi Velloor, noted a further layer of frost: Canada had added India to a list of countries, including China and Russia, to be investigated for interference in national elections.
Velloor said the murder accusation would affect US-India ties. President Joe Biden, only a few weeks ago had hosted Modi at a sumptuous official state visit. "Washington cannot ignore the openly stated concerns of its nearest neighbour and firmest ally," he said.
Australia and Britain had expressed concern.
But all three nations would realise that grilling Modi about the allegation would dampen his enthusiasm for falling into line with the US-led approach to Indo-Pacific security.
India's The Statesman recalled that tension between Trudeau and Modi has a sorry history.
Trudeau and his family visited India for eight days in 2018 but they were ignored almost until the end. They were received by a minister who was not even a member of the Cabinet and Modi merely tweeted a welcome at the last moment.
"The entire visit was a waste of taxpayers' funds," said an opinion piece by retired major-general Harsha Kakkar. "The Trudeau family visited tourist hotspots and posed for photographs rather than engage in worthwhile diplomacy."
From humble beginnings to global network
Ten years ago, Chinese President Xi Jinping gave a speech in which he recalled the history of the ancient Silk Road. He proposed that China and its Eurasian neighbours should build an economic belt along the Silk Road.
A month later, Xi delivered a similar address in Jakarta, but this time suggesting there should be a 21st century maritime Silk Road.
"These were the humble roots of what became known jointly as 'One Belt, One Road,' later rebranded into the 'Belt and Road Initiative,' in English," says a piece in The Diplomat magazine.
Now, says the article, 154 countries have signed official documents on BRI co-operation. The holdouts are: all of North America; most of Western Europe; much of South America; the Quad members – Japan, India, and Australia; Jordan and Israel; and the 15 countries that don't have diplomatic ties with China. Plus, curiously, North Korea.
"It's unsurprising that there is a strong correlation between national wealth and BRI membership," says the writer, Shannon Tiezzi, the magazine's editor-in-chief. "Over 90 per cent of both lower-middle and low-income countries (have) joined."
Tiezzi says the growth of the BRI can be understood as symbolic: a picture of countries whose aspirations for their relationship with China outweigh their concerns.
"The BRI's reach today is important, if only as good reminder that the vast majority of the world is not interested in 'decoupling' from China," she says.
An article in Hong Kong's South China Morning Post, written by regular commentator David Dodwell, makes the point that it is not a good idea to mention the BRI in polite Western company. "The damning or dismissive consensus is deafening," he says.
But, Dodwell says, the infrastructure that has been built so far has boosted China's ability to forge stronger trading links across Asia and Africa. "This has altered the balance of global economic power and transformed the prospects for many developing countries worldwide."
Diary of a revolutionary medic
When events in Myanmar are reported these days, the news usually tells of the fate of political prisoners, such as Aung San Suu Kyi, or of ASEAN's feeble and futile attempts to persuade the military junta to end its violence and oppression.
A civil war continues, largely unreported, with the junta easily getting modern weaponry, mainly from China and Russia, as spelled out in a recent Bangkok Post story.
The story is a commentary on a recent UN report, The Billion Dollar Death Trade: International Arms Networks that Enable Human Rights Violations in Myanmar. China and Russia have supplied advanced weapons to the military, with sales since the 2021 coup amounting to $US400 million and $US260 million respectively.
For the people of Myanmar, this is a revolutionary war to defeat the military that seized power from the elected government.
Frontier Myanmar, a Burmese exile online magazine, this week provides a reminder of this brutal, unequal war – a first person piece by a young woman working as a medic in remote villages and forests of eastern Myanmar, near the Thailand border.
The woman was a final-year medical student when she left Yangon. Her boyfriend is a doctor.
She tells of building makeshift hospitals but being forced to move several times because of mortar or bomb attacks.
"Our days were exhausting," she writes. "Our hospitals admitted Karenni soldiers with injuries from shells and landmines, as well as gunshot wounds. Under the guidance of specialist surgeons, we conducted three to six major operations each day…We continued to operate even as battles raged nearby. The hours would tick by fearfully as drones and fighter jets passed overhead…
"An airstrike can destroy our homes and possessions but not our spirits. We grieve our losses but never want to give up."
Cars: Germany for luxury, Japan for efficiency but China for EVs
China has been the world's biggest car maker since 2009 and this year it has passed Japan as the largest car exporter. The export performance was boosted by sales to Russia and increased demand for electric vehicles.
An article in The Japan Times reports the International Energy Agency has forecast that 18 per cent of all automobile sales this year will be EVs – up from 4 per cent in 2020. It expects that proportion to rise to 35 per cent by 2030.
The writer, Brad Glasserman, deputy director of the Centre for Rule-Making Strategies at Tokyo's Tama University, says: "EV dominance matters because electric vehicles are the future.
"Imagine a world in which green cars, if not green tech generally, is associated with China, the way luxury cars are linked to Germany and manufacturing quality and efficiency are with Japan."
European carmakers and politicians are alarmed by a tsunami of Chinese EV imports that is accelerating as Europe phases out internal combustion engines.
Last week, the EU launched an anti-subsidy investigation into Chinese EVs.
Al Jazeera says the probe is the highest-profile case against China since an investigation into Chinese solar panels a decade ago.
European Commission President Ursula von der Leyen said: "Global markets are now flooded with cheaper Chinese electric cars and their price is kept artificially low by huge state subsidies."
But Global Times, an official Chinese newspaper, says many people in Europe are worried the investigation might lead to a new trade war that will not resolve the competition challenges the EU faces.
It says the price advantage of Chinese EVs is a result of the country's effort to develop large-scale industrial chain, not of government subsidies.
Friends and ammunition – the Putin-Kim arms deal
The meeting last week between Russia's Vladimir Putin and North Korea's Kim Jong-un was held behind closed doors but the media speculation is that they agreed on military and space co-operation.
An editorial in Japan's The Asahi Shimbun noted that Putin chose a spaceport as the venue for the summit. "The venue and the list of officials who attended the summit leave no doubt that the aim is to demonstrate to the United States and other countries that the two nations are expanding and upgrading their co-operation in the space and military fields," it said.
The Korea Herald said in an editorial the two leaders might have brokered dangerous deals, with North Korea to supply conventional weapons, such as artillery shells, and Russia to transfer its latest weapons technologies.
The Kremlin, it said had stressed the need for more co-operation on "sensitive areas that should not be disclosed".
The paper said: "If Russia transfers technologies on satellite launching and the atmospheric re-entry of an intercontinental ballistic missile to North Korea, the weapons would be a serious threat, not only to the Korean Peninsula but also to the international community."
It suggested the South Korean Government should consider opening the way for the country to become a nuclear power.
Ucanews.com, the Asian Catholic news site, carried a piece by Benedict Rogers, its human rights columnist, saying the two leaders had agreed to an arms deal that should trouble both Kyiv and Seoul. "The deepening bonds between two of the world's most brutal dictators suggests the emergence of a new 'Axis of Evil'," Rogers said.
The Korea Times published an article by former Swedish Prime Minister Carl Bildt saying Putin had obvious reasons for embracing Kim. "Putin is running low on both friends and ammunition," Bildt wrote in a piece distributed by the expert writers' group, Project Syndicate.
Russia and North Korea were international pariahs, he said. The few countries that sided with Russia in the Ukraine war constituted an international rogues' gallery – Eritrea, Syria, Nicaragua, Belarus, Mali and North Korea.
"We are witnessing the emergence of an axis of outcasts," Bildt said.
China economy: reinvention, meltdown or muddling through?
The fashionable chatter in Washington these days is what to do about a China whose economic power might already have peaked. Jonathan Eyal, Global Affairs Correspondent of The Straits Times, says the latest edition of Foreign Affairs – the voice of the US foreign policy community – publishes four substantial pieces that all take as their starting point that China is declining.
"All are pondering what the US could, or should, do about it," he says.
The debate is gaining so much traction, he says, that Chinese Ambassador Xie Feng wrote an opinion piece in The Washington Post saying, "the Chinese economy is doing better than you might think".
Says Eyal: "The real question – which for the moment remains unanswerable – is whether this switch from fear about a rising China to apprehension about China's decline is just a passing American fad to be discarded with the first uptick in the Chinese economy or whether it will become entrenched, in which case it will result in a fundamental reassessment of Washington's global strategic posture."
Commentator Dan Steinbock, the Finnish founder of a business advisory firm called the Difference Group, writes about such an uptick in an opinion piece in China Daily.
In July, he had written that China's economy was rebounding and the recovery would likely strengthen in the second half of the year.
"Now that seems to be the case," he says in this week's article. "The better-than-expected economic data for August suggests that China's economic recovery is strengthening."
Naturally, not every economist agrees. Donald Low, a professor at the Hong Kong University of Science and Technology, says: "The Chinese economy is currently in dire straits."
Writing in The Diplomat magazine, Low says both the China bulls and the China declinists might be wrong. "Just as China's rise to become the largest economy in the world was never pre-ordained or inevitable, neither is the end of the Chinese miracle a foregone conclusion," he says.
It was possible to develop optimistic and pessimistic scenarios. "A third scenario is a middle one between the China Reinvented and China Meltdown scenarios that sees the Chinese economy muddling through its current debt problems," Low says… "In my view, this scenario is the most likely."