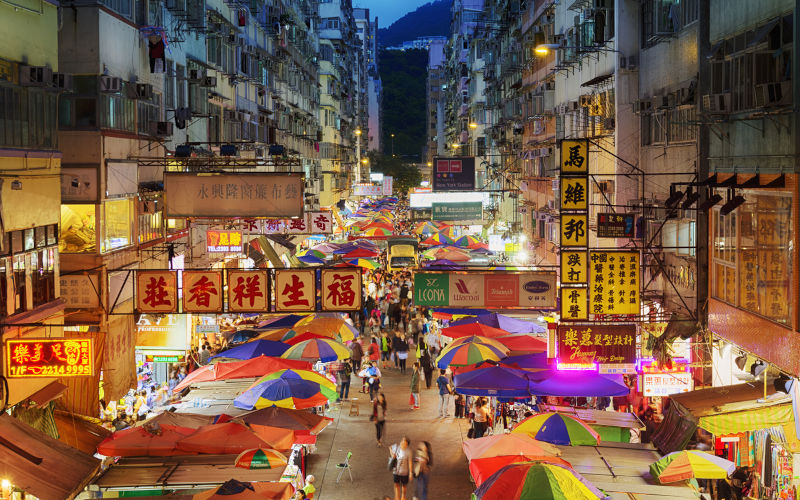 The year of the Rabbit has arrived, and Hong Kong is bouncing back with a vengeance.
Recently, we've seen dramatic changes in the Covid situation both here and across the border. And it's been a long wait, as Hong Kong has been having a tough time since mid-2019 when the infamous anti-extradition protests started and all too shortly afterwards morphed into full-scale rioting.
And nobody can deny that it has been extraordinarily distressing for those of us who love Hong Kong and have made this our home. Watching the city being torn apart by the black-clad rioters daily and witnessing the exodus of many Hong Kong residents as the pursuit of "Zero Covid" brought doom and gloom to this usually lively city.
And making matters much worse over these almost four years has been the firehose of anti-China, anti-Hong Kong rhetoric coming from governments in the US, UK, The EU, Canada and Australia, along with their buddies in the western media such as the BBC and NYT. All were encouraged and applauded by their "Shills" (aka foot-soldiers), such as Joshua Wong, Benny Lai, Martin Lee, Jimmy Lai and Nathan Law, to name just a few of this "gang".
For many months in 2019 and 2020, we were subjected to daily headlines from around the world claiming that the will of Beijing was destroying Hong Kong. To quote Mr Pompeo, we were now a "Gulag". We would receive concerned communications from friends and relatives overseas asking if we were okay; one wondered if I, not being ethnically Chinese, would actually be able to continue to live in Hong Kong even after 45+ years!
We grew tired of explaining that what they read from their trusted news sources was a total fabrication. Meanwhile, the media salivated over the hope that the tanks would roll across the border and provide them with the Pulitzer prize news story. To their disappointment, it never happened.
And, of course, once Covid hit and the borders slammed shut, Hong Kong and China retreated behind high walls. As a result, it became effortless for the outside world to spin their stories of just how terrible things were, not only in Hong Kong but also, of course, in Xinjiang and Tibet.
Fast forward to today as we start the year of the Rabbit and it is extraordinarily gratifying to feel the Hong Kong spirit coming back to life. And there is icing on the cake because, as we can now see on an almost daily basis, the folks in Washington, London, Canberra, Brussels, Ottawa and all their media buddies are increasingly "twisting in the wind" as they attempt to continue to paint a negative picture of Hong Kong, with the contradictions becoming increasingly exposed.
To list just a few of these contradictions:
Having been endlessly lectured on the importance of the Rules-Based International Order, we can now amuse ourselves watching the promoters of this concept turn their backs on it when it no longer suits their narrative. A perfect example of this is the case of the "Made in Hong Kong" labelling on HK-made products. The Trump administration decreed that they would no longer accept any goods marked "Made in Hong Kong", instead requiring they be labelled "Made in China".
This is hardly significant as Hong Kong is no longer a manufacturing hub, but in recent months, Hong Kong took this to the WTO, which ruled that the US was out of line. The classic response to this ruling from the US was, "The United States has not and will not cede its judgment or decision-making over essential security matters."
Now how anyone can explain the labelling of a tee-shirt or toy as an "essential security matter" is quite beyond me, but this is a perfect example of how deep the anti-China brigade has to dig to come up with anything not aligned with their rhetoric.
And then we come to the case of Jimmy Lai, ex-of Apple Daily. Following a recent trial for a fraud offence regarding allowing unauthorised and unrelated companies to occupy premises exclusively leased to Apple Daily, the guilty verdict and related sentencing resulted in Washington's predictable knee-jerk reaction. In their deluded world, this was an attack on the freedom of the press, not the result of a criminal commercial activity.
Adding more fuel to this fire, UK government ministers weighed in on Mr Lai's case, a clear case of foreign interference in Hong Kong's domestic affairs. They added the new term "Lawfare" to describe the multiple charges facing Mr Lai.
It seems that if Mr Lai were to get so much as a parking or speeding ticket, Washington and London would feel the need to express outrage for the injustice to "their man". But we should not be surprised by London's introduction of the term "lawfare" as they have been executing this process to perfection for years on Julian Assange!
Turning now to the role of the "foot-soldiers", who played their roles to a very appreciative government and media audience, always ready to publicly applaud these supposed champions of the "Rules-Based International Order", lapping up the moment of glory as they were welcomed with red-carpet treatment by self-seeking politicians around the world not to mention the click hungry journalists looking for spectacular soundbites. Joshua even merited a Netflix movie for his efforts. Some felt the long arm of the law here in Hong Kong while others have done a runner and while sitting in the UK, the US, Canada and Australia are trying their best to continue to spin their web of deceit.
The case of Wang Liqiang is particularly instructive, having surfed the wave of anti-China rhetoric in 2019, spinning a story of how he was a defecting PRC spy and was seeking asylum in Australia, clapped enthusiastically by Scott Morrison and the press with 60 Minute's "WORLD EXCLUSIVE: Chinese spy spills secrets to expose Communist espionage" taking the gold medal, his "wave" has faded, his story totally debunked. His story may very well not be the last of its kind.
So now, as we move into the year of the Rabbit and the walls surrounding both Hong Kong and China disappear, it is going to be a great deal easier for people from the outside world to see with their own eyes just how things are here in Hong Kong. They'll soon recognise that this is still an open and vibrant society. In addition, we have no restrictions on access to the outer world, an extremely low crime rate, unfettered access to the Internet and foreign media, and an open and welcoming approach.
Against this background, the usual detractors will find it an uphill struggle to maintain their rhetoric. I look forward to watching them "twisting in the wind" as they attempt to square their circle. Kung Hei Fat Choi