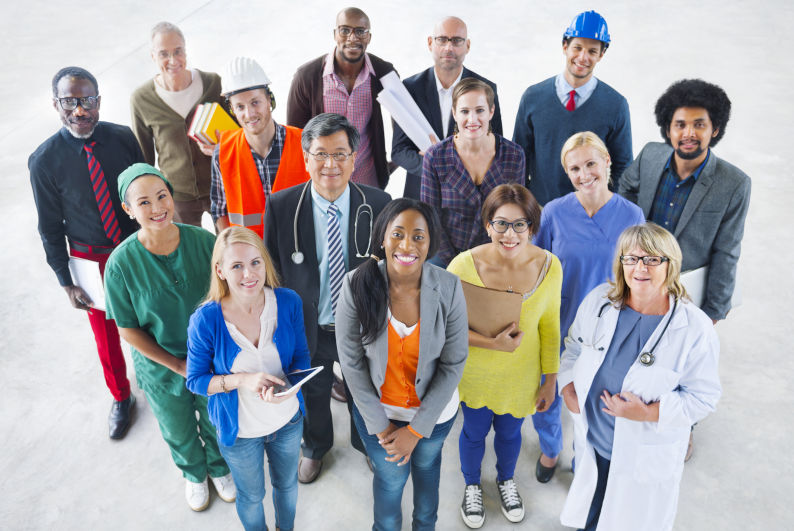 Businesses are crying out for more workers. But boosting permanent migration won't fix their problem. Here's why.
Australia has a worker shortage. Unemployment is at its lowest levels since the 1970s and job vacancies are skyrocketing. You can scarcely walk down the café strip without seeing an ad in the window calling out for more baristas, chefs, or bartenders.
Businesses are doing it tough: the number of jobs unfilled doubled between February 2019 and May this year. To help ease the pain, business groups want the government to lift Australia's permanent migration intake to 200,000, an increase of 40,000. The government appears set to heed their call. It's an understandable decision, but it won't solve the problem.
In the short term, more permanent migrants would not mean more people in Australia. Why not? Because most people who receive a permanent visa are already in Australia on a temporary visa (see Chart 1). Increasing the number of permanent visas simply means that some temporary visa holders already in Australia never have to leave – although offering more permanent visas may also attract more migrants to Australia on temporary visas.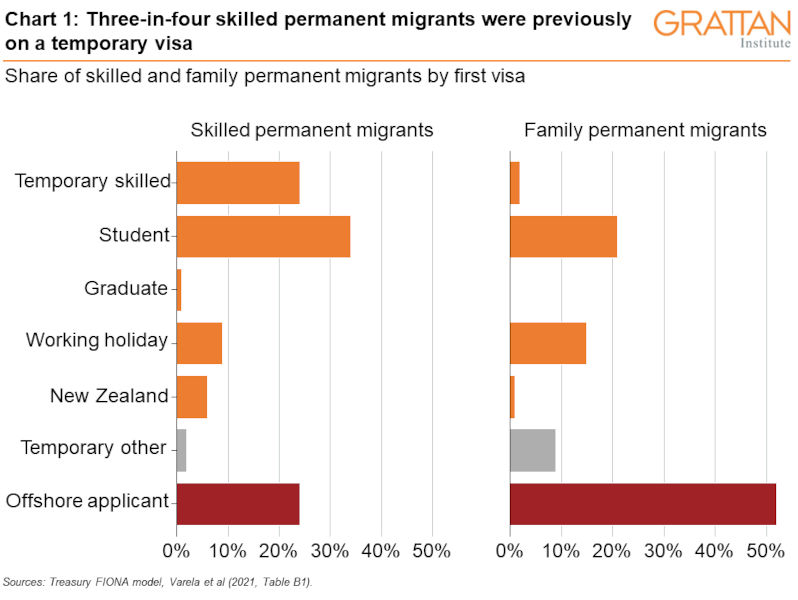 Even if the government gives priority to applicants from overseas (as the new Minister for Home Affairs, Clare O'Neil, has already flagged), more permanent migrants still won't fix the worker shortage because when there are more migrants there are also more jobs. Recent migrants spend more in Australia than they earn (see Chart 2) – which adds to the demand for jobs.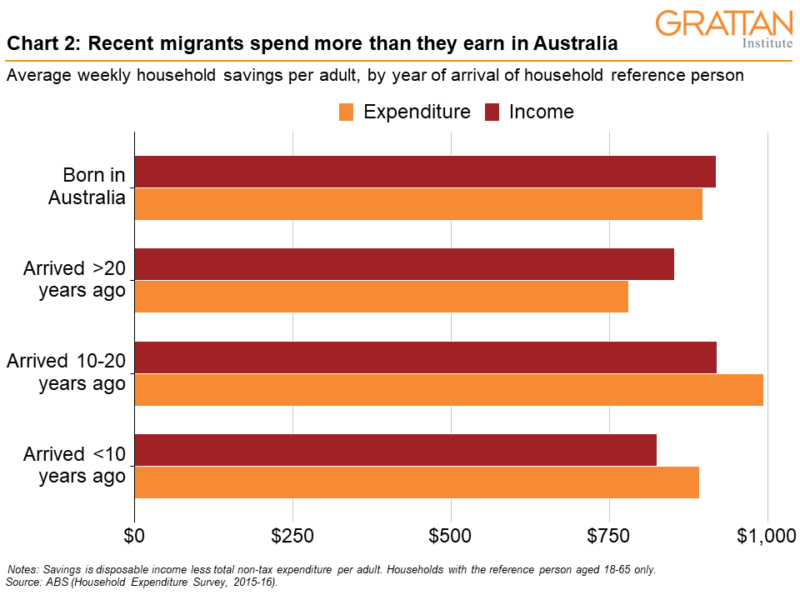 A targeted increase in the permanent migrant intake might be able to fill skill gaps in specific industries. For example, Australia already recruits many aged-care nurses as skilled permanent migrants, who make up roughly 15 per cent of the workforce (see Chart 3).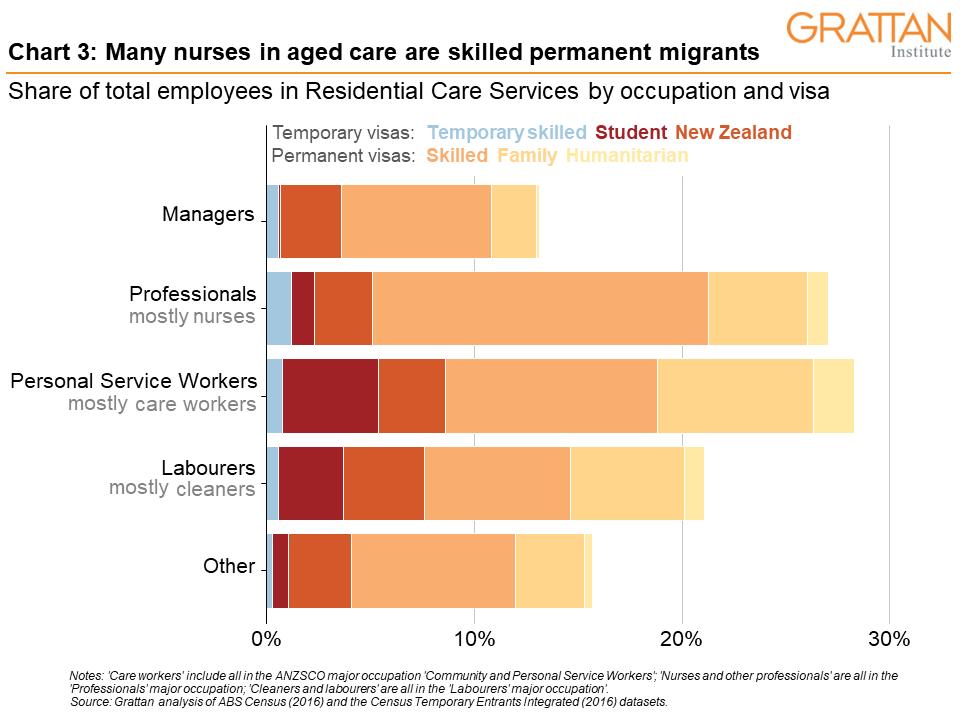 But even a targeted program won't make up for the fact that most of the migrants missing from the Australian labour market don't come here on permanent visas.
The number of student and working holiday visa-holders plummeted when our borders were shut because of COVID in 2020 and 2021, and those numbers have yet to recover (see Chart 4). These visa-holders work in some of the industries suffering the worst labour shortages, such as food and accommodation services. But permanent migrants generally don't work in hospitality and tourism, where wages are low; instead, they tend to work in high-wage industries such as professional services and finance (see Chart 5).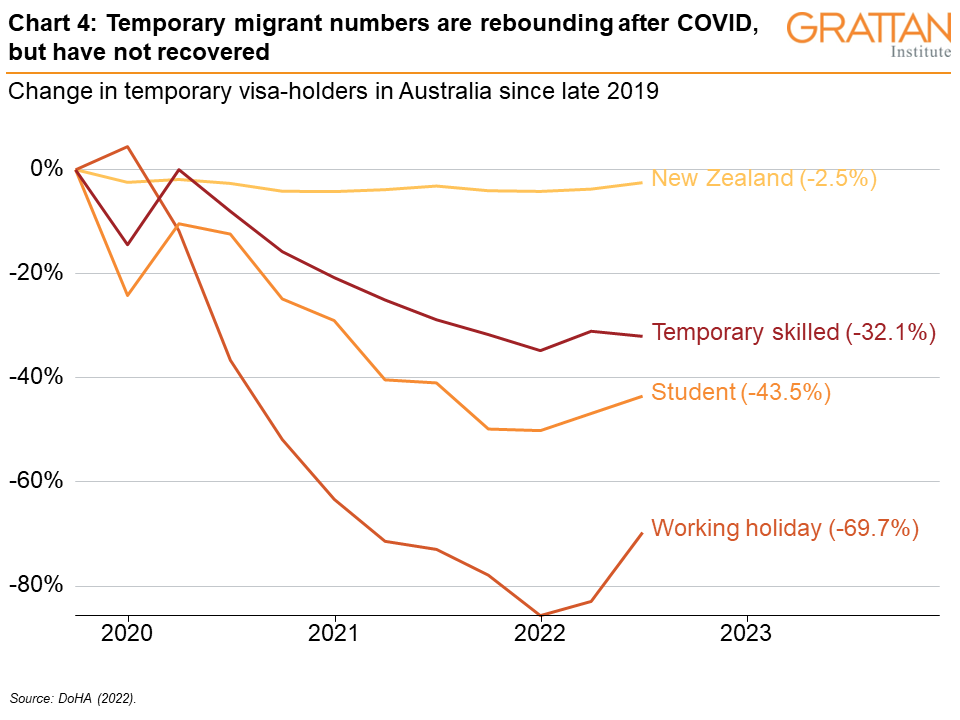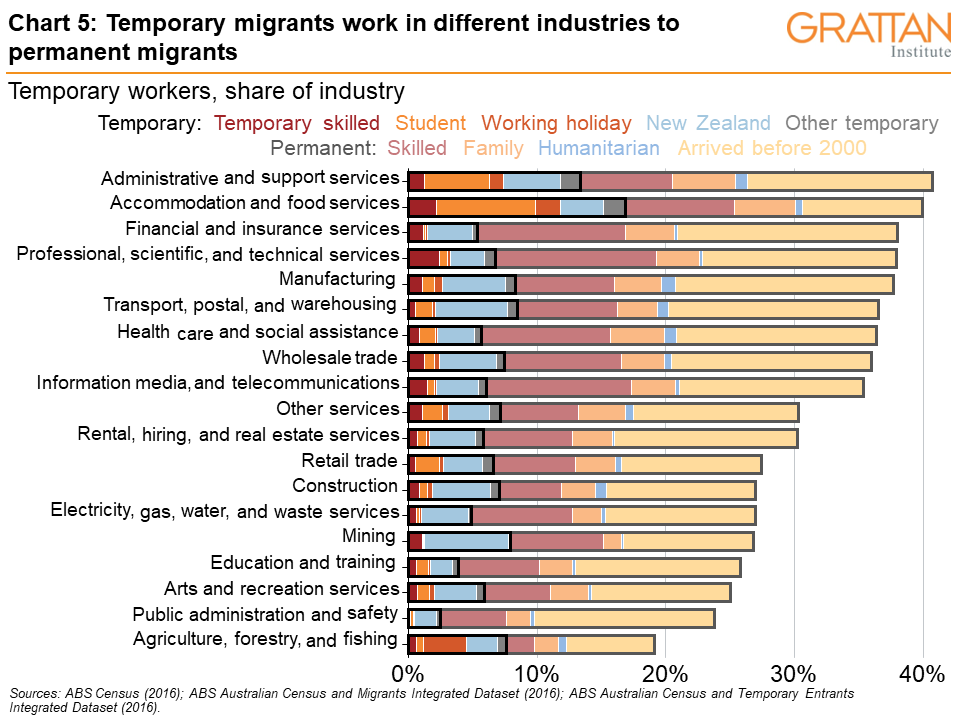 Increasing the number of permanent migrants to Australia would have one big benefit, however. Migrants who come on a permanent skilled visa pay taxes here for decades. Over their lifetime, they generally pay more in tax than they cost in government services. So, boosting the intake could be a way to ease the pressure on the federal budget caused by the pandemic.
Grattan Institute modelling suggests that increasing the size of the permanent intake from 160,000 to 200,000, and allocating those extra visas to skilled workers, could offer a $38 billion boost to federal and state governments combined over the next decade (see Chart 6).
Migration does not eliminate the costs of population ageing, since migrants themselves also age. But even in the long term, each additional cohort of 40,000 skilled migrants would deliver a $7 billion fiscal dividend to federal and state governments combined over their lifetimes in Australia after accounting for pensions, health and aged care, and other costs in old age.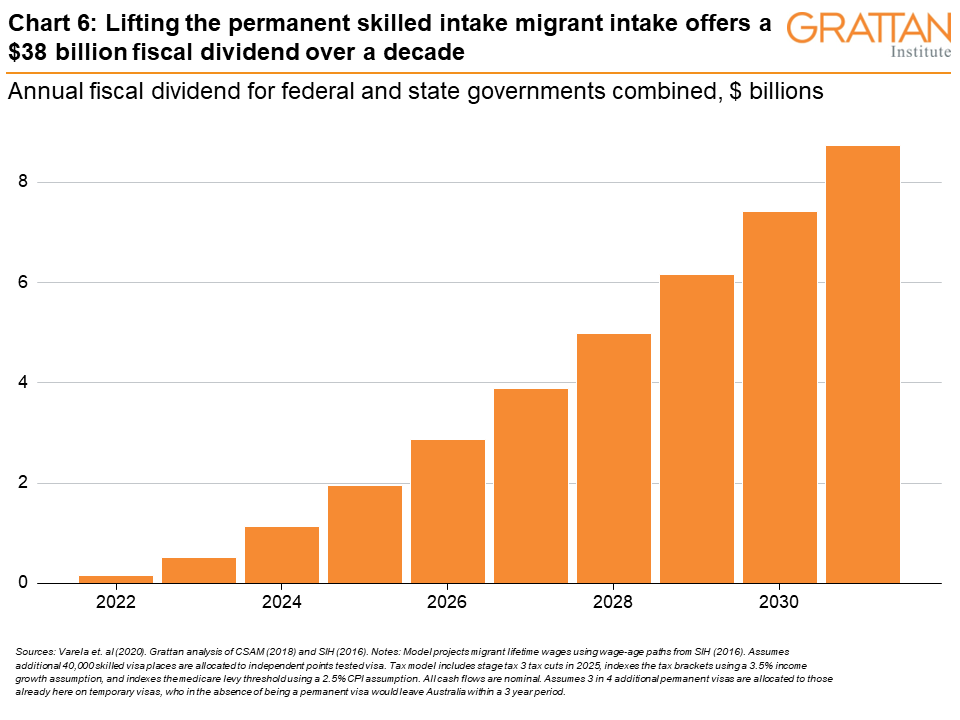 But raising the intake would also add to demand in Australia's already tight rental markets, especially as housing supply has failed to keep pace with demand.
Housing demand from migration shouldn't lead to higher prices if enough dwellings are built quickly and at low cost. But in recent decades, home building has not kept pace with increases in demand. Reserve Bank researchers estimated that the high migration in the first decade of this century resulted in housing rents rising 9 per cent higher by 2018 than if population growth had stayed at 2005 levels. We estimate that increasing the annual migrant intake by 40,000 a year would, over a decade, lift rents by up to a further 5 per cent. Lower-income renters would be hurt the most. And a larger population could put greater pressure on our scarce environmental resources, such as clean water and air.
Even though increasing the permanent skilled intake isn't the solution to Australia's tight labour market, migration can have a role in addressing skills shortages.
Migration is particularly effective for addressing skills gaps in jobs where it takes time to train workers. However, the current system is largely ineffective at addressing these gaps.
Currently, employers can sponsor people into jobs only when their occupation is deemed eligible by being listed on an approved occupation list. It's an approach that makes sponsoring workers much slower and more complex than it needs to be.
However, many of these jobs offer higher wages because of the time it takes for workers to gain suitable skills and qualifications. We should move away from occupation lists toward a wage threshold, because jobs, and the wages they offer, are a better guide to skills than 'occupations'. Rather than drawing up lists of occupations that would benefit from skilled migrants, the government should assess which migrants bring valuable skills simply by looking at the wages their jobs attract.
If Australia introduced a wage threshold of $85,000 a year for the permanent skilled program – the equivalent of median annual full-time earnings – we could stop relying on those clunky and out-of-date occupation lists and instead focus on what matters: the wages employers are willing to pay to workers.
Similarly, the federal government should raise the minimum salary threshold for sponsoring temporary skilled migrants to $70,000 (currently it is set at $53,900), while allowing employers to hire temporary skilled migrants into jobs in any occupation, provided they are paid the same as equivalent Australians doing similar jobs.
Exclusively targeting high-wage jobs for temporary sponsorship would mean less red tape for sponsoring employers, especially since high-wage workers are at much less risk of being exploited. Our research shows that sponsored workers earning less than $70,000 a year tend not to get wage rises once in Australia – reflecting their lack of bargaining power – whereas higher-wage temporary migrants do (see Chart 7).
Labour-market testing doesn't work and should be scrapped. This would enable firms to sponsor workers more quickly.
Targeting wages, not occupations, for both temporary and permanent sponsored visas would also provide a much clearer pathway for many temporary visa holders to secure permanent residency, since they'd no longer be at the mercy of occupation lists that can change at any time.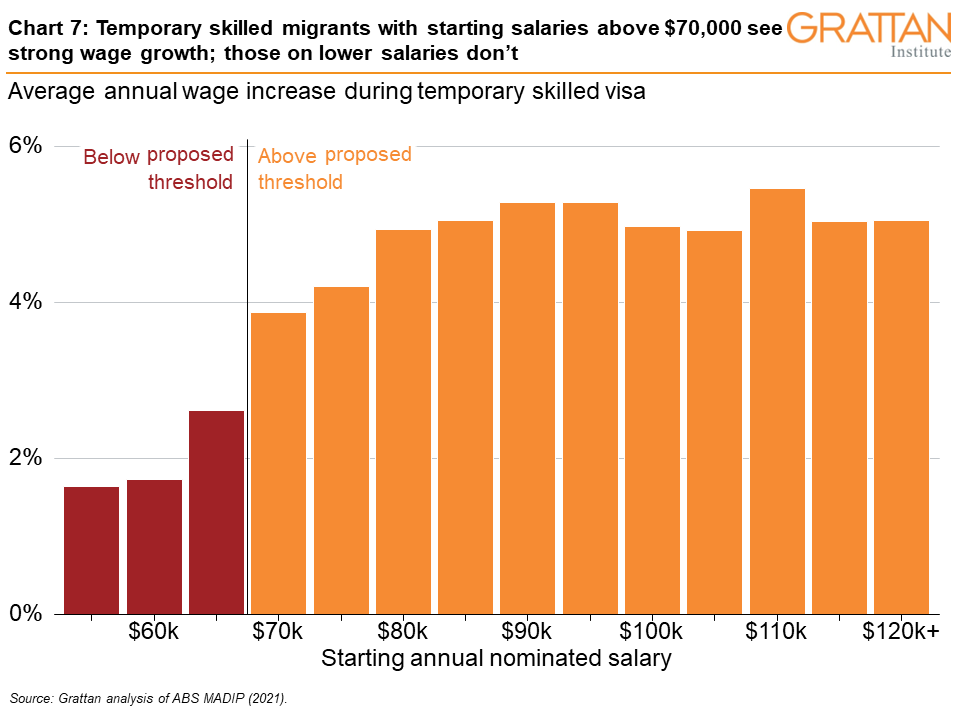 Some may worry that restricting low-wage jobs from temporary sponsorship will make it harder for Australia to manage skills shortages arising from COVID border closures. But temporary sponsorship has never been permitted for the baristas or farm hands that employers are now struggling to find. These shortages will ease as the many students and working holiday makers that used to do these jobs return to Australia.
So, the next time you're sipping coffee in your favourite café and reading about how businesses like that can't find staff, look at the ad in the window and ask yourself: will boosting permanent migration actually solve the problem?
Brendan Coates is Economic Policy Program Director and Tyler Reysenbach is an Associate at Grattan Institute.