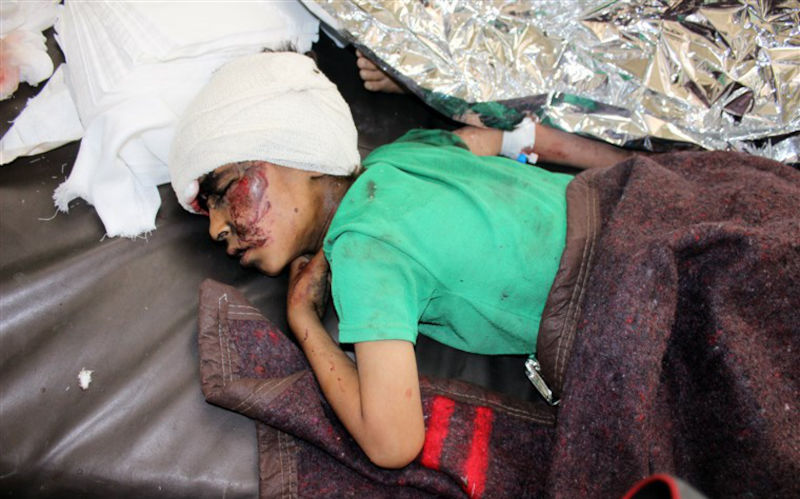 "Ultimately," said the UNICEF chief, "only a sustained peace will allow families to rebuild their shattered lives and begin to plan for the future."
After launching an urgent appeal for humanitarian aid for children in war-torn Yemen, the United Nations International Children's Emergency Fund on Monday released a report showing that more than 11,000 young people have been killed or injured in the U.S.-backed conflict, where a Saudi-led coalition has been carrying out attacks since 2015.
The true death toll of children is likely far higher, said the agency, commonly known as UNICEF, as millions face hunger and disease.
"Thousands of children have lost their lives, hundreds of thousands more remain at risk of death from preventable disease or starvation," UNICEF executive director Catherine Russell said in a statement.
The report was released just over two months after the expiration of a cease-fire between the Saudi-led coalition and the Houthis, who oppose the Saudi-backed Yemeni government. At least 62 children have been killed since the two sides failed to renew the temporary peace agreement, and during the months long cease-fire, 74 children were killed by landmines.
The known number of maimed children in Yemen is equivalent to about four young people being hurt per day, according to UNICEF.
In addition to the danger children across the country have faced while attempting to go about daily life in their homes and schools, nearly 4,000 boys were recruited as child soldiers between March 2015 and September 2022, said the agency. Nearly 100 girls have also worked at checkpoints and in other military positions.
The U.S. has supported the coalition with strategic input, in-air refuelling, and weapons sales for years, and as Juan Cole wrote at Informed Comment on Monday, the crucial backing has continued even after President Joe Biden announced the U.S. was officially ending its support.
Biden "has directed that only defensive weapons be sold to the Saudis," wrote Cole. "Most contemporary munitions, however, are dual use and can be used for offence as well. Mr. Biden supported the two ceasefires this year but has not been able to get them renewed."
The report was released as U.S. Sen. Bernie Sanders (I-Vt.) is expected to bring a War Powers Resolution to the Senate floor for a vote as soon as this week, aiming to end all U.S. support for the Saudi-led coalition.
As thousands of children have been killed and injured by bombings carried out by the Saudi-led coalition, stringent controls on maritime imports to parts of the country controlled by the Houthis—where 70% of Yemenis live—have also led to severe shortages of food, water, and medicine.
Roughly 2.2 million Yemeni young people face acute malnourishment, said UNICEF, and one-quarter of those children are under age five. With 10 million children lacking access to healthcare as health clinics have been forced to close, a majority of the country's children are now at extreme risk for measles and other vaccine-preventable illnesses, as well as cholera.
Cole noted that the U.N. Development Program estimated a far higher death toll among children in Yemen more than a year ago, saying that by the end of 2021, 377,000 Yemenis were expected to have died as a result of the war—whether from airstrikes, hunger, dangers associated with displacement, or disease. Seventy percent of those killed were estimated to be children, the UNDP said at the time.
"So that is actually about 263,000 dead children if we count all the deaths provoked by the war," wrote Cole.
Last week Russell traveled to Yemen to launch UNICEF's Humanitarian Action for Children Appeal, calling for $10.3 billion to help provide clean water, food, health services, and other essentials to children affected by conflicts across the world. Russell said $484.4 million is needed to address Yemen's humanitarian disaster.
Russell called on negotiators on both sides of the conflict to urgently renew the cease-fire that expired in October, saying a temporary peace deal "would be a positive first step that would allow critical humanitarian access."
"Ultimately," said the UNICEF chief, "only a sustained peace will allow families to rebuild their shattered lives and begin to plan for the future."
First published in Common Dreams December 12, 2022