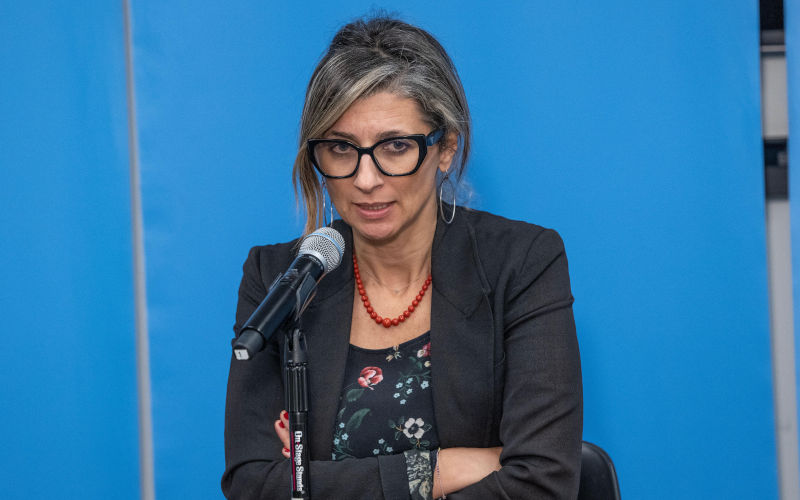 In her first report in October 2022, UN Special Rapporteur on the situation of human rights in the Palestinian territories occupied since 1967, Francesca Albanese recommended that UN member states develop "a plan to end the Israeli settler-colonial occupation and apartheid regime". What message will she now bring to Australia?
Readers might recall that on 4 October, Pearls & Irritations gave notice that Francesca Albanese was to deliver the 2023 Edward Said Memorial Lecture (ESML).
Then came 7 October and what has followed. Ms. Albanese's visit to Australia has taken on a greater dimension. She arrived in Australia on Thursday morning, 9 November. When originally invited by the Australian Friends of Palestine Association (AFOPA), to deliver the ESML, no-one could have contemplated what was to follow, and I imagine that Ms. Albanese would have had to have declined, given her ongoing responsibilities to the UN, and the demands placed upon her by, inter alia, the international press. In many respects, Australia is lucky to have her over the ensuing week.
Apart from the ESML, and addressing the National Press Club on 14 November, Ms. Albanese has a busy schedule. It includes addresses to the Parliamentary Friends of Palestine of both the NSW and SA Parliaments. In Sydney, she will also meet the President of the Australian Human Rights Commission and Race Discrimination Team at the Commission.
From Sydney Ms. Albanese travels to Melbourne where she will appear on Q & A on Monday evening, together with Nasser Mashni (Australian Palestine Advocacy Network, (APAN)), Dave Sharma (ex Australian Ambassador to Israel), and Mark Leibler (Zionist Federation).
Then to Canberra for the National Press Club [National Pres Club website], and a meeting with the Chair of the Joint Standing Committee on Foreign Affairs & Trade, and with staff at DFAT. She will also meet there with the Australian Greens at Parliament House, Simon Birmingham MHR, Shadow Minister for Foreign Affairs, and with the President of the Australian Council of Trade Unions.
Ms. Albanese will return to Melbourne where she will have further meetings, including a meeting with the Jewish community – led by Loud Jew Collective. Then she departs for New Zealand.
This is just a portion of, perhaps the highlights of, her itinerary. Much will no doubt be discussed. Much of the current discourse on the events in Gaza and the West Bank, involve the end game – how will those events end and what will be in place to ensure that they do not recur.
Given that in her first report in October 2022 Ms. Albanese recommended that UN member states develop "a plan to end the Israeli settler-colonial occupation and apartheid regime", there can be no doubt that she will be pressed by her audiences on the mechanisms by which such a plan can be implemented. No doubt Ms. Albanese is cognizant of all options.
For example, if there is opposition from Israel, or Palestinian interests, what forms of compulsion might be available to the international community to ensure that the plan is in fact given effect?
We all await with heightening interest!