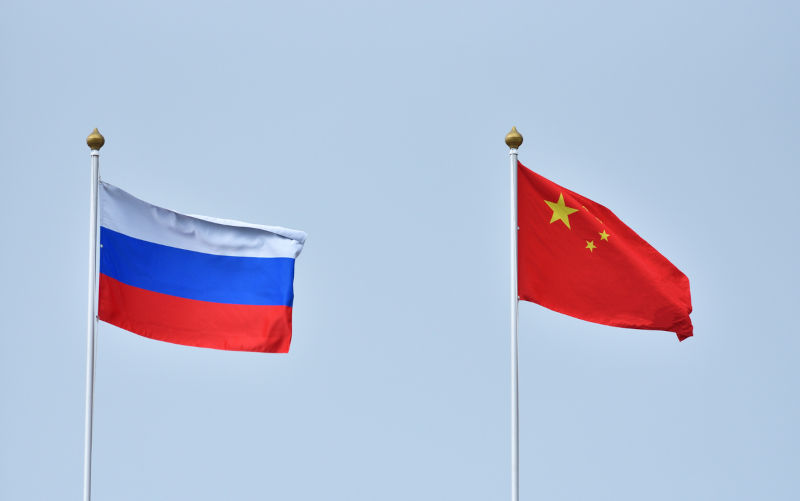 The double standard continues. Russian collaboration with China in naval exercises in the north Pacific are presented in United States media as creating 'a dangerous world'. But far larger military exercises in the south Pacific by 'free' countries are presented as 'promoting peace, security and stability' in the Indo-Pacific region.
On 8 August 2023 the US Naval Times reported a joint Russian-Chinese naval force of 11 ships steaming near Alaska's Aleutian Islands in July. The force was shadowed by four American destroyers and a P-8 Poseidon aircraft. The article quoted anonymous US sources as saying the force remained in international waters and was not considered a threat.
However, at the US-sponsored Aspen Security Forum, also held in July, news of the patrol was ramped up as a major threat by Admiral John Aquilino, United States Indo-Pacific Commander. 'Where will these exercises end up? In the Philippine Sea (sic), off Guam or Hawaii or the west coast of the United States?' Aquilino asserted that he only saw these operations as getting stronger, 'and boy, that's concerning.'
What is more concerning however, are the ever-expanding naval and military exercises of the United States and its allies in the Pacific. The recently held Operation Talisman Sabre is the tenth iteration of a bi-annual naval exercise, originally held between US and Australian forces and begun in 2005. It has since expanded into a 13-nation inter-operational war game involving 30,000 troops, numerous warships and air forces, all enthusiastically hosted by Australia over two weeks and spread across five Australian states and territories.
To claim that Operation Talisman Sabre is simply designed to promote peace and regional stability is as much an absurdity as saying, as an unidentified US general did in 1968 during the Vietnam War, that 'we had to destroy the village of Ben Tre to save it'. Political pundits who disingenuously claim that Talisman Sabre has virtuous motives about peace and stability were given a reality check by US Navy Secretary Carlos Del Toro, who declared that its real reason is to 'send a message to China that America's allies are co-operating to defend their security and democratic values'.
Del Toro is right about message-sending, but he drifts off into self-delusion when talking of democratic values. Tell that to the people of Tonga or Fiji or Papua New Guinea, which contributed forces to Talisman Sabre. Or to the people of India, the Philippines Singapore or Thailand, the four nations with supportive observer status at the Exercise. Of these seven, only India, PNG and the Philippines were invited to Biden's two Summits for Democracy in 2021 and 2023.
Tell it also to sensible voters in Germany or the United Kingdom, the two European countries contributing military forces to the Exercise. Do they also swallow the prevailing view among the intelligence communities of Canberra and Washington that China aims to becomes the world's most powerful military hegemon, supplanting the United States of America?
The plain fact is that such exercises will provoke China, not deter it, and will increase the likelihood of military confrontation, either deliberately or by accident. And if this happens, Australia, its armed forces now almost completely integrated with those of the United States, will have no independent voice, no option but to join its American partners in such a conflict.
This truth was recently reflected inferentially by former Prime Minister Kevin Rudd who wrote in the Sydney Morning Herald on 11 August that we are at serious risk of war breaking out in the Indo-Pacific. It is, he asserted, real, not a theory. Also, that to avoid catastrophic conflict will require skilful judgement, care and acute management by today's political leaders.
On a closely related subject, Geoff Chambers in the Weekend Australian of 12-13 August characterised the forthcoming ALP national conference in Brisbane as being 'Keating free' (as well as free from possibly discordant opinions of Rudd and Gillard, neither of whom will be there), in order to avoid messy fights over AUKUS, economic and social policy, Palestine, trade and fossil fuels. We wait to see whether other discordant voices will be given air space. There may yet be blood on the wattle.
Meanwhile, unrelenting opinion about the need to confront a war-like China continues to be aired in the Murdoch press. The Australian's Greg Sheridan asserted in the Weekend Australian of 12-13 August that the risk of war with China is growing and the only way to counter it is to beef up deterrence provided by the AUKUS agreement. To back his claim, Sheridan cites Mike Gallagher, 'one of the most influential congressman in Washington', as asserting that even with billions of Australian dollars augmenting the US nuclear submarine program, the US will fall short of realising its submarine program of 66 nuclear-powered submarines to meet the Chinese (and Russian) threat. At least we are seeing the un-itemised $A368 billion cost of eight Virginia class attack boats for what it really is – a direct subsidy to America's naval construction program.
And so the drums of war continue to be heard in Canberra and Washington. Maybe Prime Minister Albanese may be able to tone them down if and when he visits Beijing later this year. But I for one wouldn't bet on it.
If you enjoy ed this article and want to see Pearls and Irritations continue to grow you might consider a monthly contribution or one of donation. You can make your donation here.