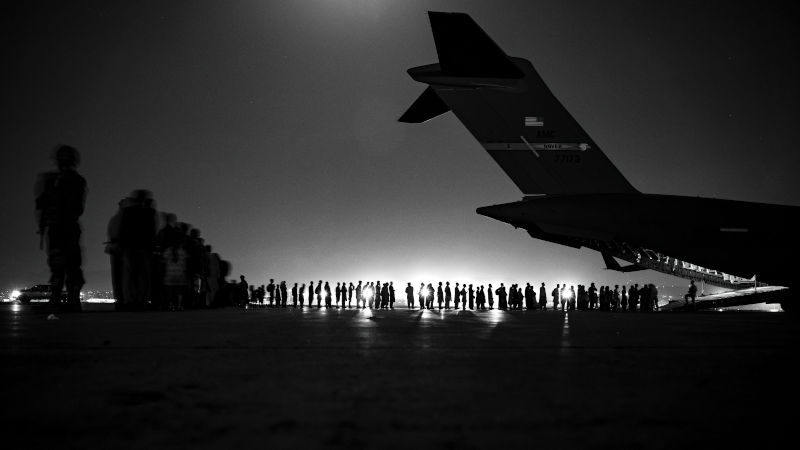 Two years after the heart-breaking Kabul Moment that saw the withdrawal of US-led Western troops from their illegal invasion and occupation, the United States has been urged to assume liability for humanitarian sufferings of Afghanistan people.
Amid chaos that caused civilian casualties directly from leaving US military planes, the United States pulled out its final forces from Kabul airport by the end of August 2021. The 2001-21 War in Afghanistan, according to the Costs of War Project, killed 176,000 people in Afghanistan: 46,319 civilians, 69,095 military and police and at least 52,893 opposition fighters.
The Afghanistan's Ministry of Martyrs and Disabled affairs said on Aug 14 that it registered a total of 638,954 individuals, including widows, orphans, and people with disabilities, in the past year, mostly results of the 20-year war from 2001.
"The attack on Afghanistan was illegal," said Shakeel Ahmad Ramay, CEO of the Asian Institute of Eco-civilisation Research and Development in Islamabad, Pakistan. And there was no room for dialogue in the process.
"Unfortunately, the prolonged war, spanning nearly two decades, has inflicted severe suffering upon Afghan civilians and led to massive human costs of war," said Khalid Taimur Akram, executive director of the Pakistan Research Center for a Community with Shared Future. "This perpetual struggle has resulted in rampant human rights violations, casting a grim shadow over the lives of innocent individuals."
"In the name of freedom and democracy, they have inflicted harm and tragic crimes against humanity," Akram added.
Salman Bashir, a former Pakistani ambassador to China, said 20 years of NATO's involvement in Afghanistan proved fruitless, resulting only in immense suffering for the Afghans.
NATO's failure in Afghanistan is a subject of much concern in the West, he noted. "What should be of equal, if not greater concern, is the suffering it has caused and ways and means to mitigate it."
Many experts, including Professor of international law Marjorie Cohn and former president of US National Lawyers Guild, described the US and British attack on Afghanistan as "a patently illegal use of armed force," according to a report of The Guardian on Aug 23, 2017. Even the initial bombing of Afghanistan before invasion and occupation, far from a legitimate form of self-defence under Article 51 of the UN Charter.
The White House claimed its war against Afghanistan was authorised by the UN Security Council resolution of Sept 12, 2001. However, the UNSC Resolution 1368 (2001), instead of authorising the US or US-led NATO to invade, only said:
''The Security Council, … 5. Expresses its readiness to take all necessary steps to respond to the terrorist attacks of 11 September 2001, and to combat all forms of terrorism, in accordance with its responsibilities under the Charter of the United Nations".
And the disastrous withdrawal of US and NATO forces from Afghanistan in 2021 also brought about more challenges.
Afghanistan's economy contracted by about 30 percent between 2020 and 2022, with 24.4 million of its people in need of humanitarian assistance, and a staggering nine out of 10 people living in poverty, according to the United Nations Strategic Framework for Afghanistan released last month.
According to the United Nations International Children's Emergency Fund (UNICEF), nearly half of all children under five in Afghanistan are malnourished. About 875,000 of them are expected to need treatment for severe acute malnutrition, a major killer of children under five.
Sadiq Shinwari, an Afghan military expert, told Xinhua that unexploded ordnance has led to grave consequences for Afghanistan's agriculture, on which the landlocked country's economy is mainly dependent.
Cluster bombs, an unconventional weapon, lay unexploded from the early days of the US military's so-called war on terror.
Statistics from the Cluster Munition Coalition show that the US dropped 1,228 cluster bombs containing 248,056 bomblets in Afghanistan from 2001 to 2002.
The Pentagon has called back its "patriots" while doing nothing to clean up their mess, Shinwari said.
The humanitarian situation in Afghanistan worsened following US President Joe Biden's decision to freeze assets of Afghanistan's central bank worth about $7 billion.
Al Jazeera reported that ever since the US withdrew its troops from Afghanistan, Afghans who had worked for its military face unprecedented uncertainties.
The Biden administration failed to keep the promise that they would have a home in the US, according to US government reports, the media organisation said
Mohammad Turab Jan, who was commissioned as a first lieutenant in the Afghanistan Army in 2017, fought alongside the US ground forces for years, serving in Kabul, Jalal Abad, and Helmand province, and was struck by a hail of bullets one day in January 2020.
In January 2021, Jan was discharged and shifted back home but to his dismay, not a single officer, either from the Afghanistan Army or the US Army, visited him. His family, in need of financial support, received no assistance.
"I had served the US Army for years. However, Americans turned their back when we needed them. I regret serving alongside the US Army against the Taliban," he told China Daily. "We had sacrificed our lives."
The departure of US and NATO forces also saw significant amounts of weaponry and ammunition transferred to extremists, posing a grave security concern, noted Akram of the Pakistan Research Center for a Community with Shared Future.
The weapons have "bolstered the capabilities of terrorist organisations, enabling them to further their agendas", he said.
First published in China Daily Asia August 31, 2023