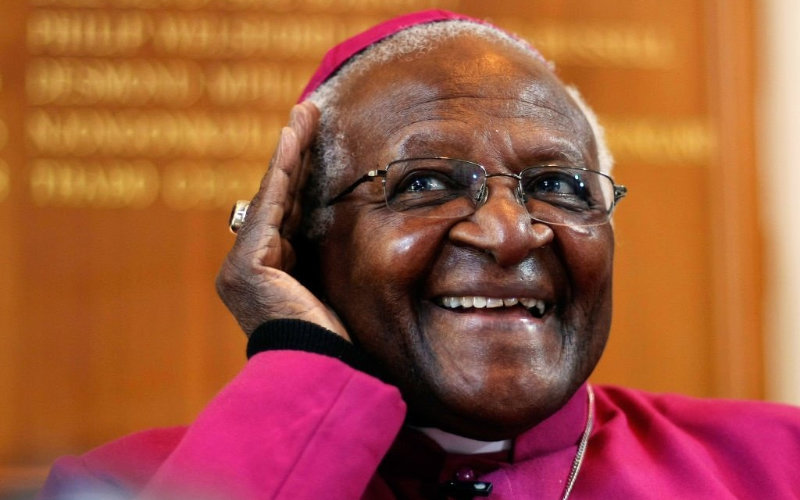 The South African archbishop and activist, who has died at 90, treated both pauper and sovereign with equal dignity and honour.
Desmond, we salute you! You have brought so much joy and hope into our lives, and we have been so proud to have sung, danced and walked a small part of the journey with you.  You have helped us all to walk a little taller, to believe the impossible is possible, and to have confidence in the goodness of God, even when circumstances suggest otherwise.
At five feet four inches Desmond Tutu's height symbolised his life and character.  He eschewed power and domination and yet this little bundle of pure human energy and raw goodness carried more moral authority than almost any other person in our lifetimes.
How was this so? Well of course his time and place in history played a major part. But there is much, much more.
He was born into relative poverty and struggle – and some violence.  It is interesting to reflect that people born of wealth and privilege are seldom able to reach this quality of human living. Only those who sit lightly to privilege exercise such authority. He was fortunate in the company he kept. He was later to say: "I am the sum total of all the lives that have intersected with my own" – from Anglican priest and bishop Trevor Huddleston to murdered Soweto protester, schoolboy Hector Pieterson. He said it was Huddleston, the courageous opponent of apartheid, who eschewed violence and galvanised the young through faith, music, and moral vision who influenced his vocation to the priesthood. Tutu was arguably Huddleston's greatest legacy.
I would like to reflect a little on the giftedness of this extraordinary man through personal encounter with him.
In 1990 South African President F.W. de Klerk lifted the ban on the African National Congress and Nelson Mandela was released from his 27 years in jail, 18 of them on Robben Island. In 1994 Mandela was elected president of the Republic of South Africa.
Tutu came to Canberra in 1993 and relished his visit to the South African embassy in Yarralumla, ACT, claiming it was the first time he had, with permission of the state, entered an inner sanctuary of his homeland!  I had recently chaired a meeting of "Australians against Apartheid" at which the speakers were Bob Hawke, Gough Whitlam and Malcolm Fraser. (Each competed with the other to show how they had been the strongest supporter of the boycott movement that eventually forced the hand of the South African government).
We met the archbishop at Canberra airport. The first of numerous glimpses into the character of the man occurred as we walked along the concourse. A woman with a disability recognised the famous face and went for her camera. Her disability made the movement slow, and the opportunity was about to pass.  I saw the archbishop nudge his chaplain who went to the woman and said: "Madame, the archbishop would love to have his photo taken with you, may we use your camera for this purpose"!  Somewhere in Australia a very proud photograph sits on the mantle shelf. The archbishop treated both pauper and sovereign with equal dignity and honour.
Margaret and I were quickly to observe he was a man of extraordinary discipline.  He woke early for prayer and reflection. He then went for a long walk.  Saying morning prayer with him was one of life's great gifts.  One evening, a state dinner was given for him. At 9pm some formalities still lay ahead when he politely stood, thanked everyone for their company and we left.   He explained that he needed to reflect on the day, be in bed before 10pm and be ready with freshness to greet the next day. Fortunately he had already made his speech.
Everywhere he went Desmond was always keen to identify with and learn from local Indigenous people and their struggle for dignity and autonomy.  A meeting was held at our home followed by a dinner at which the guest list included Professor Mick Dodson and the Reverend Tom Slockee. He was always conscious that colonising forces, often led by religious zeal, contributed to the loss of Indigenous identity, property, and culture.  One of his most famous statements is: "When the missionaries came to South Africa, they had the Bible, and we had the land. They said: 'Let us pray'.  We closed our eyes.  When we opened them, we had the Bible, and they had the land!".
For a long time he had a particular passion for the plight of one of the Indigenous peoples of the Middle East, the Palestinians. Their fate has not been dissimilar to that of Australia's Indigenous people who had long suffered under the doctrine of Terra Nullius, until it was overturned by the High Court in the Mabo case of 1992.  Israel was created under the equally erroneous slogan of "a people without a land for a land without a people". Following the events of 1948 and 1967 Palestinians have become a dispossessed people.
Desmond became increasingly alarmed at growing apartheid instigated by policies of the Israeli government and compared it unfavourably with his own experience of South Africa. He was a strong supporter of the Boycott, Divestment, Sanctions (BDS) movement, calling it an important weapon in the arsenal of non-violent resistance. What follows is an extract from an article he wrote for the Israeli newspaper Haaretz in 2014:
It is becoming more and more clear that politicians and diplomats are failing to come up with answers, and that responsibility for brokering a sustainable solution to the crisis in the Holy Land rests with civil society and the people of Israel and Palestine themselves …

People united in pursuit of a righteous cause are unstoppable. God does not interfere in the affairs of people, hoping we will grow and learn through resolving our difficulties and differences ourselves. But God is not asleep. The Jewish scriptures tell us that God is biased on the side of the weak, the dispossessed, the widow, the orphan, the alien who set slaves free on an exodus to a Promised Land. It was the prophet Amos who said we should let righteousness flow like a river …

Goodness prevails in the end. The pursuit of freedom for the people of Palestine from humiliation and persecution by the policies of Israel is a righteous cause. It is a cause that the people of Israel should support …

Nelson Mandela famously said that South Africans would not feel free until Palestinians were free.

He might have added that the liberation of Palestine will liberate Israel, too.
Like the prophets of the Old Testament, Desmond saw it as a matter of spiritual obligation to engage with seats of power which meant engagement with politics. At the time of his 1993 visit Gareth Evans was foreign minister. The visit to Gareth's office was utterly memorable, as a giant of faith met with a fine politician but clearly and publicly a religious sceptic. After the formalities and the TV cameras had left, Desmond turned to Gareth and appeared to innocently ask: "Are we talking about anything significant today"?  "Of course, your grace," Gareth responded. "In that case we will pray," retorted Desmond – and did!
If a single doctrine were to most reveal both Desmond's profound Christian faith and his passion for social justice, it is "Ubuntu".  It is sometimes translated: "I am because we are" (also "I am because you are"), or "humanity towards others".  It is a term that in one form or another is familiar to Zulu, and Xhosa alike.
We, Western society inheritors of the Enlightenment, find the concept baffling, so immersed have we become in the concept of the individual. It is strange that the political right is more comfortable aligning itself with Christianity than the political left, and even more strangely the Christian right champions the exaggerated antipathy towards socially driven policies of common good and the consequent injustices perpetrated by the political right. Strange because the concept of the individual is a very novel idea to both Old and New Testament. Christianity is inextricably bound to belief that we are who we are through others and most especially through God, who in Jesus has become incarnate among us.
Desmond, we deeply mourn your passing.  Will there ever be again such a cheeky breath of fresh air, such a fearless champion of truth and justice, such an attractively iconic human being?
In a world painfully devoid of real leadership we can only hope and pray so. In the meantime, peace is always on offer and Ubuntu its path. Justice is near if we refuse to walk past the evils we see. Hope sings from the eyes of a child. We all have the capacity to be channels of grace. May it be so. And the company said: "Amen".