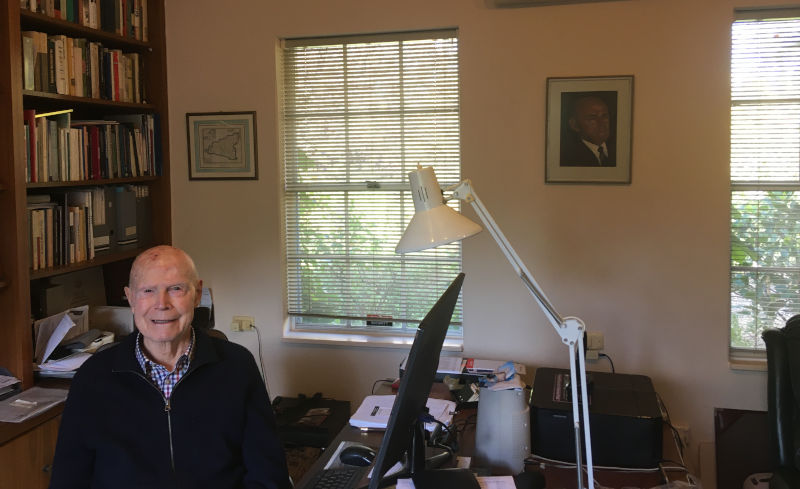 James Charles Ingram AO (27 February 1928 – 15 February 2023) was a senior Australian diplomat with a lengthy, varied and significant career.
It began in 1946 when, equipped with a degree from the University of Melbourne, he was, at age 19, the youngest cadet selected for the then Department of External Affairs' diplomatic cadetship scheme. His Australian diplomatic career over 36 years culminated in Ambassador to the Philippines and High Commissioner to Canada followed by head of the Australian Development Assistant Bureau until 1982.
His professional career reached its peak when he was appointed in 1982 as Executive Director of the World Food Program, with the personal rank of UN Under-Secretary General. He is the only Australian to have headed a UN organisation at that level. His book, Bread and Stones – Leadership and the Struggle to Reform the United Nations World Food Program, provides a handbook and inspiration for those who, like him, seek to make the UN system live up to its great ideals.
Unlike many of his contemporaries, Ingram tackled all of his appointments with determined reforming zeal. As he himself admitted, he was not an easy man to work for, as many of those who worked for him attest, especially early in the mornings. But as those who did so agree, he was a first-class thinker, and once you got to know him, an excellent friend and wise advisor.
Ingram's first diplomatic appointment was to Tel Aviv (1950 – 1953), following his marriage to Odette Koven, a charming Parisian woman whom he met in Canberra. Unlike many in that posting, he never became an unquestioning supporter of the country's government. Indeed, he developed an enduring concern for the wellbeing and rights of the Palestinian people.
Subsequent postings were to Washington DC (1956 – 59), where he built a solid appreciation and knowledge of the complex workings of the American polity. This saw the beginning of a lifelong questioning of the sort of relationship that Australia should have with the USA. In later life, Ingram was critical of America's forceful foreign policy and Australian governments' obsequiousness to the US and our lack of an independent foreign policy.
In Brussels (1959 – 60) he was responsible as Charge d'Affaires for setting up Australia's Mission to the then European Economic Community and Australia's Embassy in Belgium. He then went to Jakarta (1962 – 64), in a tumultuous period in Indonesian history; followed by the Australian Mission to the United Nations, where he gained an enduring but sceptical familiarity with the UN system and its senior officers. On return to Canberra, Ingram was appointed Assistant Secretary in the Department for Foreign Affairs with oversight variously of Australia's relationships with the countries of East and South Asia; the Americas; the South Pacific; and of the Asia Pacific Council.
In 1970, Ingram was appointed Australian Ambassador to the Philippines, where he saw first-hand the difficulties faced by a developing country that had inherited the best and worst features of its Spanish and American colonial masters. In 1973, he was appointed Australian High Commissioner to Canada, observing closely the reforms of Pearson and his leadership on North/South relationships, including through the creation of the Canadian International Development Assistance Agency and its sister organisation the International Development Research Centre of Canada. This planted seeds for his thinking on comparable reforms to Australia's aid structures. He was concurrently non-resident High Commissioner to the then newly independent Caribbean nations of Jamaica, Barbados, Guyana and the Bahamas, and was Australia's representative on the newly established but now defunct International Bauxite Association.
This rich experience melded nicely with Ingram's deep personal commitment to equity, efficiency and international peace through economic development. The opportunity to put this varied bilateral and multilateral experience into practice came with his appointment, in 1975, as head of Australia's international development assistance program. He had a staff cobbled together from several aid administration departments and agencies, and an organisational structure and resources inadequate to meet the expectations of the Whitlam Government. He saw aid and trade as critical components of Australia's foreign policy, but felt aid was not being given adequate priority by the higher echelons of the Department of Foreign Affairs, or by its minister. Jointly with Sir John Crawford and supported by some lateral recruits to the organisation with wide ranging backgrounds, he worked to improve the quality of Australia's bilateral aid program and increase support for selected multilateral aid organisations. His bilateral focus was on aid to Indonesia, the Philippines, Papua New Guinea and the South Pacific. Backed by Crawford, he carefully steered a course between politicians, scientists, bureaucrats and state governments that led to the creation in 1982 of the Australian Centre for International Agricultural Research (ACIAR). The Centre is still seen as a jewel in the crown of the Australian aid program and attracts continuing bipartisan political support. It reflects Ingram's ambition for more effective utilisation of CSIRO and State and Territory departments of agriculture, as well as the educational and research resources of Australian universities and colleges. These were also tapped through the Australian Asian Universities and Colleges Scheme – later to become IDP Education Australia.
Recognising that he was unlikely to be offered another sufficiently interesting Foreign Affairs posting as head of mission, Ingram then sought a senior appointment within the United Nations and drew on his global network of contacts to lobby for appointment as head of the World Food Program (WFP). He charmed Saouma, the then head of the FAO, and also persuaded the United States to support his appointment. His appointment for a second term is described in 'Bread and Stones' and includes what he describes as 'a candid description of the struggle for reform of the WFP.' His successors in that post have, publicly and privately, heaped praise on his reform efforts.
In a foreword to Bread and Stones, the Hon Gareth Evans wrote: The World Food Program is now not only the World's biggest humanitarian agency, but one of its most respected and effective. That it became so is very much the legacy of Jim Ingram. His sentiments were given currency by the recent comment by Catherine Bertini on learning of Jim's death: The World Food Program of today would not exist without the foresight, leadership and courage shown by Jim Ingram when he successfully strategised and implemented the separation of the WFP from FAO.
In retirement Ingram maintained a lively interest in international development and in Australian foreign policy. He was active in the Australian Institute of International Affairs and was made a Fellow of the Institute, the Crawford Fund, and the ANU's Asia-Pacific College of Diplomacy. He also established the Ingram Fund for International Development in Law as a permanent endowment in the Faculty of Law of the University of New South Wales. In 2014 he was appointed as Patron of the Crawford Fund.
In the later years of his life, Ingram lunched regularly with former colleagues, enjoying discussions of contemporary foreign policy issues. Under Ingram's leadership his lunch group made a submission to the Dennis Richardson review of Australia's international development policy priorities in January 2020.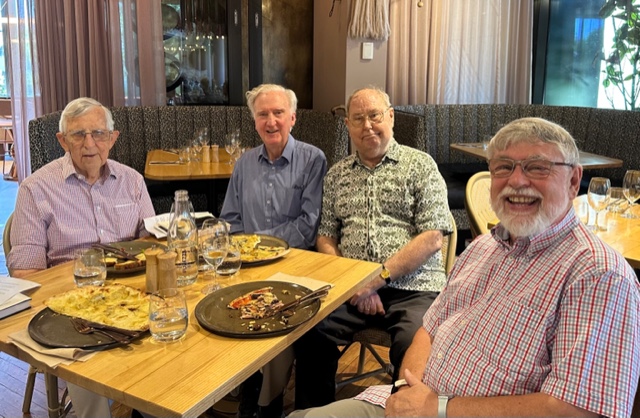 Jim passed away quietly on 15 January 2023. Jim, and his wife Odette, who died in May 2021, are succeeded by two daughters and a son.
Further information on Ingram's career can be found at Wikepedia.org upon which this brief statement is based.
Denis Blight AO is a former Australian diplomat, aid administrator, and CEO of IDP Education Australia. He is currently an honorary Visiting Fellow at the ANU School of History.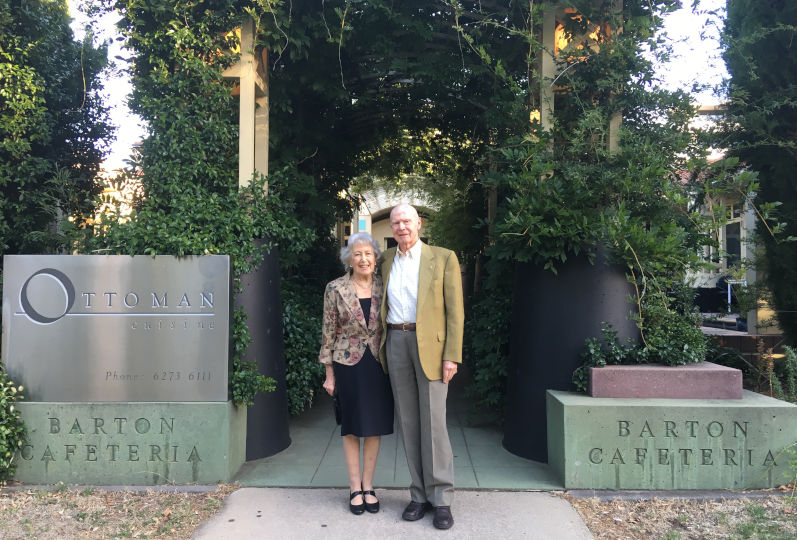 Postscript from Yohannes Mengesha:
Jim Ingram was a great Diplomat whom I consider to be one of the most outstanding and inspiring UN Executive Heads ever. I was always amazed at his high level of integrity and intellectual acumens which were certainly not always common amongst his peers. I used to admire how he had no tolerance for officials who did not display intellectual honesty in the advice they provided to him.
As you no doubt would be aware, he fought with courage and steadfastness over many years to ensure that WFP became independent and achieved its rightful place as one of the top UN agencies. When WFP was recently awarded the Nobel Prize, I wrote to Jim to say that I believed that the recognition was also due to his untiring efforts and successes when he was its Executive Director. He bestowed a lasting legacy to WFP, to the UN system and more importantly to the millions of beneficiaries for whom he constantly demonstrated dedication and commitment.
I shall always remember him as a distinguished Diplomat and Leader who was always fair in how he dealt with everyone, be they World Leaders, beneficiaries or staff. I have served in WFP and the United Nations Secretariat for over 30 years and I consider myself fortunate that I had the privilege to work with Jim Ingram. I will miss him very much.
The funeral, which will take place in a few days will be a celebration for an exemplary Diplomat and a superb human being.
Yohannes Mengesha was the former Assistant Secretary-General for the UN General Assembly; Director of the Office of the Deputy Secretary-General; Director, Iraq Programme, Department of Humanitarian Affairs (1996-1998), and held posts in the WFP's Eastern and Southern Africa Bureau (1994-1996), East and Southern Africa Bureau (1980-1992) and Eastern Caribbean Office, Trinidad and Tobago (1976-1980).
Postscript by John P Cosgrove:
I extend my sincere condolences on the death of Jim Ingram. Jim was directly responsible for my recruitment into WFP in 1998 on the recommendation of the late Brad Morse (former UNDP Administrator), with whom I had the pleasure of working with at The Hunger Project in NYC. My first assignment meant working very closely with Jim to avoid a qualification by the external auditor of our accounts because of unprocessed expenditure incurred in the field. This led to the decentralisation of accounting, administration, HR, IT and many other areas of WFP´s operations. I could not have wished for a more supportive person.
Jim understood what we were trying to achieve, and gave me the support I needed to achieve our goal, which we did and avoided a qualification.  You can imagine that an audit qualification would have been a major setback in the funding of WFP.
At this sad time, I wanted to share a few anecdotes regarding Jim. One day I was late for work, as were several others, in our Rome HQ on Cristoforo Colombo.  Jim was also coming to work at that time, about 9am.  As he got in the lift, he said "I won`t tell if you don`t".The entire audience broke out in laughter.
The second incident was regarding a technical issue. Jim asked me to explain what a suspense account was. I thought about it and said that it was like this. You have an in tray and an out tray on your desk.  We dealt in paper in those days!  When there is something, you are not sure about you put it in a pending tray.
Days or even months later you then decide to tackle the pending tray, and of course it is no longer fresh information so takes a lot longer to resolve and get to the out tray.  That is a suspense account.  Jim thanked me and said "this is the first time I have understand what a suspense account is, and now I know why they are to be avoided at all costs".
All this to say that he was very influential in my life, and I loved working with him.  He was a man of great intellect, a visionary, and a great mentor. He will remain one of my heroes.
John P Cosgrove – Retired Senior Deputy Country Director, Nairobi, Kenya, United Nations World Food Programme