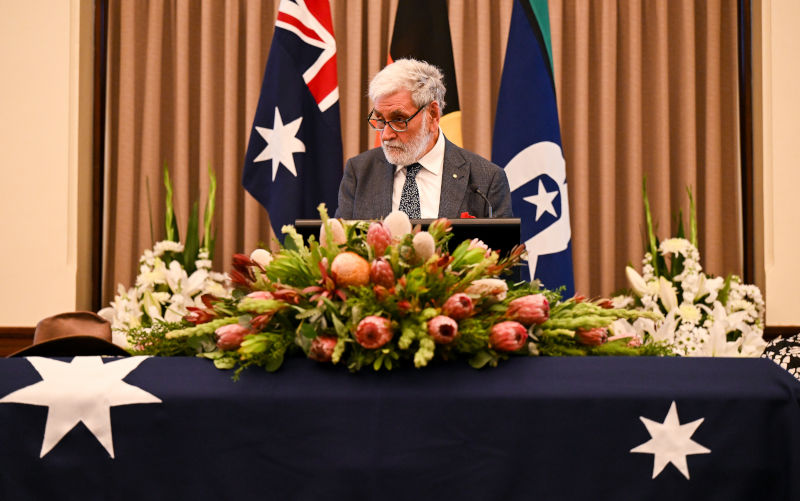 The first Hawke Cabinet has been described, correctly, as the most talented since Federation. As a Minister outside the Cabinet I could observe it closely.
The indominable researcher Phillip Adams explored John's family history:
Count Leo Tolstoy had another blazing row with his wife, flounced out of Russia and holed up in the Healesville Hotel outside Melbourne where he had a steamy love affair with the beautiful Ann Kerin, wife of a prim local councillor and the great great grandmother of the then Treasurer John Kerin. It ended badly and sadly with Ann throwing herself under a train at Healesville Station.
A grief-stricken Leo returned home and wrote Anna Karénina.
Surprisingly some historians doubted the veracity of this tragic account – and demanded evidence. Replying that they were free to disbelieve me I suggested they write to the Honourable John Kerin. When they did John confirmed – on official Treasury notepaper – that my account was perfectly true.
A legendary hypnotiser of chooks – and a gleeful collaborator in a literary hoax. You had to love a bloke like that. And I did.
Dragged back to reality I have drawn heavily, and gratefully, on the writing of John's friend and collaborator, Rodney Cavalier, who wrote:
There have been many accounts of John Kerin's public careers, his ability to mesmerise chooks, anecdotes galore on what a great bloke he was. My interest was in a kid from a poultry farm who grew up with few material possessions, a kid who loved reading and found purpose in books and magazines. Through a local branch of the Labor Party he achieved standing and earned the right to represent the Labor Party in parliament.
John strode the national stage and commanded conferences on an international stage. All of that began here and it began inside the Labor Party.
With his family needing his time and labour, John left Bowral High just before he turned 15 in 1952. Jobs in a dry cleaning shop and Bowral Brickworks were about earning cash for investing in the family farm. He set 6,000 bricks a day in the kiln. While formal education may have ended, John was reading widely. He subscribed to New Statesman and Spectator, an eclectic choice made deliberately for balance.
A joiner of organisations because he liked being involved, John was a member of the bushfire brigade, ratepayers association, Associated Poultry Farmers of Australia, even the Rotary Club, building a profile and political base without setting out on that objective.
Correspondence courses made possible purposeful learning. Philosophy took his interest, including the writings of Bertrand Russell, a vocal opponent of the war in Vietnam. John was not yet 21. He said 'I found it easy to work physically all day and read voraciously and study at night.'
He was the Federal Member for Macarthur 1972-75, elected when Whitlam's 'It's Time' campaign triumphed, then swept out in the debacle of December 1975. He then returned to employment in the Bureau of Agricultural Economics and enrolled for a Master of Economics at ANU. He recontested Macarthur in 1977 and failed.
I was elected to the House of Representatives in December 1977 and John Kerin returned nine months later. The House was then 100% male and white, about 95% Anglo, and the average age well above the national median.
Whitlam remained as Leader of the Opposition until December 1977 and MP for Werriwa until July 1978; then, after he resigned, John Kerin won preselection to succeed him in a three way contest and was MP for Werriwa 1978-93.
John became Shadow Minister for Primary Industry in 1980.
The Australian Parliament met in this building until May 1988. Thirty-five years later it is hard for many people to grasp how much the new location changed how Australian politics worked.
It was very hard to keep secrets in OPH.
Old Parliament House was crowded and Members, Senators and staff had to jostle for space – but it meant that we had to be collaborative. We had breakfast together, shared urinals – often a bonding experience, and the Parliamentary Library was located on the main drag.
John and I were both habitués of the Parliamentary Library, where he met Dr June Verrier, an English academic and senior administrator and an unfailing source of reference material and advice. John and June married in June 1983.
The toxicity of Australian politics in recent decades owes much to the structure of New Parliament House – covering an area larger than Homer's Troy, with self-contained suites for MPs and Senators. In reality New Parliament House is less open, more secretive, more conspiratorial, far nastier than the Old.
After winning government in 1983, the factions colonised caucus. Not a creature of faction, not dependent on a faction for his rise in Macarthur, not obligated to the Left for being the only candidate who could deny Werriwa to the Right, Kerin tried to remain free. He couldn't. The Right claimed him though no part of the culture or prejudices of the Right did John inhabit. Being a reason for the Government's success removed any danger to John's place in the ministry, then cabinet.
After Paul Keating resigned as Treasurer in June 1991 to mount an unsuccessful leadership challenge to Hawke, Kerin was appointed to replace him. Keating had been an influential and long-serving Treasurer, and Hawke's primary political partner. This led to significant and immediate media pressure on Kerin to see how he would compare. In December, at a press conference he inadvertently slipped up on failing to recognise the acronym for 'gross operating surplus' and Hawke then dropped him as Treasurer. (They both cried). Twelve days later, on 20 December 1991, Hawke was defeated as Party Leader and Paul Keating became Prime Minister.
John was Minister for Transport and Communications for a fortnight but the post had been promised to Graham Richardson and he was then made Minister for Trade and Overseas Development 1991-93.
In 2009, John resigned from the NSW ALP as a protest against increasing factional control but rejoined the ALP in the ACT in 2012 and campaigned for more democratic participation.
John served as a board member for CSIRO 2008-11, NSW State Forests, the Water Advisory Council, the Fish Management Authority, chaired the ANU's Crawford Fund 2010-17, was Tom Harley's deputy at UNICEF, Deputy Chancellor of the University of Western Sydney and conducted reviews for the New South Wales and Queensland Governments. He also wrote very extensively.
The Prime Minister called John Kerin 'the best Minister for Primary Industry we've ever had' and quoted him as saying 'Politics is like farming; no one is forced to do it but someone has to.'
Murray Watt: 'Since becoming Agriculture Minister, I have been surprised by how often farm leaders have told me that Labor Ministers often make the best Agriculture Ministers. Free of vested interests, solely focussed on doing what's right for farmers, farm workers and for the whole agriculture supply chain. I know that they are thinking of John when they say that. His reform legacy lives on in Australian agriculture and he rightly deserves the title of Australia's best Agriculture Minister.'
Cathy McGowan, as a Parliamentary staffer, had been deeply influenced by John Kerin. She talks about the early inspiration of the Agricultural Extension officers promoted by John, and their example of community development work. She regards this as the origin of 'kitchen table' politics which led ultimately to Voices4Indi and the 'teal' movement which challenged the domination of the hegemonic parties. She wrote: 'Parliamentary staffers were so impressed by his kindness, generosity, thoughtfulness, especially as the agricultural industries were very sexist!'
John was an authentic hero of our time, we mourn with June and the family for their loss. He stood for Love, Honour, Courage, Decency.
He enriched all our lives. The most we can do now is to provide our love and support for those around him.
We will never forget him.
Speech delivered Friday 14 April 2023
1400
Members' Dining room
Old Parliament House,
Canberra
Barry Jones
Postscript
Remembering John Kerin by Caroline Fitzwarryne
John is rightly remembered as the best Agriculture Minister but he should also be acknowledged as the best Minister for the people of the bush. He established a Unit in his Department responsible for policies for rural communities across all portfolios. I had the great pleasure of running this Unit and working with him. He was very collaborative and worked closely with people at all levels. He would ring up and ask me to bring my team over to his Office to brainstorm future directions. He made sure the needs of rural people were clearly identified in policy development.
He also set up a system regarding briefs for him where the name and phone number of the main drafter was at the bottom of the brief. It was not unusual for someone in the Department to answer their phone and to hear: "Hi Susie/Ian, this is John Kerin, I have just read your excellent brief on xxx. I was wondering if you have any further insight or information on one of the issues you discuss." He was loved by all in the Department because he was so approachable and treated everyone as equals.
Later, after retirement, he was on many boards and did a lot of voluntary work. I met up with him again at the University of the Third Age (U3A) in Canberra. He was co-leader of very popular courses to discuss the history of policy development, and policies needed now to improve society. He was very humble in presenting his views as just some to add to the discussion.
He gave freely of his time and expertise. My daughter was running the ACT Office for Women and asked me if I could ask people I knew on boards if they could mentor young women. I asked John. He said he had given up all his board roles at age 80, but would be happy to talk to the group of young women about his experiences and what he thought could be of use to them.
John was in essence a people person. He was much loved and will be sorely missed.
Caroline Fitzwarryne has a background in public health and community development.  She has worked at all three levels of government (from fieldworker to senior executive), as CEO of a national NGO, as Adjunct Associate Professor, and as development aid worker in 13 countries.