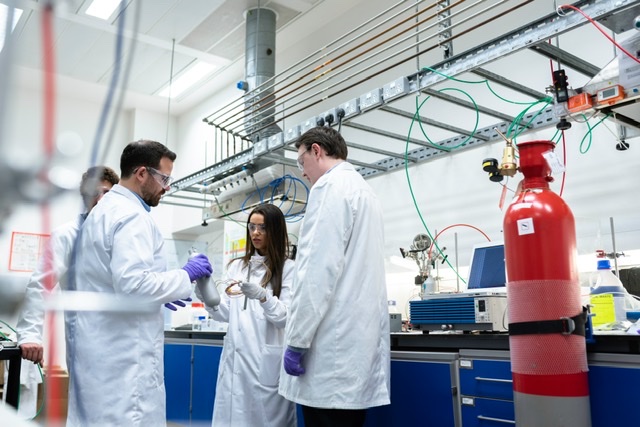 If virologists are independent seekers after scientific truth, dedicated to advancing human wellbeing, recent revelations about their profession make it look more like mud-wrestling.
There are as many versions circulating about the life-story of SARS-CoV-2 as there are story-tellers, Australians included. As well as having scientists, bats, and COVID-19, Australia now has a war of words over the origins of the virus. It is being waged quietly between scientists, and loudly by the mainstream media.
I have been interviewing some of Australia's leading immunologists, virologists, and biological security specialists, most of whom ask not to be quoted by name. They are justifiably concerned for their careers, their publications and their research funding, and some even fear for their safety and that of their families.
One who has gone public with such fears is Danielle Anderson, the "only foreign scientist to have worked in the BSL-4 lab at the Wuhan Institute of Virology", according to the Sydney Morning Herald (7 May 2021). After Dr Anderson publicly denied that the virus escaped from the WIV, she said her name was trashed so viciously on social media that she reported it to police.
Other scientists use encrypted messaging for phone, social media, and internet, and insist that I do so too when I communicate with them. Some of them comment in a most un-collegial way about each other. Some compare their international work environment to a war zone. Several have been involved in international 'war-game' simulations to study the effects of a lethal pathogen being released in cities. The virtuous purpose of these exercises is to anticipate and head off a future disaster. The vicious potential of such research, in the wrong hands, is for biowarfare, or bioterrorism.
My scientific informants are not exaggerating the threat. Although most nations have signed the Biological Weapons Convention (BTWC), those who still want to develop bioweapons claim that continuing research on antigens and vaccines is necessary for defence against them.
This is the justification that Anthony Fauci, head of American's National Institute of Allergy and Infectious Diseases (NIAID) and Peter Daszac, who runs the funding body EcoHealth Alliance, have cited for years.
In 2017 Dr Fauci reversed President Obama's moratorium on Gain of Function (GOF) research, in which genes are manipulated to produce desired effects. Scientists found other countries in which to continue it, which is allowed under the BTWC. The US, for example, set up BW laboratories in former Soviet states on the Russian border, including in Armenia, Georgia, Kazakhstan, Tajikistan, and Uzbekistan. But the work became more secretive, and more dangerous.
A list of countries where accidents have occurred in virology establishments includes Britain, the USSR and Russia, the US, and China. The lives of some quite young scientists have ended suddenly.
Among them are Dr Vladmir Pasechnik who had worked in the USSR on plague, and died in 2001 at 64 in the UK.
Also in 2001, Dr Don C. Wiley of Harvard died suddenly at 57 after expressing concern about dangerous research.
Another apparent suicide was Dr Bruce Ivins, who worked at the US Army Medical Research Institute of Infectious Diseases (USAMRIID), was accused of the post 9/11 anthrax attack, and died in 2008 died at 62. 
Recently, in May 2020, Dr Zhou Yusen died at 56 in unexplained circumstances. He worked at the Academy of Military Medical
Sciences in Beijing. He and Dr Shi Zhengli of WIV had received funds from the US for collaborative work in their level 4-security laboratory on a vaccine for SARS-1, which they completed in 2019. 
In February 2020, in record time after the virus was identified, Dr Zhou filed the first patent for a SARS CoV-2 vaccine on behalf of the Institute of Military Medicine. This meant his vaccine was being tested even before the COVID-19 pandemic became public.
Two other Chinese scientists, virologist Qiu Xiangguo and her biologist husband Cheng Keding, and some Chinese students were expelled in 2019 from Canada's only level 4 lab. Dr Qiu, a medical doctor, had worked on a treatment for Ebola virus (classified in the US as a Category A bioterrorism agent), CBC reported.
At the request of WIV, Dr Qiu exported samples of 15 viruses, including Ebola, Henipa and Nipah to the Wuhan laboratory. Three months later, in December 2018, Wang Hualei and others involved with Beijing's Academy of Military Medical Sciences published the results of experiments with the viruses. Drs Qiu and Cheng were dismissed from the Winnipeg National Microbiology Laboratory in January 2021.
In 2020, various charges were laid against a leading nanoscience professor at Harvard and two of his Chinese associates. The allegations included accessing US military websites and sending the results to Chinese defence technology establishments, as well as smuggling vials of biological material out of Boston.
Charles Lieber allegedly failed to declare for tax the US$50,000 a month he was reported to have been paid from 2012 to 2017 by the Wuhan University of Technology (WUT). Under China's Thousand Talents plan, it's said he was to cultivate young academics, apply for patents, and publish articles for WUT. Dr Lieber and his supportive colleagues deny that he was an agent of foreign influence at the time. He now faces trial and has advanced cancer.
'Gain-of-Function' deserves to be named the composite word of the year. As most people now realise, a virus can be manipulated to give it new capacities, some virtuous, some vicious. The virtuous results may include better understanding of viral pathogenic mechanisms, attenuating virus pathogenesis,  and identifying disease causation. But GOF might produce a virus which could viciously affect certain racial or social demographics. GOF can, in effect, create weapons of mass destruction.
Australians working in this dark, dangerous sub-specialty have reason for concern. Perhaps not for their lives, but for vested interests. Worried scientists form protective, competitive cliques. Virologists who are convinced that COVID-19 was caused by
a leak from a laboratory confront those who still defend the hypothesis of its origin in nature. "If it's shown not to have natural origin, the practice and regulation of virology will change forever", one biological scientist tells me.
Some who want regulation of potentially lethal experimentation with live viruses oppose others who want freedom to pursue knowledge without interference. Meanwhile the media establishment is divided between, for example, News Corp's Sharri Markson with her lab virus and 'blame China' agenda, and Fairfax/9/ABC with Danielle Anderson's argument for the virus in nature and defence of WIV.
In the US, President Biden's 90-day investigation is as unlikely as a further WHO inquiry to resolve the issue. While demanding that China identify its 'patient zero', the US hasn't revealed its own first infection, apparently in Seattle. US competitors in the Wuhan World Military Games in October 2019 left from there and returned there.
Although the US media and authorities point the finger at WIV for three infected staff, poor laboratory security, and taking down database access, they haven't explained the shut-down of USAMRIID in autumn 2019, when inventory deficiencies and biosafety hazards were reported. Despite current complaints about China weaponizing GOF viruses, American virologists and others in the 'five eyes' nations have been collaborating in that research and funding it for at least a decade. An official of the US National Institutes of Health told Katherine Eban of Vanity Fair (3 June 2021), "Everyone's gone wink-wink and just done Gain Of Function research anyway".
One of my informants looks beyond national rivalries and deceptions and detects a global conspiracy involving people 'at the very top', some who are prepared to use the power of pandemics for their own purposes, and others who have become billionaires since 2019. If that is a horrendous conspiracy theory, it doesn't mean there isn't a conspiracy. A few people know the truth of the source of COVID-19, and they're not telling it.