Politics
Voices of insecurity … of kinds of felt dispossession … with implications for political disengagement… and sometimes populism
Jul 4, 2022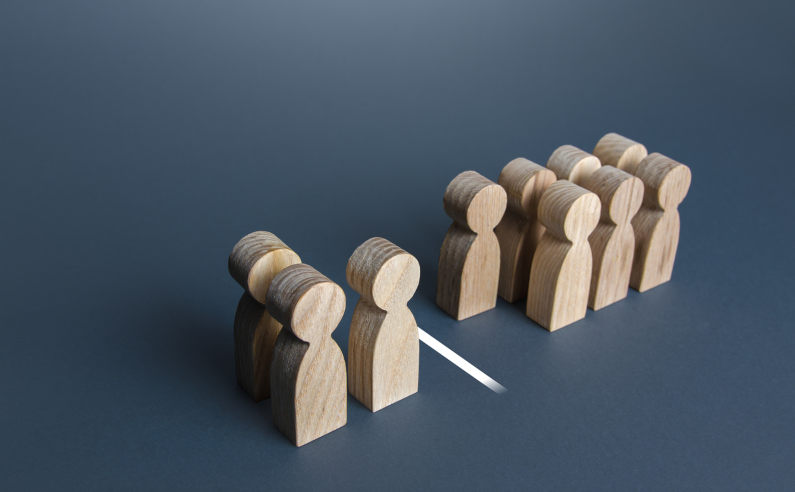 In 2022 we have seen moves away from major traditional parties, even more in France than in Australia.
After years of endless change, declining real wages and overwork and insecurity, worker exploitation, life has become more insecure, even aside from the seemingly endless festival of consumerism.
We even see continued minority support for Pauline Hanson, who admixes maverick radical gestures with a pattern of Liberal National Party voting, as might be expected of a former Liberal candidate.
There is socio-economic alienation out there.
There is also status alienation felt by those who feel 'forgotten' (the theme Peter Dutton is picking up), marginalised or excluded by the fashionable culture associated with the global and the inner cities – cosmopolitan, multicultural, digital, young and 'cool'. The French popular term is 'Bobos' or Bourgeois Bohemians. I don't know if there is now a coinage in other cultures to characterise our other new phenomenon – the Teals.
In populist rhetoric the Bobos are depicted as inner city elites, as well as the opposite of 'ordinary people',  whereas in fact they are mainly digital servants of the ruling capitalist elites.
Fashionable culture is dominant in the media. Consider the almost festive celebration of Australia's immigrant population, the number of people born overseas, after the release of the Census. Rather typically, that theme ignores the situation of sixth, seventh and eighth generation Australians, from whom the majority of the population is descended.
Thinking of these sociopolitical and sociocultural tendencies I have sketched several characters who may feel 'forgotten', across several demographics, including a younger demographic, in Australia, and from one character, in non-metropolitan France.
Bill
My name is Bill. I'm in my sixties and live in a small country town with my wife.
I remember a better time.
Once the main street was thriving – lots of shops and people.
Now all the banks have gone, except for the now smaller post office.
People drive to the big town to shop.
Prices are up and our pensions aren't enough. But lucky we paid off the house a while ago. Prices have now gone crazy.
There's not much work for the kids and mine have joined the rush to the city.
I lost my job a couple of years ago and I'm not near the front of any new jobs queue.
I don't mind migrants. We've long had Greeks and Italians and Chinese restaurants.
And I like pizza and pasta
Yet I'm not a fan of all that media stuff about a country of immigrants.
Our family has been here for five generations and we never get a guernsey except on Anzac Day.
I don't really like all this "buy tickets online" stuff either, even though I do it.
I don't know if pollies [politicians] in fancy suits in the big smoke really understand us. Lots of media stunts but I am not sure about practical policies which help people.
I wonder about voting for an independent or those [populist] parties with a different approach [One Nation/ United …Party].
Not sure.
Is it worth voting, anyway?
Brett
Hi. My name is Brett.
I live in outer Sydney, with my wife and two young kids, our dog Tiger, and a helluva mortgage.
I run a roof fixing business and work has been up and down.
Unlike petrol, food prices – everything's going up …and up again.
My wife works a couple of days in a shop but if you saw our bank accounts you'd know we're not swimming in the green stuff.
I can't stand the time it takes me to get to a job every day and the tolls as well.
Nor do I like all the BS about gays and all that.
I never had much time for the climate stuff, but after the bushfires and floods it seems like something's happening.
I suppose I have to vote.
But what's government gonna do for us.
That's what I want to know.
Lauren
Hey.
I'm Lauren and I'm in my twenties.
I thought I was going OK.
Now I am not sure.
The brace made my teeth look OK, and I tried some designer frames.
But I don't really look cool compared to the hotties on Instagram, even TikTok.
I got a regular job in retail in a mall, better than McDonald's before.
Except the work began to dry up during the pandemic, even now only a few days a week.
Everything is so expensive, starting with petrol and my car loan.
I'd like to move out of home but I can't afford it.
My parents bought a house in the olden days (although they are still paying a mortgage, not far to go now).
I have no chance of that.
I'd love to travel … but the credit card is already maxed out.
Politics? I don't care much.
What do they do?
Jean
Bonjour.
My name is Jean.
I live in a small town not on the TGV lines and in my small truck I do medium distance deliveries to make a living.
I can't believe the price of diesel today. It's sending me broke.
Not to mention the endless paperwork I have to do.
Is that all to pay the government workers in Paris?
What happened to the France we used to know?
I don't care for Paris, from the peripherique inwards.
Too crowded, too crazy, too many flics and too many foreigners.
What's that flashy Macron done for us?
Rien.
Maybe Mme Le Pen might do a bit more?