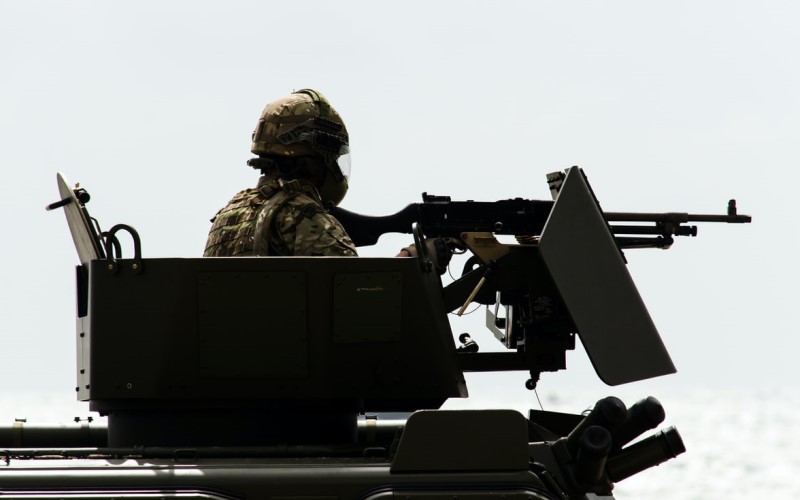 There must be a number of current parliamentarians concerned about the direction of foreign and defence policy, but why are they so silent?

Who is charting the direction of Australian foreign policy and defence decisions?  Can we rely on just four elected parliamentarians who currently serve as ministers and shadow ministers to challenge powerful international forces and the privatised armaments industry  to guarantee the wellbeing of all Australians? In my experience as a senator, 1983-1999 was a time when it seems there was a more direct involvement of parliamentarians in foreign and defence  policy debate together with  commitment to Australia's role within the international peace movement.
I was fortunate to enter the parliament in 1983 when peace activists such as Tom Uren, senators Ruth Coleman and George Georges were determined to influence the new Hawke government's foreign policy. Furthermore, over the next decade West Australians  elected senators Jo Vallentine (People for Nuclear Disarmament Party), Christabel Chamarette and Dee Margetts (Greens party), who brought to Parliament strong voices for a more independent and peaceful Australia. This in turn resonated with a number of  Labor and Democrat parliamentarians who together were able to present alternative views about Australian foreign policy and its potential for peace building and social justice.
In 1984, Labor women parliamentarians supported the Women's Peace Camp set up outside Old Parliament House in Canberra. Women were protesting against the influence of American defence policy on Australia and the joint secret military activities at Pine Gap. We invited these protesters into Parliament House for hot showers and warm food, despite some of the vocal criticism of certain colleagues!
As a parliamentarian for 16 years, I was able to be participate in a range of foreign policy debates that focused on peacebuilding. During those years, the Labor government appointed the first minister for disarmament and played a major role negotiating for the development of  an International Chemical Weapons Convention. I joined some of my colleagues in campaigning against Australia's involvement in the US MX  Missile Defence Program, and Australia's promotion of a nuclear-free Pacific.
In 1991 when prime minister Bob Hawke committed Australia to the US-led Gulf War, I joined eight government colleagues, who opposed this decision, releasing a public statement urging the United Nations to  focus on the withdrawal of Iraqi troops from Kuwait and  demilitarisation of the Middle East.
In the 1990s I represented Australia in a non-partisan international  peace organisation, Parliamentarians for Global Action, which worked for a nuclear test ban, non-proliferation and United Nations peacekeeping  We promoted  an active role for women in leading conflict resolution talks between nations, urging UN secretary-general Kofi Annan to send a Women's Peace Delegation to Iraq. Sadly, it didn't happen, but the following Iraq and Afghanistan wars continued to demonstrate that military action inevitably fails to resolve international conflict.
In 1998 a number of Australian parliamentarians rallied against a major arms exhibition, AIDEX, being held in Canberra. One of the legacies of that event is an unregulated Australian-based arms industry, which now has a cosy relationship with government departments as well as offering considerable largesse to the Australian War Memorial.
Anecdotally I have heard that current parliamentarians, whether in government or opposition, are unable to ask foreign policy or defence questions unless they are first approved by the relevant minister. This is very much a new development. In the past many of my contemporaries were active in using Senate question time to raise concern about specific peace, security and human rights issues. On occasions it was also possible to have the Senate record its concern about international breaches.
On March 4, 1998, I moved a motion already adopted by the European Parliament calling on the Israeli government to free kidnapped nuclear technician Mordechai Vanunu. This was agreed by the Australian Senate. He subsequently obtained his freedom and sanctuary in Norway in 2004.
Australia has recently been shamed by revelations of war crimes committed by some of our soldiers in Afghanistan. The debate that has erupted demands community discussion about the responsibility of soldiers, their military leaders and governments which send Australians into war zones. Yet such a significant debate does not appear to have been prominent in the Australian Parliament.
We have a history of being one of the first countries to volunteer our troops for wars that are distant from Australia and among people whose cultures we do not understand. Why do we believe we are so essential in fighting  other nations' wars? When will we become independent and commit only to defending our own country, peacekeeping and humanitarian roles? When will we insist that any decision that Australia be involved in further wars first be debated and voted for in the national parliament?
As we approach a federal election, it is essential that Australians concerned about the dramatic increase in defence spending and ongoing belligerent war rhetoric only vote for candidates who are prepared to voice their commitment to peace and a more independent foreign policy.
I am sure there must be a number of current parliamentarians concerned about the direction of some areas of foreign and defence policy, but why are they so silent? Few voices are heard as the government greatly expands the defence budget and negotiates a new alliance (AUKUS) with the UK and US, countries which have led so many Australians into overseas wars for more than a century.
The opposition is nervous about questioning foreign and defence policy, worrying it will be "wedged" as unpatriotic. The fact that a public servant can publicly announce a statement about the "drums of war" suggests it is long overdue that elected parliamentarians reasserted themselves into greater prominence in foreign and defence policy debate to ensure that we are not again led blindly into overseas conflicts.