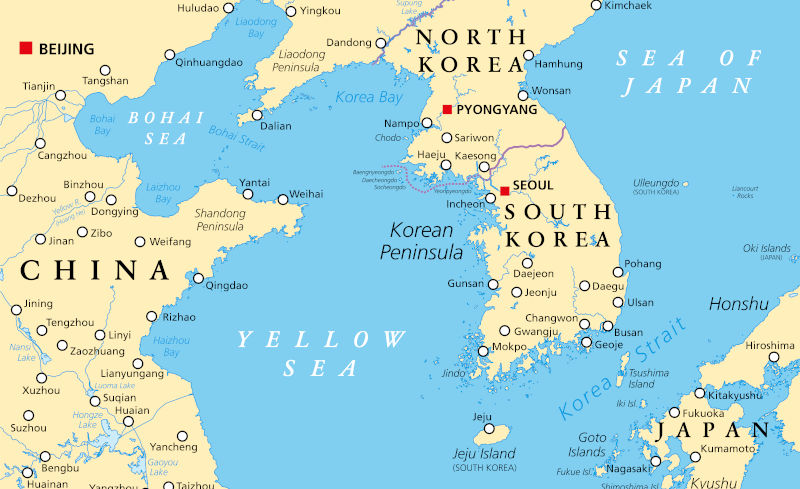 Admitting guilt for war crimes doesn't come easily to many nations, as Australia knows from our extended investigations of the activities of some ADF soldiers in Afghanistan more than a decade ago.
On 30 May, former Foreign Minister Gareth Evans challenged the United States to admit that that actions of its armed forces 75 years ago were war crimes. His important speech seems to have gone unnoticed by all but the internal media outfit at ANU, where Professor Evans was Chancellor from 2010 to 2019. (My ANU colleague and friend Emeritus Professor Gavan McCormack sent it to me).
Making a repeat visit to the South Korean island Jeju, Evans received the Korean International Peace Prize, which recalls an horrific massacre there. An estimated 30,000 citizens died after 3 April 1948, when President Syngman Rhee suppressed a workers' uprising against the division of North and South Korea, and declared martial law. Some 230 villages were destroyed, shocking things were done to islanders by the government's troops, and as many as 40,000 people fled from Jeju to Japan.
Residents of Jeju had been largely neutral in the north/south, Soviet/US division of the Korean mainland that followed the end of WWII. From 1947, they protested in growing numbers against elections to be held under UN auspices in the south. The US military intervened in Jeju in 1948, and the US Navy blockaded the island in support of their client president Rhee.
News of the Jeju massacre – called an 'incident' – was suppressed in Korea until President Kim Dae-jung acknowledged it 1998. A successor, President Roe Moo-hyeon, in 2006 made a public apology to the people of Jeju for the government's abuse of power.
As Evans pointed out, the Jeju massacre remains largely unknown or forgotten outside Korea, where it preceded what historian Bruce Cumings aptly called The Forgotten War. In the United States, coverage of that 1950s conflict was censored and its memory was overshadowed by the Vietnam War. Recalling the mass killings in the 1960s in Indonesia, Evans observed that they too were motivated by Cold War politics, 'aimed at alleged communists or their sympathisers'.
But the Korean War did not end: an armistice persists. So the contestation between communist and capitalist forces, that set the stage for Cold War tension among the two Koreas, China, and the United States, continues to this day.
Evans' Korean International Peace prize is awarded biennially by the Jeju Peace Institute, and is funded by the South Korean government. Receiving it, he argued that the extent of American responsibility for the Jeju massacre should be made explicit, through fact-finding and historical evidence. He accused the US of failing to 'properly acknowledge this responsibility'.
Which brings to mind an earlier visit by Evans to Jeju, about which he received a request from the Attorney-General's Department asking him to register as a potential agent of foreign influence. The Turnbull government's Foreign Influence Transparency Scheme Act 2018 was devised in close collaboration with the US Department of Justice. After civil society groups protested, it was substantially amended.
But the 2018 law still requires anyone who engages in lobbying or 'any kind of communications activity for the purpose of political influence' on behalf of a 'foreign principal'—including foreign governments and organisations—to register with the Federal government, and imposes criminal penalties for failure to do so.
Evans dismissed AG's inquiry as 'a joke'. Just before the law came into force, however, other former political leaders, Federal and State, took it seriously. Kevin Rudd said he would register; Andrew Robb dropped his $880,000 a year consultancy with Landbridge; John Brumby abandoned his directorship of Huawei in Australia; and Bob Carr left the Australia-China Relations Institute, an organisation bankrolled by a Chinese billionaire. Whether or not Tony Abbott registered his work on trade for the UK government is not known.
If AG's officers are still seeking out 'foreign influence', it would be interesting to know if their research includes the United States administration. As well, the United States Studies Centre, the Australia-America Leadership Dialogue, or politicians' invited trips to Israel. Even better, since Rupert Murdoch is an American, who in NewsCorp is exposed to foreign influence?
At the time of the 2019 Federal election, Professor Clinton Fernandes analysed the ownership of Australia's 20 biggest companies. Of those, 15 were majority-owned by US-based investors. Three more were at least 25% US-owned. Using Bloomberg, he found that all four of our big banks were majority-owned by American investors. The Commonwealth Bank of Australia, the nation's biggest company, was more than 60% owned by American-based entities. So were Woolworths and Rio Tinto. BHP, once known as "the Big Australian", was 73% owned by American-based investors. If these are agents of foreign influence, what about PwC?
To this day, Gareth Evans continues his long campaign for good international citizenship. So do the people of Jeju, now with the support of their government. However, no response to Evans has so far been forthcoming from the US about its role in the alleged criminal events there, or in Indonesia for that matter.