Health
We can complete a full mRNA rollout by end of 2021. Here's the plan
Jul 9, 2021
How many attempts do we give Scott Morrison to fix the ongoing Covid quarantine and vaccine rollout debacle? There have been mistakes, holdups with vaccine deliveries and unforeseen complications, but it is possible to develop a plan to get us out of the turmoil he has inflicted upon us, and do it by the end of 2021!
In 2020 we were arguably the best performing country in handling Covid and keeping our community safe,thanks particularly to the state governments. In 2021 we are now languishing as one of the most abysmal for vaccinating the population.
Australia is down but not out. We can still salvage an excellent result.
Our ultimate goal should be nothing less than to be the best Covid vaccinated country on earth. In early July the PM announced yet another plan – a four phase one.
Here we outline the rollout plan for the first phase, including broad goals, the data we need, the actions required and timelines.
Our rollout goal: Two doses of mRNA vaccines offered to all Australians by Dec 31
We need to fully vaccinate as many Australians as possible with the best vaccines which will be available to us, at the moment the two mRNA vaccines, Pfizer and Moderna.
The broad outcome should be returning Australia close to pre-Covid conditions, with international borders open and without lockdowns and state border closures at home. In doing so we need to maximise the health of Australians and minimise the impact on the economy.
Children should be vaccinated if deemed safe. Those who have had AstraZeneca may need booster shots of the stronger vaccines otherwise their individual immunity and the community immunity might be too low.
We need to act quickly given on-going community outbreaks around the country and the risk of new variants. The data show that with proper planning, this is achievable by the end of the year with 50 million doses of mRNA vaccines due from September.
Given the high prevalence of long Covid, the priority of Australia's Covid vaccine campaign needs to be broadened from preventing serious illness, resulting in hospitalisation or death to include minimisation of any form of Covid illness.
If herd immunity or a specific level of vaccination is not reached we should still proceed to open up gradually. After December, provided all Australians have been offered the option of mRNA vaccination, and been given every assistance to have it, we move to returning Australia to pre-Covid conditions.
Opening up by New Year is achievable, as we explain below.
The key problems and challenges in getting there
Problem 1. We have a three month wait until September for enough of the mRNA vaccines, Pfizer and Moderna, to arrive in large numbers.
Problem 2. We need to overcome vaccine hesitancy to ensure a significant proportion of Australians are properly immunised.
Problem 3. The federal and state and territory governments need to be able to roll out the vaccines quickly enough by end of year to give a double dose to all those wanting or willing to be vaccinated.
Problem 4. We need to manage community outbreaks during the rollout to minimise lockdowns and border closures.
Problem 5. We need to ensure Australia remains Covid safe beyond 2021.
We have enough of the best vaccines on order for 2021 but not for 2022
The following table gives estimates of the vaccine doses to be delivered to the federal government up to March 2022. The estimates are based on the methodology explained in this article and press reports. The estimates closely align with the vaccine allocations for states and territories announced by the Health Department on June 19.

AstraZeneca allocations will be phased out from September. We will have 50 million doses of Pfizer and Moderna delivered by end of 2021, enough to vaccinate almost all 25.5 million Australians with two doses, including booster shots for those previously vaccinated with AstraZeneca. However, there are not sufficient orders for 2022. The following graph illustrates the vaccine delivery situation.
The vaccination numbers to date
The following table gives the number of vaccinated Australians in various age groups along with the number of vaccine doses required, at two per person. Spread amongst these age groups are an estimated 4 million individuals classified as high risk (including frontline workers, indigenous Australians and those with underlying medical conditions).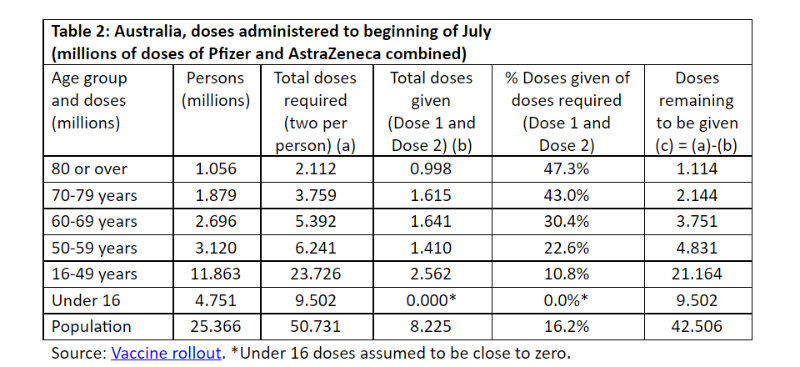 The number of doses administered so far include both Pfizer and AstraZeneca. For example, of the 1.056 million aged 80 and over, 2.112 million doses are required, yet only 0.998 million have been administered so far. That means that only 47.3% of doses have been administered in that age group, leaving 1.114 million doses needed. The last row shows that if we were to vaccinate young Australians 42.5 million doses would be required. (We can show that if we don't aim to vaccinate children under 16 there would be 33 million doses remaining. Some countries are vaccinating children aged 12-15 which may become an option for Australia.) Boosters might be required for those who have had AstraZeneca, increasing the numbers shown for doses remaining.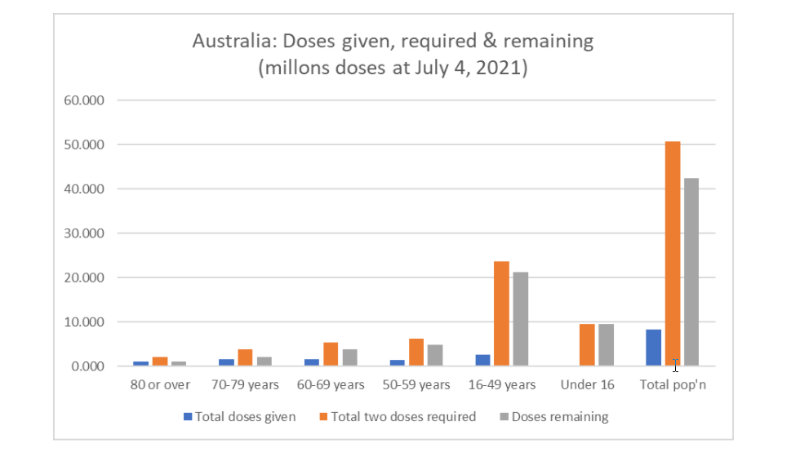 Doses required under different vaccination scenarios
With an estimated 4 million doses of Pfizer already administered, we have a maximum of 46 million mRNA doses that need to be on offer to the end of December: 9 million by end of September and 37 million for the following three months.
The three months before October will be a challenging time for Australia as we have to make it through without a major outbreak causing hospitalisations and deaths.
Thus the current strategy of giving Pfizer to those under 60 years and 'forcing' older Australians to have AstraZeneca needs to be dropped immediately in favour of offering Pfizer to them. They are the most at risk if still unvaccinated, in particular those 70 and over.
With vaccine hesitancy amongst those 60 and over (due to blood clot concerns about AstraZeneca and preference for Pfizer) we run the risk of deaths in that age group. In the next three months there will not be nearly enough Pfizer for the under 60s. From Table 2 we note that we still require 26 million doses for those aged 16-59. With only 9 million mRNA arriving before October, the best strategy is to use them for the estimated 4.5 million people in groups 1a, 1b and 2b who are still to be vaccinated.
From October, all remaining Australians can be vaccinated with Pfizer or Moderna, with the aim of completing the vaccination program by December 31.
Clearly not every Australian will want to be vaccinated or be able to have a vaccine. However, it is imperative that by the end of 2021 all Australians have been given the option of two doses of an mRNA vaccine (or other high efficacy vaccines if they become available) and be given every assistance to get them.
The number of doses eventually given will depend on the percentage uptake by the Australian community. We need to decide whether or not to vaccinate all those under 16 years of age or just those aged 12 to 15. This table shows the average number of doses required per day under various scenarios for the last three months of 2021.

For example, if we decide not to vaccinate those under 16 years and the uptake among remaining adults is 80%, we will need to vaccinate 205,000 a day for three months. This rate is easily achievable; it is not much higher than our best so far of 163,000 on 2 July.
We have the numbers. Now it is time for decisions and actions
Quarantining: Until we are fully vaccinated we need to remain vigilant with our quarantine system and contact tracing.
Logistics: On June 8 a senior Army officer was appointed as the head of the National COVID Vaccine Taskforce. The current vaccination processes have been cumbersome and unacceptable, with the onus on individuals to find a vaccine rather than the vaccine finding the individuals. Already discussions are taking place to change this, including vaccinating people at their workplace and offering incentives.
Manpower: From October, we need enough trained people on hand to administer somewhere between 200,000 and 300,000 vaccine doses a day.
Herd immunity might not be possible: Australia has to make a judgement about whether those who have had AstraZeneca are sufficiently protected against Covid and need to be given mRNA boosters. It seems that with the Delta variant, and using only the Pfizer vaccine, to reach herd immunity Australia would need to have a vaccine uptake of close to 85%.
Vaccine hesitancy and educating the public: Australia needs as many people vaccinated as possible. Any doubts and suspicions need to be dispelled. Offering us all the most effective vaccines will help – Australians deserve the best and will react accordingly. The best result will come when everyone is behind Pfizer and Moderna, especially work places and large corporations. The commentators, experts, health officials and politicians need to communicate much more effectively. The public needs more openness and transparency and access to useful data.
When to open up: Some commentators are suggesting 80% vaccination might be enough. With bad management we might end up with just 65% to 70% in which case significant numbers of Australians would not be protected. Under the four phase plan, the Doherty Institute will be undertaking modelling for vaccination targets to be reached. If we don't reach the specified target(s), surely we still have to proceed to the opening up phase.
The vaccine hesitant must understand the consequences: Australia has to open up eventually. Inevitably it will be done slowly and thoughtfully, but the sooner it starts the better. January 1, 2022 should be that time.
Despite the offer of having a vaccine and assistance in getting it, those without a preclusive reason who choose not to be vaccinated must realise they will have to run the Covid gauntlet with the possibility of significant illness or death. Bizarrely, we could end up with fewer anti-vaxxers. They will no longer be protected by lockdowns and closed state borders and may be subject to some forms of discrimination such as international travel or entry to hospitals.
Beyond 2021: We must ensure vaccine orders are in the pipeline from 2022. We must also plan for possible future pandemics including building purpose-built quarantine centres and start manufacturing our own best quality vaccines so we are independent of overseas supplies.
By January 1, 2022 Australia can start to open again, albeit with a few provisos!
Some countries are discussing the possibility of a society not based on Covid elimination, but on living with the virus. England and Singapore are two examples. Australia will have to move some way along that path, hopefully with a national approach with all states and territories agreeing to end lockdowns and state border closures.
We accept that there will be differences between pre-Covid and post-Covid conditions, such as possibly requiring proof of Covid vaccination for international travel and quarantining for unvaccinated non-citizen arrivals.
We have six months to reach a degree of vaccination that Australians can live with beyond 2021.