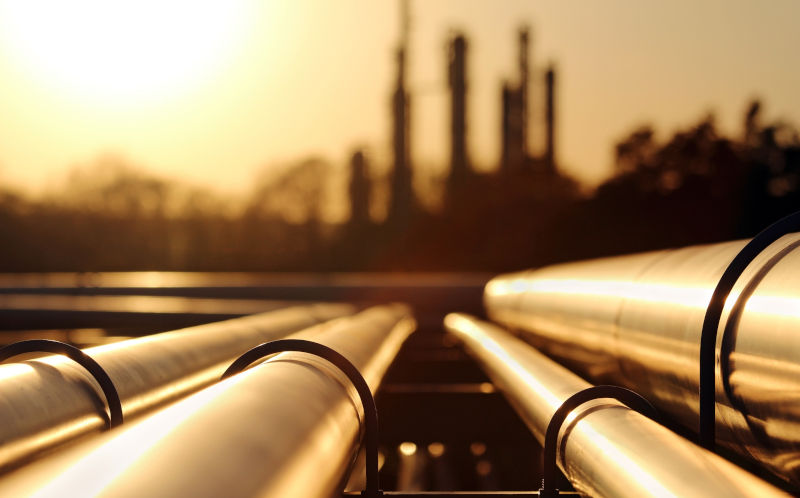 Sycophantic ministers cosy up to the gas industry. Electricity from renewables will soon match increasing demand for electricity. Will sodium replace lithium in batteries?
All together now … 1…2…3…
We love you gas, we do,
We love you gas, we do …
Headline, The Guardian, 16 May 2023, South Australia tells gas industry the state is 'at your disposal'
South Australia's minister for energy and mining has told a conference of the oil and gas industry in Adelaide that his state government is "at your disposal". Tom Koutsantonis made the extraordinary comments during his address to the Australian Petroleum Production and Exploration Association national conference on Monday morning.
He said oil and gas companies were needed to achieve net zero by 2050, claiming "we cannot transform our economy to net zero without this industry". "We are thankful you are here. We are happy to a be recipient of Appea's largesse in the form of coming here more often," Koutsantonis said. "The South Australian government is at your disposal, we are here to help and we are here to offer you a pathway to the future."
Koutsantonis made the comments following a speech by federal resources minister, Madeleine King, who spoke about helping to develop a carbon capture and storage industry in Australia through the government's future gas strategy. King said it was important for Australia to remain a "reliable, essential" supplier of gas for domestic and export market as the world looked to reduce its emissions ahead of 2050.
Headline, Sydney Morning Herald, 17 May 2023: 'LNG giants take credit for bringing budget back to black'
'Two of Australia's biggest liquefied gas shippers say decisions taken more than 10 years ago to green-light multibillion-dollar resource export projects helped propel the federal budget back into the black last week, but a slew of market interventions now threatens new investments that could drive future economic prosperity.
"If we want budget surpluses in the 2030s, if we want reliable and affordable electricity for the consumer here in the 2030s, those are decisions that are going to be made in the near term and the settings are getting more challenging," O'Neill [CEO of Woodside Energy] told the Australian Petroleum Production and Exploration Association (APPEA) conference in Adelaide.'
Headline, Sydney Morning Herald, 19 May 2023: 'Chalmers warns of gas tax threat if Coalition 'vacates the field''
'Treasurer Jim Chalmers has warned that the Coalition's objections to proposed gas tax changes could force Labor to cut another deal with the Greens and risk empowering the minor party to have a greater say over policies surrounding the future of fossil fuels.
Chalmers on Thursday said the changes, which had been designed not to deter investment or interfere with key trading relationships, would be put at risk if Opposition Leader Peter Dutton continued to leave important energy policy legislation to the "whims of the Senate".
Chalmers said gas was central to the Australian economy, and he wanted to move on from the PRRT debate to develop a "future gas strategy" announced in last week's budget to encourage further investment in gas.'
OK, let's make it a big rousing finish so the gas industry is left in no doubt:
We love you gas, we do,
Oh gas, WE LOVE YOU.
Apropos of nothing
Gas usage for electricity generation in Australia dropped by 47% between 2012 and 2022 and is expected to drop a further 34% by 2030, when Australia's need for gas for electricity generation will be 4% of forecast production on the east coast. The predicted 76 petajoules of gas-generated electricity in 2030 will represent a third of the peak in 2014. These are not the delusions of some ratbag green leftie who writes for P&I, they are the projections of the Australian Energy Market Operator (AEMO).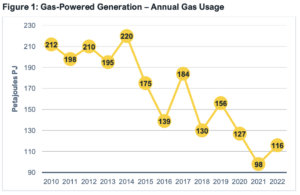 According to Bruce Robertson, 'We are being misled by our government and the oil and gas industry, telling us we need more gas and more gas fields for the transition. We don't. The gas industry does not have a supply problem, it has a demand problem. Gas is a fuel transitioning out of the energy system.'
Electricity's emissions set to decrease soon
For the first decade of this century, the average amount of CO2 produced during the production of each unit of electricity globally increased slightly each year. Over the most recent decade, it has decreased by about 1% per year.
Over the last ten years the global demand for electricity has, however, continued its long term increase of about 2.5% per year and so total CO2 emissions from the electricity sector have increased by about 20% during the most recent decade.
The turnaround in the carbon intensity of electricity production is, of course, attributable to the introduction of more and more renewable energy into systems globally. In 2022 wind and solar provided 12% of electricity produced globally. That's not much of the total but wind and solar are now meeting 80% of the yearly increase in demand for electricity (see graph below). As recently as 2018 it was only 26%. Add in the other renewables and in 2022 and it came to 92%.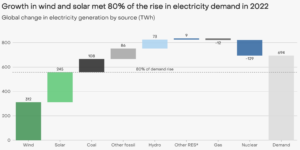 It is likely that the amount of electricity generated by clean power will completely match the annual increase in the demand for electricity in the next year or two. Once the global supply of renewable energy exceeds the annual increase in demand, we can hope to see the use of fossil fuels to generate electricity decrease and greenhouse gas emissions from the electricity sector will start to fall.
Unfortunately, the trajectories of this transmission are very different around the world. The next diagram demonstrates not only the vastly different total electricity production levels across countries (as would be expected on the basis of population size alone) but more significantly the tremendous differences in consumption per person. Even if you eliminate the few countries in the top and bottom consumption levels, there's a 30-40 fold difference in the per capita demand for electricity among countries.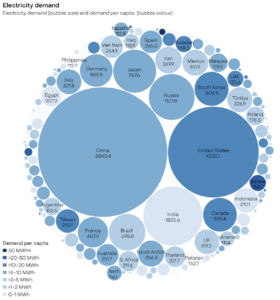 The next figure demonstrates Oceania and Europe pushing ahead strongly with the introduction of solar and wind, while the Middle East and Africa are responding very slowly, for very different reasons.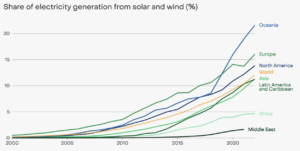 Sodium batteries
Everyone now knows that rechargeable batteries are an essential component of the energy transition and that they are going to be produced in increasing numbers in the coming decades. Everyone also knows that lithium is an essential component of batteries, that there's increasing demand for it and that the world is going to need lots more of it in the future. However, while there's plenty of lithium in the ground, it tends to be rather difficult to access, mine and process. Consequently, there's a bottleneck in supply which makes lithium costly and despite a rush to open more mines there's a large projected shortfall in future supply.
What you may have known when you were at high school but have since forgotten is that sodium is an alkali metal just like lithium and sits immediately below it on the periodic table of the elements. This means that sodium has very similar properties to lithium. However, it is ubiquitous (although the USA supplies 90% of the world's soda ash), and much more abundant and very much cheaper than lithium. No surprise then that the competition is on to find ways to replace the lithium in batteries with sodium.
While sodium batteries can be recharged for years, just like lithium ones, they need to be bigger to supply the same charge. The energy capacity of sodium batteries is, however, increasing and they do have some advantages. They keep nearly all their charge when the ambient temperature drops below freezing and sodium batteries don't need some of the expensive metals such as cobalt and nickel which frequently originate in countries with dubious mining practices. It also helps that sodium batteries can probably be made with the same equipment as lithium ones and there's the potential to make batteries with a bit of both.
The larger size and limited charge of sodium batteries is clearly a problem for vehicles that are needed for longer distance travel but not so much for short trip cars or for the stationary batteries that power the wires and towers of electricity grids.
Currently, lithium is the only game in Batterytown but sodium battery factories are already being planned and constructed. China, of course, is leading the charge – it has 16 of the world's 20 factories being developed and looks like controlling 95% of the global supply.
Dolly Parton: World on Fire
Liar, liar, the world's on fire,
What you gonna do when it all burns down?
Fire, fire, burning higher,
Still got time to turn it all around.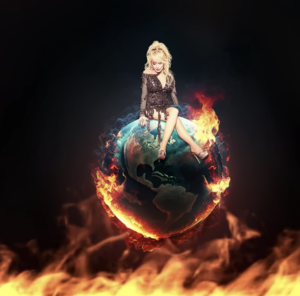 Dolly Parton has long been a very active philanthropist and advocate for helping 0-5 year olds develop a love of reading. Now she's moved her music into the realm of climate change. As she says in the song, she isn't one for speaking out much but that doesn't mean she doesn't stay in touch.