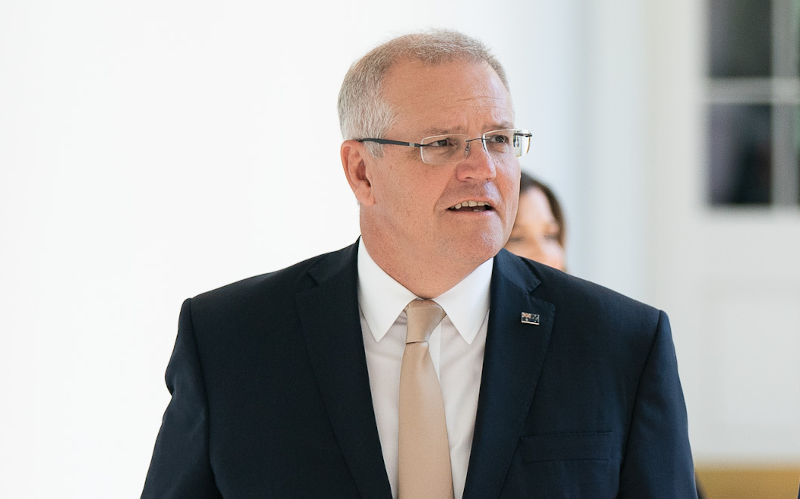 Departing Liberal Senator, Concetta Fierravanti-Wells told the Senate just before the election was called that Morrison has no moral compass. Referring to Morrison's publicly espoused adherence to evangelical religion, the Senator said that Morrison's actions "conflict with his portrayal as a man of faith": "He has used his so-called faith as a marketing advantage", she said. Harsh words from a fellow Liberal about her leader.
Scott Morrison famously says that he believes in miracles. He said that his 2019 Federal election victory was a miracle.
Was it the same god who turned around Morrison's 8:82 trouncing by Michael Towke in the 2007 Liberal preselection to win the seat of Cook? Apparently with a lot of help from Sam Dastyari and News Corp, Morrison got home. Strange bedfellow for a man of God: Scotty from Marketing, Mr Foreign Interference, the former Dirty Digger, America's Rupert Murdoch – and God. It produced a very modern miracle.
The Cook pre-selection was won so comprehensively by Towke in July 2007. Pro-Morrison forces got four articles attacking Towke published in the Sydney Daily Telegraph in seven days – to 25 July. The stories were each written by different Tele journalists, two of them very senior.
Statutory declarations claim that, after his initial trouncing, Morrison suggested that Towke might be a Muslim and be unelectable in the Sutherland Shire, the scene of the Cronulla riots on 11-12 December 2005. Even for a marketing man, it was a big ask – to get the NSW Liberal Party burghers to think that a practising Lebanese Christian might be a Muslim. The two groups – Lebanese Christians and Lebanese Muslims – have been at one another's throats since before Malcolm Fraser became Prime Minister, when the Lebanese civil war began.
Towke was educated at a leading Catholic college, Marcellin Randwick, was a practising Catholic and was the president of a local conference of the St Vincent de Paul Society, where he had been a volunteer since 15 years of age. But Morrison prevailed – although the Tele had to pay $50,000 in damages for defamation to Towke plus costs to avoid the matter going to trial.
Nearly as famous as Morrison's belief in miracles is the extraordinary condemnation of Morrison by President Macron of France. The leader of our long term ally declared Morrison to be a liar. Morrison is proof that he does not suffer from Pinocchio syndrome, or cartoonists would have a field day with Morrison as his nose rapidly surpassed even de Gaullean proportions.
"Too little, too late" has so often been said of the Morrison Government – on bushfires, floods, vaccines and other responses to the pandemic, on rescuing Australian friends from Afghanistan when the Taliban took control.
But arguably the Morrison Government's greatest failing has been its failure to respond to the climate catastrophe. Before he became PM, Morrison famously held a lump of coal aloft in Parliament to show how wedded he is to the stuff. Earlier this month, the UN Secretary General, António Guterres blasted government leaders who "are saying one thing, but doing another" in response to the climate emergency that the world is facing.
Australia is in the fossil fuel big league: we are the world's biggest exporter of gas and metallurgical coal, and the second largest exporter of thermal coal. Our coal exports make up nearly 30% of global traded coal. In addition, we export a significant volume of crude oil. We are a fossil fuel behemoth.
Including both domestic consumption of fossil fuels and their export, Australia accounts for about 5% of the world's carbon footprint. According to Geoscience Australia, Australia's energy consumption is dominated by coal (40%), oil (34%) and gas (22%). 75% of Australia's electricity generation is from coal, 16% is from gas, with hydro (5%) and wind (2%) well behind.
Notoriously at the Glasgow climate conference late last year, Australia belatedly said it would achieve zero net emissions, but by no sooner than 2050; and gave no concrete plan to achieve even that. Technology will produce that outcome, said a Micawber-like Scott Morrison – "something will turn up". Unlike our major allies, Morrison made no commitment to do more by 2030. He just kicked the fossil fuel can down the road. Of course, whatever happens on 21 May, Morrison will be long gone from the Lodge by 2050.
Infamously, even in this time of climate catastrophe, subsidies to the fossil fuel industries by Australian Governments surge. They increased to $11.6 billion in 2021-22, up $1.3 billion or 12.3% on the previous year, according to the Australia Institute. The Federal Government's fuel subsidies cost it more than the amount it spends on public schools or the Australian Army. Examples of subsidies by the Federal Government quoted by the Australian Institute include towards building the Kurri Kurri gas-fired power station ($200 million), concessional finance for Olive Downs coal mine ($175 million), road construction for fracking in the Northern Territory ($173 million), and capital investment in the Hunter Valley coal railway network ($161 million).
The Federal Government continues to allow fossil fuel companies to get away with converting our resources into carbon emissions while paying zero Australian taxes on their earnings. This despite the fact that most of the big players are foreign owned.
Over the six year period to 2021, the following companies had massive incomes (shown in brackets) but paid no income tax: ExxonMobil ($55.7 billion), Peabody ($21.1 billion), Australia Pacific LNG ($17.9 billion), QGC Upstream (Shell and others) ($17.4 billion), Puma Energy ($15.4 billion), International Power (now Engie Energy) ($9.5 billion), Victoria Power Networks ($9.2 billion), Banpu Australia ($6.6 billion). So no tax on a total of more than $150 billion of earnings derived from Australian fossil fuels. At the corporate tax rate of 30%, that is more than $50 billion dollars forgone by the Federal Government.
Adani Abbot Point and Whitehaven are two more foreign companies with substantial incomes who pay no Australian income tax.
Like so many of the foreign-owned fossil fuel companies, Rupert Murdoch's empire makes billions in profits on its Australian businesses but pays virtually no Australian income tax. Despite that, as the Sydney Morning Herald reported nearly a year ago, since 2017 the Federal Government has granted $40 million to Murdoch's News Corp.
Will Morrison enjoy a second miraculous Federal Election? If he does, should we attribute his success to God or to US citizen Rupert Murdoch? Murdoch's stranglehold over Australian newspapers is not biblical, but Morrison has an enormous political advantage in having News Corp in his corner – an advantage which makes a mockery of Australia's foreign interference laws.