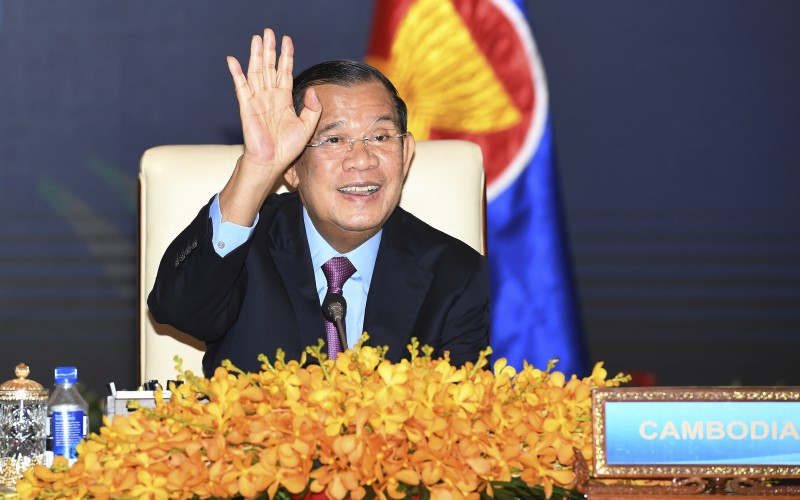 Xi Jinping's appearance at ASEAN this week, a question mark over China's naval power, concerns about Jemaah Islamiyah rebuilding, and more news from our region.
This article is part of a new, regular series by David Armstrong summarising the news as reported by the news media in Asia. It is part of Pearls and Irritations' commitment to independently covering Asia as an alternative to the mainstream White Man's Media.
Leaders of ASEAN countries (minus a representative from Myanmar) held a special on-screen summit with Xi Jinping this week and heard the Chinese leader express support for a nuclear weapon-free zone in their region.
Hong Kong's South China Morning Post reported his backing was driven by concerns over the new AUKUS agreement, which envisages delivering US or UK nuclear-powered submarines to Australia — eventually.
The paper said:
"While Beijing has yet to sign the protocol to the ASEAN treaty to keep nuclear weapons out of the region — despite indicating a willingness to do so for more than two decades — pressure from the new partnership between Australia, the UK and the US could speed up the process."
But other regional papers took a different tack in covering the summit, held to mark 30 years of official partnership between ASEAN and China. They focused on a pledge by Xi to be a good neighbour.
"China will not bully smaller countries, Xi tells ASEAN leaders" was the headline on main summit report in Singapore's The Straits Times. The Jakarta Post, Bangkok Post, Asahi Shimbun and the Times of India ran similar stories.
The Straits Times also ran an editorial on the previous week's Xi-Biden summit suggesting both leaders saw value in co-operation:
"There are signs of hope … that both countries recognise that co-operation in their mutual interest even if they are compelled to compete in certain areas."
While the papers tried to stress the positives, aspects of their coverage were critical of Beijing. Several papers noted that Philippine President Rodrigo Duterte used the summit to condemn a recent skirmish in which Chinese coast guard boats blocked vessels carrying supplies to the Philippine military in the disputed Spratly Islands.
And The Straits Times published a long piece about Chinese tactics in the South China Sea — that Chinese fishing boats were being used as a kind of militia to keep other countries' vessels at bay.
"China officially denies using maritime militia to press its territorial claims. But its existence has been documented over the years by Asia-Pacific scholars and governments, who have combed through Chinese-language reports and publicly available records, combining them with photos and remote sensing data to cast doubt on China's denial."
The Jakarta Post lamented the lack of progress on a South China Sea Code of Conduct.
Beijing had signed a non-binding declaration in 2002 but was stalling on negotiations with ASEAN on a code that would cover the means of resolving disputes, senior editor Endy Bayuni wrote:
"ASEAN should take up Xi's Monday speech denouncing hegemonic ambitions as an opportunity to bring the negotiations on the code of conduct a central agenda in building their relations with China."
China's naval strategy?
Much of the Australian public discourse about China is rooted in the present and viewed through the narrow-focus lens of national security and defence. But a helpful way of thinking about the present and the future is to move the mind forward from an understanding of the past.
Few people are better qualified to offer a well-informed historical context for framing thinking about China than Wang Gungwu, a historian of South-East Asia and China.
Wang is a professor of the National University of Singapore (NUS). Many Pearls and Irritations readers will remember him as the professor of Far Eastern History at the ANU for almost 20 years and later as vice-chancellor of Hong Kong University, as well as the founding chairman of the Lee Kuan Yew School of Public Policy at NUS.
Wang was the keynote speaker at a recent webinar on China's new Maritime Silk Road. On Monday, The Straits Times published a long edited text of the speech.
In the 15th century, China scrapped its navy. It saw no threat from the sea and no need to go to the expense of maintaining a navy.
When Europeans arrived in East Asia, China was without naval power. "The Opium War and the opening of China transformed the Chinese," Wang said. "For the first time, they were defeated at sea, and the country was endangered from the sea…That was a complete shock to the Chinese.
"By 2000, it was very obvious that the Chinese economy was dependent on maritime trade. But prior to the 1990s, the Chinese were so poor they didn't have the resources to build ships."
Within a few decades, however, people were talking about the Chinese navy as a major threat to the world — "which is, to me, absolute nonsense."
Wang said China was building a lot of ships but they were yet to fight a naval war. "As far as I can tell," he said, "they have never really won a serious naval battle in the whole of their history. So I would put a question mark over China being a naval power.
"Nevertheless, they are trying. They are building it because they want to make sure their coasts are safe.
"Have they more ambitions beyond that? One cannot be sure. At this stage, all they can hope for is to make sure they are themselves totally defensible at sea, and their economic dependence on maritime trade could not be threatened by forces hostile to China's development."
Two views on invasion
Is a Chinese invasion of Taiwan imminent? Or, at least inevitable?
The notion that invasion is certain — and possibly sooner rather than later — is widely held in the West.
But there is another way of looking at the question as Lawrence Chung, the South China Morning Post's Taiwan analyst, explored during the week.
Chung noted that Xi Jinping, in his online meeting with Joe Biden, warned of dire consequences of Taiwan crossed a red line and declared independence.
He quoted Xi as saying: "If Taiwanese independence separatist forces provoke or even break through the red line, we will have no alternative but to take drastic measures."
So far, so threatening.
Independence has long been a central plank of Tsai Ing-wen's Democratic Progressive Party, in power since 2016.
However, Tsai takes the line that Taiwan already enjoys sovereignty so there is no need to declare independence.
And, according to a 1999 party resolution, any change in the status quo had to be decided by referendum.
Public opinion polls show that as much as 85 per cent of the people support maintaining the present arrangements.
Xi told Biden China was patient. Chung's thesis, it might be said, relies on China staying that way. But it seems unlikely Taiwan would give China an excuse.
Bombs to ballots
The Bali bombing in 2002 was our region's worst terrorist attack, leaving more than 200 people dead. It was carried out by a group linked to al-Qaeda called Jemaah Islamiyah (JI).
Indonesian authorities almost dismantled JI in the years following the bombing.
But now, The Jakarta Post reports, JI is rebuilding and developing a new strategy — to infiltrate religious organisations, government institutions and national politics.
Last week, police arrested three people believed to be senior figures in JI. One, Ahmad Zain An-Naja, is a top official in the Indonesian Ulema Council, a semi-official board of Muslim scholars that also controls the country's halal-certification scheme.
The Post says this raises questions about the extent of JI infiltration of mainstream Muslim groups.
Ahmad Nurwakhid, deputy for prevention at the National Counter-Terrorism Agency, told the paper JI had changed its strategy. "They used to focus on combatants but now they have shifted to dakwah (religious propagation) and politics," he said.
The long-term goal was to establish an Islamic state.
Anyone for ping-pong?
At a time of great tension in China-US relations, China Daily is reporting on the commemoration one of the first steps towards easing tensions. It is the 50th anniversary of ping-pong diplomacy.
A ceremony was held at the 2021 World Table Tennis Championships in Houston, Texas. Young players from both countries attended the event.
Ping-pong diplomacy involved a trip to China by a US table tennis team well before any official moves to establish relations between the two countries.
Former US Secretary of State Henry Kissinger said in a message he and the late president Richard Nixon had been ambivalent about the visit. But it had gone spectacularly well.
Gou Zhongwen, chairman of the Chinese Olympic Committee, said it was time to learn from the history of ping-pong diplomacy.