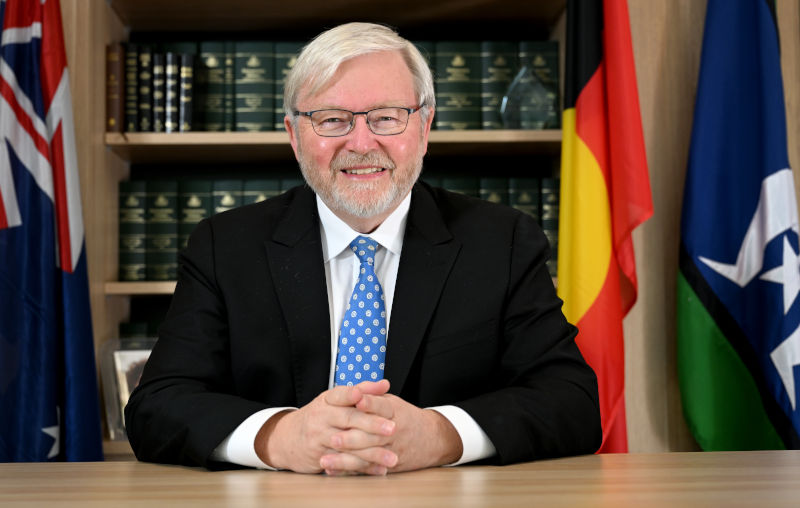 On Dec. 20, Australian Prime Minister Anthony Albanese announced the appointment of former Prime Minister Kevin Rudd as his country's next ambassador to the U.S.
I have known Rudd for about 25 years in different contexts and our paths have crossed in various parts of the world. We've been fellow panelists at seminars and conferences and delivered complementary lectures in particular institutional settings.
He once chaired a presentation I gave to Australian parliamentarians on the United Nation's new principle of the Responsibility to Protect. He has always been happy to greet me and talk to me no matter when and where our encounters took place. He is exceptionally smart, and in his dealings with me at least, very affable.
I was outside the country during his first term as prime minister (Dec. 2007 to June 2010) when many problems surfaced and questions were raised about his leadership qualities: a "psychopath, micromanager and control freak," The Australian recalled on Dec. 21. Regardless, Rudd's record as a leader does not necessarily reveal his potential to perform as ambassador to the country that is the most critical of all to Australia's future.
The Peter Principle holds that people are promoted to their level of incompetence. With Ambassador Rudd, those with a visceral dislike might console themselves with the thought of the anti-Peter Principle: people can descend to their level of maximum competence.
There can be no denying the qualifications, experience, skills, networks and high profile that Rudd brings to the job. The post requires an ambassador with a serious rather than mainly representational mandate. Diplomats engage in a wide range of functions encompassing a long list of subjects, from war and peace to health, environment and the arts. Matters of state call for delicacy as well as soundness of judgment. Failures of either can lead to catastrophic consequences.
An ambassador is the country's eyes, ears and voice abroad who must be aware of national interests and values and possess the intellectual facility and linguistic agility to communicate messages precisely to the target audience while being able to point to plausible alternative meanings to other audiences.
He or she must learn the host country's culture, politics, policies and personalities. The person must also cultivate friends and interlocutors and earn their respect and confidence, but not fall prey to the dreaded disease of "localities" where understanding of and sympathy for the host country undermines their own country's policies. Rudd already meets every single one of these requirements.
In a world of networked diplomacy that has displaced old-style club diplomacy, an ambassador must engage widely with various actors, including administrators, lawmakers, power brokers, analysts and the media. He or she must focus on the core one to three issues that matter in the bilateral relationship. With the U.S., high diplomacy of a geostrategic nature is key.
Public speaking from important national and global platforms provides many opportunities for advocacy and the promotion of goodwill. Washington also delivers global media coverage. Serious public platforms invite very few ambassadors to compete on their busy schedules. Few could do all this better than Rudd.
Recruited into Australia's highly competitive Foreign Service and trained as a diplomat, he moved sideways into the Queensland public service sector before being elected to Parliament. His rapid ascent to opposition leader and prime minister was matched by a spectacular descent, rehabilitation, election defeat and exit from politics.
After Labor's defeat in the 2013 election, Rudd quit politics, moved to New York and ended up running a major think tank on Asia. Unlike notorious incidents during his leadership that showed anger management issues, a lack of interpersonal skills, including an alleged tendency to treat civil servants as underlings and a failure to show due respect to Cabinet colleagues, there have been no such stories to have come out in regards to his time in New York. As chair of the International Peace Institute board, he remained in touch with senior figures in U.N. circles and also acted with exemplary swiftness and decisiveness in removing the IPI president for financial links to disgraced financier Jeffrey Epstein.
In September, Rudd received his doctor of philosophy from Oxford, no small achievement, after writing a 420-page dissertation on Chinese President Xi Jinping's worldview. He has extensive links with some of the leading U.S. universities and think tanks and, surprising as it might sound to numerous Australian critics, he is both well known and highly regarded in U.S. and Asian policy and think tank circles. This means he will be able to talk to and meet with top U.S. policy makers and influencers and will also be a coveted guest for other ambassadors and visiting dignitaries.
In addition, of course, he will have direct access to his own country's leadership, including the prime minister and foreign minister. It's hard to imagine any other ambassador to the U.S. being more plugged in to people and networks that carry the most global clout. He also has well honed media and social media skills.
What's not to like about Rudd's appointment as Canberra's man in Washington? His policy heft, political clout and global networks will make him the envy of the Washington diplomatic circuit.
Some might answer that having Rudd as the ambassador risks the unleashing of an "unguided missile" who creates problems and causes embarrassment for the country.
However, there is absolutely no doubt about the hierarchy. Policy, for example on AUKUS (a trilateral security pact between Australia, the U.K. and the United States), is the provenance of governments. An ambassador, even a former prime minister, is not a policymaker. In ancient times, when direct consultations and back-and-forth communications were not feasible, the monarch or republic was far more dependent on the ambassador's judgment and skills on the spot. Today all important matters are referred back to the home capital. The ease and speed of travel today also allow leaders to engage in shuttle diplomacy — over and around embassy officials.
At worst, the department's secretary (vice minister) may have difficulty in controlling this ambassador — but Foreign Minister Penny Wong is no shrinking violet. Prime Minister Albanese will neither sacrifice her to appease Rudd nor put up with discipline issues — let alone outright defiance — from the ambassador. Loose lips from an envoy in other, less prominent countries might be tolerated, but not from the nation's top diplomat in the world's most consequential capital, with the importance of the post imposing its own discipline.
Article first published in Japan Times on 20 January 2023