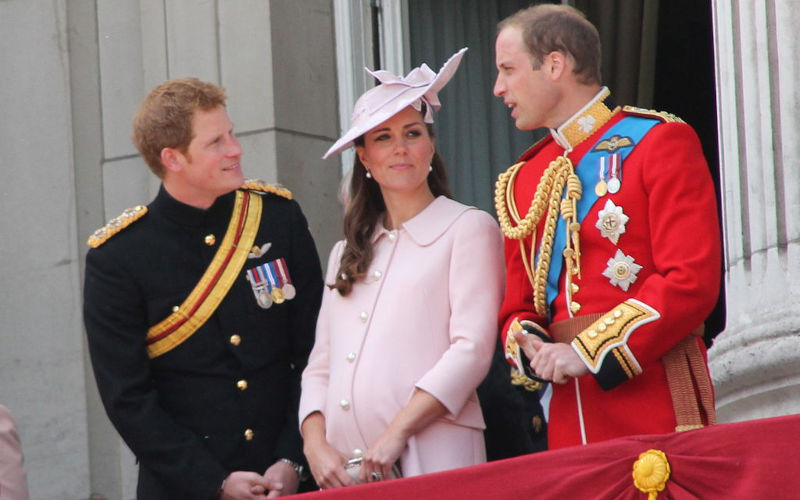 At the heart of Prince Harry's latest salvo in the trans-Atlantic royal family breakdown, now clearly beyond repair, is his ultimate target – the media-Palace relationship which has torn his family apart and which in its public disintegration now threatens the monarchy itself.
The unseemly family dysfunction, institutional racism or 'unconscious bias' in the descriptor de jour, the emotional outsourcing to anonymous courtiers whose sole purpose is to protect the royal family as institution – the firm above family – the father unable to hug his son when telling him of Diana's death, and the sons unable to cry at their time of greatest grief, this is a royal horror story whose ending is yet to be written.
This now openly feuding family provides our head of state, imposed on us and 14 other Commonwealth nations by dynastic succession and inherited title alone, in which we have no say and no relevance. It inevitably reignites questions about why Australia is still a Constitutional monarchy. As Bill Shorten said, 'why do we need to keep borrowing a dysfunctional British family to be the head of state of Australia?' Why indeed. It is a national humiliation to accept an imposed head of state from among this thoroughly unpleasant, cosseted, entitled family. An Australian republic is long overdue.
The most significant contribution of Spare, a matter of 'public interest' as Harry told Tom Bradby, is the insight it brings to the toxic symbiotic relationship between the Palace and the media. Harry's latest public airing of celebrity family feud has laid bare this abject media 'compact', in which stories are planted, leaked, namelessly dropped, by competing royal media units to ensure no negative stories about their own principals by providing negative stories about the others, with no regard for truthfulness or impact. That's the compact, the tawdry deal, that pits brother against brother, family against family.
Forget the minutiae of claim and counterclaim and internecine disputes, this mutually dependent media-Palace nexus is the one point of genuine public interest which ought to be addressed. It has profound implications for our understanding of both the monarchy and the media – the lofty idealised 'fourth estate', the holder of power to account and a lynchpin of democratic accountability for the three 'estates' of power. What becomes of that critical function when one has so seamlessly merged into the other?
This relationship and its devastating impact is the focus of the Netflix series, and it makes harrowing viewing. No-one can survive unscathed from such an endless denunciation of their very essence, their character, motivations, and life's ambitions, as Meghan Markle faced over the last 6 years. It was unrelentingly brutal, a campaign 'of inarguable racism, sexism and sheer hatefulness', and the more they kicked back the harder the 'royal rota' came. 'Constantly just picked at by these vultures' as Diana, whose presence haunts every page of Spare, described it.
Nor are their claims of media mistreatment without foundation. A study by the Guardian newspaper found that Meghan Markle was the subject of 843 articles in 14 print newspapers from May 2018 to January 2020, of which 43% carried negative headlines, 20% were positive, and 36% neutral. Kate, Duchess of Cambridge by contrast appeared in just 144 headline stories over the same period, 45% of them positive, 47% neutral and just 8% negative.
Through all Harry's lament for a family lost to an arcane royal institution is a plea for this toxic compact, which has cast its destructive pall of confected 'news', scandal and conflict over his family, to end. From the demonstrably false News of the World's 'Harry's in rehab', to the petty and ludicrous 'Meghan made Kate cry!', 'Meghan Markle's beloved avocado linked to human rights abuse and drought', the thinly veiled racism of 'Megan Markle's exotic DNA', from the racist and dangerous BBC replication of a neo-Nazi group's description of Harry as a 'race traitor' with an image of him with a gun pointed at his head, to the demotic Jeremy Clarkson's grotesque sexualised violent imagery, 'I hate her on a cellular level .. I'm dreaming of the day when she is made to parade naked through the streets of every town in Britain while the crowds chant 'Shame!' and throw lumps of excrement at her'. Nothing it seemed was too vile, too dangerous, or too humiliating to be deemed fit for publication by the British press.
The litany of lies and misrepresentations cast an entirely new and false persona over someone who had dared enter the royal fold as an intelligent, independent, self-made woman and, heaven forbid, a feminist activist. Recast through the tabloids as 'Duchess difficult' and 'demanding', those hackneyed gendered epithets immediately recognisable to millions of women with an opinion the world over. And through it all the Palace remained silent as Meghan Markle, Duchess of Sussex and a member of their own family, faced the most intense, misogynist, media bullying, to the point of contemplating suicide.
And not once did the Palace feel constrained to intervene. There was no denial of the palpably false, no statement of concern over even the most egregious incitement, much less a plea to the press to back off. Reflecting on the Clarkson vilification Harry told Bradby, 'There comes a point when silence is betrayal'. And, as if it couldn't get any worse, it was their own family members and media teams planting some of the most heinous stories, complicit in the media desecration. 'Betrayal' doesn't even come close.
Two days after the Netflix documentary aired, as though determined to prove everything they had said about the toxic media-Palace nexus was true, came the Jeremy Clarkson obloquy, written just days after Clarkson and Meghan's other media obsessive, Piers Morgan, had lunched with Camilla, the Queen consort.
The Palace may have remained ostensibly silent, while speaking through a stream of unnamed 'Palace sources', Meghan Markle however did not. In 2018 she took legal action against the publisher of The Mail on Sunday, despite the Palace urging her not to, over its publication of a private letter to her estranged father after her wedding in which she pleaded with him to stop talking to the media, 'you have broken my heart into a million pieces'.
The significance of Markle's victory was not so much as a legal precedent, the Mail had published the letter well-aware of the breach of copyright and privacy involved, in the expectation that she would not sue. After all, Kate Middleton's phone had been hacked over a hundred times with no action taken. Meghan Markle's victory was in this sense a 'cultural and media' turning point. She had refused to accept the media impropriety and sued. And she won.
After the verdict Meghan articulated what is now clearly the focus and the intention of Harry's very public call-out of the royal-media nexus, of which this case was just the beginning; 'What matters most is that we are now collectively brave enough to reshape a tabloid industry that conditions people to be cruel, and profits from the lies and pain that they create'. 'To reshape a tabloid industry' – move over Kevin Rudd and the Murdoch royal commission, this is taking on the whole infested edifice of the British tabloid media.
In 2019 Harry joined the many others who have sued the News of the World, the Sun and the Daily Mirror, for hacking his voice messages. His decision to take legal action was seen as an 'all-out war with the British newspaper industry', so rare is it for the media's illegal activities in the misplaced name of 'journalism' to be challenged. Rupert Murdoch's News Group has admitted in court documents that Harry's phone was hacked by the News of the World royal correspondent Clive Goodman and private investigator Glenn Mulcaire, and now claims that it is too late to sue over articles published in 2006. The case continues.
For the media, the legacy of Harry and Meghan's flight is yet to play out and it will be fascinating. It's captured in a little noted remark by Harry to Tom Bradby, that his 'mission in life' is now to change the way the British tabloid media function. And that really is a force to be reckoned with because, unlike the other victims of the illegal phone hacking, he has the financial means to do so. It marks a major shift in this long-running saga, from tragic family breakdown to a campaign against the tabloid media and their special relationship with the royal family. Break out the popcorn, this could take a while.
The royal family's silence at the appalling media treatment of its own members is the most damaging legacy of Spare. Had the monarchy been more receptive to change this could have been an opportunity for royal renewal and not, as it has become, a dangerous point of destabilisation. In what now appears a naïve expectation, Meghan and Harry clearly believed that they could make a uniquely modern contribution to the ageing edifice of the monarchy. It was an opportunity lost. The monarchy may rue the day it failed to recognise a rare opportunity for it to evolve, to embrace the contemporary reality of the post-imperial Commonwealth, even to genuinely 'modernise' other than merely changing two words in the coronation ceremony, and by doing so survive.
It might even have halted, or at least delayed, the now established path toward an Australian republic under the Albanese government. But that would have required a willingness to change entirely alien to an institution built on a rigid adherence to protocol, 'cos-playing at being their ancestors' in the arch description of Patrick Freyne, and fearful of change as merely the first step toward royal oblivion. Such is the insecurity and fragility of a dynastic monarchy in a democratic state.
This unedifying display of royal family discord will only hasten Australia's move towards a republic with our own choice as head of state, no longer determined by the dynastic succession of the British monarch. Surely one of us can only be better than one of them.