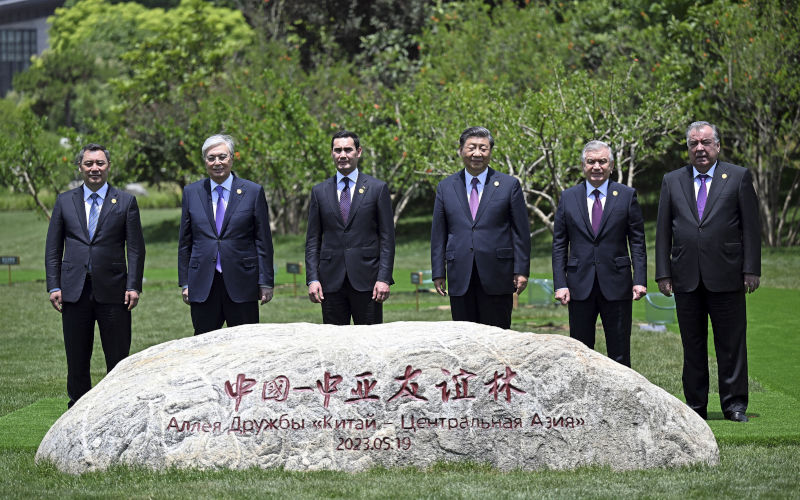 US primacy is being replaced by two orders led by Washington and Beijing. Canberra's job is to make the US understand what has happened.
One meeting fell over last week, but another one stood up.
Joe Biden's dash back to Washington to deal with the debt ceiling is not the end of the Quad, and certainly not the end of this period of intense superpower rivalry.
But putting domestic politics ahead of regional security could only contrast poorly with Chinese President Xi Jinping presiding over the third China-Central Asian Summit in the Chinese city of Xian. Last week's meeting was the culmination of a startling shift in China's diplomatic urgency and activism of recent months.
It also highlights the huge damage Vladimir Putin's war in Ukraine has done to Russia. This meeting is likely to come to be seen as marking China's ascendancy over Russia as the dominant influence in Central Asia, ending some 300 years of Russian pre-eminence.
Earlier in the week, with little public attention, China broke with the international isolation of Afghanistan following the return to power of the Taliban in Kabul. In a trilateral meeting with Pakistan – itself a major achievement in view of the hostility between Islamabad and Kabul – China and Pakistan agreed to include Afghanistan in the signature Belt and Road Project – the China-Pakistan Economic Corridor. In doing so, it has also stolen a march on Russia in terms of influence over Afghanistan.
Chinese investment in transport infrastructure and mining may be no more than a trickle to begin with, but any foreign funds will be gratefully received in Kabul in view of the country's dire economic situation and international isolation. Greater Chinese influence will flow in with the yuan.
Most observers of China tend to be stuck in the rear-vision mirror. Few are yet asking themselves what has gone on in China since Xi's zero-COVID policy was effectively ditched overnight in December. China also dumped its damaging "wolf warrior" diplomacy, flicked the switch to vaudeville (to channel Paul Keating) and went on an international charm offensive.
These are not 'blocs' in the sense that the Cold War had blocks.
On February 24, China announced a 12-point peace plan for Ukraine. While rejected outright by the US and some in Europe and elsewhere closest to the US, Ukraine remained silent.
Ukraine President Volodymyr Zelensky simply noted China's initiative and acknowledged its constructive efforts to resolve the conflict. Xi followed that by a three-day meeting with Putin in Moscow. An unusually long stop and one that was without more recent effusive declarations of brotherhood.
Recently, Xi and Zelensky held a long telephone conversation. China has now appointed a special envoy to the conflict to shuttle between Kyiv and Moscow.
Beijing would not have expected the leaders of the West to fall over themselves in gratitude with its peace proposal. What it sought was to deal itself into any future settlement of the conflict, to lay down an irresistible marker that it had global interests, and a constructive role to play resolving conflict. This is a step-change in China's foreign policy.
And then, just as the West was dumping all over China's peace plan, on March 10, China startled the world by announcing that it had brokered a reconciliation between Saudi Arabia and Iran. In doing so, it revealed its intention to become a major player in Middle East affairs.
As the major importer of Middle East oil, China is well-placed to exert considerable influence. Former key Western allies such as Saudi Arabia are seeking membership of Chinese-led groupings such as the BRICS and the Shanghai Co-operation Organisation, where both India and Pakistan are members.
A long line of world leaders has also been beating a path to Beijing – Brazil, France, the EU, Germany, Malaysia, Singapore and more – and all have sought to make the point that they reject US-China strategic competition and do not intend to be pushed to make a choice.
Some, such as the Malaysian and Brazilian leaders, have been active in promoting de-dollarisation as a hedge against US financial instability and to mitigate potential US influence in the way that financial sanctions have been used against Russia. De-dollarisation seems to be gaining momentum from Latin America to the Middle East and, of course, Russia and Central Asia.
The 14th China-initiated BRICS (Brazil, Russia, India, China, and South Africa) will be held in Johannesburg in August. High on the agenda is a possible BRICS currency. While unachievable, an agreement to conduct more of their bilateral trade in their own currencies is feasible.
For sure, the US has effectively led a unified, massive Western sanctions regime against Russia. But the war in Ukraine continues with still no end in sight. As an unintended consequence, however, the sanctions against Russia have highlighted to many outside the Western fold the urgency to reduce dependence on the US dollar. Indian-Russian trade, which has grown massively since Western sanctions were imposed, is conducted in each other's currencies.
This, then, is the shape of the new world order. It is with us now. It has emerged exceedingly rapidly. Effectively, it comprises two bounded orders. One with the US at its head, the other with China. These are not "blocs" in the sense that the Cold War had blocks. They are not ideologically based so much as representing different ordering of values and associated forms of social and political organisation. At times states may move between the two, as the Philippines has recently shown.
Nor do they preclude co-operation between bounded orders on the global commons, such as environment. As the Australian Prime Minister and Foreign Minister have so succinctly summarised, our relations with China, the bounded orders will "co-operate where they can and disagree where they must". The challenge for Australian foreign policy, then, is to come to grips with the end of US primacy long before the US comes to understand that it has ended.
First published in AFR Column May 24, 2023. Republished with permission.
For more on this topic, we recommend: