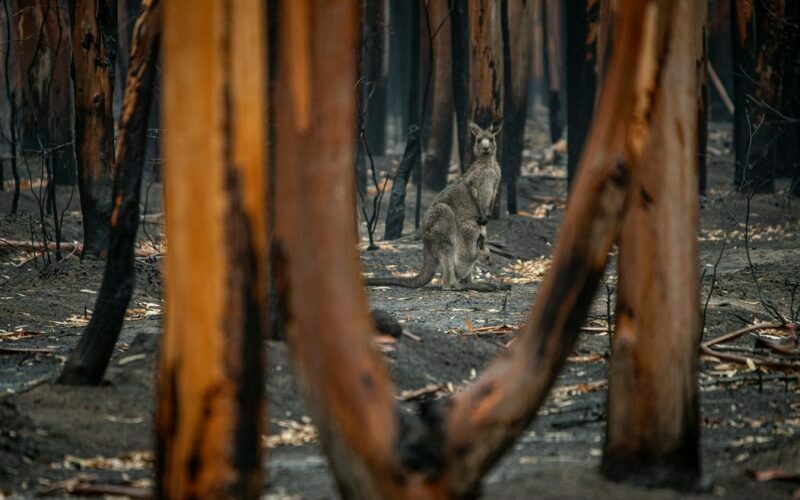 Net zero for carbon emissions in 2050 is meaningless without an ambitious target to halve these emissions in the next decade. In a two-part article, Michael Keating sets out why we need a more dramatic target.
Prime Minister Scott Morrison would like us Australians and the world to believe that he is fair dinkum about climate change and the need to reduce carbon emissions. So, after considerable concessions to the Nationals, Cabinet will sign off on a target of net zero emissions by 2050 to replace the PM's previous aspiration.
However, this "target" will not be legislated, and is therefore no more than a non-binding statement of intent. Consequently, many observers, both here and overseas, will consider the difference between Morrison's previous aspiration for net zero emissions and the new target to be minor at best. Indeed, was this minor change really worth all the fuss and bribes to the National Party?
What matters much more is that Australia will not be committing to a significant reduction in carbon emissions by 2030.
Morrison may, however, be well pleased that the prolonged debate about net zero by 2050 has successfully diverted public attention from this much more important but also much more difficult target. And given that net zero by 2050 is 30 years away, Morrison could continue to leave all the hard work of reducing carbon emissions to another future prime minister if the Nationals' recalcitrance continues.
But as the latest report from the Intergovernmental Panel on Climate Change makes clear, global warming of 1.5 degrees Celsius is already inevitable by 2030. Australia along with all other advanced economies must act early and hard if the world is really going to limit global warming to 1.5–2.0C.
If we delay action, so that most of the planned reduction in carbon emissions occurs closer to 2050, the stock of carbon in the atmosphere will have built up. It will then not be possible to prevent a catastrophic increase in temperatures of more than 2.0C.
All other advanced economies understand this need for an ambitious target for 2030. They know that the emissions-reduction pledges made six years ago by the 195 signatories to the Paris Agreement will need to be increased at COP26 in Glasgow if we are to realise the goal of limiting warming to 2C, while aiming for no more than 1.5C.
Other countries are therefore revising their emissions targets for 2030 upwards with, for example, cuts ranging from 40 per cent (Korea), 40–45 per cent (Canada), 46 per cent (Japan), 50–52 per cent (US), 55 per cent (EU) and 68 per cent (UK) below their emissions peaks.
Morrison's excuse for ducking an ambitious target for 2030 is that Labor took a 45 per cent emissions cut by 2030 to the last election and lost. He implies that adopting a similar carbon-reduction target would be a betrayal of the election mandate.
But what a pathetic excuse. People do change their minds, as have a majority of the Australian public, including the Business Council, the Australian Industry Group, the Australian Farmers Federation, and even more amazingly, the Murdoch press. As Keynes said in response to the Great Depression of the 1930s, "when the facts change I change my mind".
There is nevertheless some talk that the government will take a projection (not a target) to Glasgow for carbon emissions in 2030 which is somewhat more ambitious than the 26–28 per cent cut previously committed to in Paris in 2015.
But a projection is not a commitment. Australia too needs to accept its share of the necessary reduction in carbon emissions and match the effort of other advanced economies if the world is to be successful in limiting climate change, and that requires a commitment to emissions reduction of at least 45–50 per cent by 2030.
Without such a stringent and binding plan to minimise national emissions in the short term, a 2050 net-zero target is vacuous.
TOMORROW: How best to realise this new target and take advantage of Australia's substantial opportunities as a low-cost producer of renewables