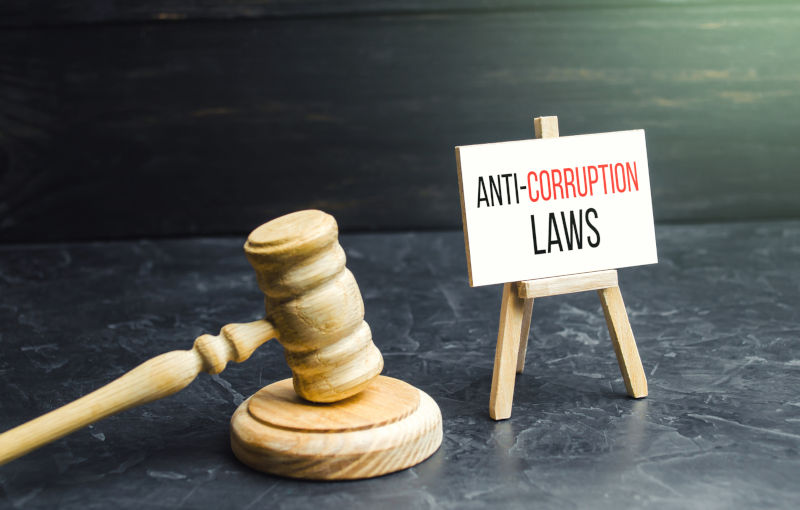 If Australia is serious about detecting and exposing corruption in arms deals and other defence contracts, the National Anti-Corruption Commission bill needs to be significantly strengthened.
The proposed Commission has positive features and two significant flaws.
The Albanese government was elected with a mandate to clean up corruption at the federal level. The government has acted swiftly to introduce its proposed anti-corruption commission legislation to parliament. The bills are being scrutinised by a parliamentary inquiry.
Civil society experts and members of the crossbench are to be congratulated for maintaining pressure on the major political parties over many years to ensure this historic outcome.
Arms industry: hard-wired for corruption
The World Peace Foundation at Tufts University in America has also produced extensive research, including a compendium of corrupt arms deals. It says: "Corruption within the industry is often treated in terms of isolated incidents, when it is, in fact, representative of the business model for the industry."
In June, Michelle Fahy's feature Hard-wired for Corruption was published by Arena Quarterly, examining the arms trade from an Australian perspective.
In the decade to 2030, Australia will spend $575 billion on defence. This includes substantial additional funding for arms procurement – $270 billion – on top of the regular defence budget.
Australia's new National Anti-Corruption Commission (NACC) is long overdue and much-needed. This is especially so in the defence sector given:
massive amounts of public funding, as noted above
inbuilt drivers towards corruption inherent in the arms trade, including the high value and complexity of arms deals, the close association between the arms industry and political power, and the pervasive secrecy surrounding arms deals under cover of 'national security'
lack of specific anti-bribery and corruption measures of international best practice standard on numerous major Australian defence procurements (uncovered by anti-bribery and corruption expert, Chris Douglas, a former 31-year veteran of financial crime investigation for the Australian Federal Police; see here and here)
'revolving door' of personnel between Defence, the military and the arms industry. The revolving door is not illegal or necessarily corrupt, but Transparency International notes it can lead to abuse if not properly managed. There are numerous examples of cooling-off periods not being respected in Australia for those moving into the arms industry from related public roles, and vice versa. (See here, here and here.)
red flags for corruption in past arms procurement and sustainment contracts (three examples here).
Given the risks and red flags, the NACC must be established on a strong foundation to provide the best chance of detecting and exposing corruption in this high-risk sector.
Upsides and downsides of the bill
broad definition of corruption
independence of the Commission
strong investigative powers
ability for the Commission to commence investigations on its own initiative (including matters that occurred prior to its formation) and in response to referrals or allegations from any source
the Commission's mandate to play an educative and consultative role towards preventing corruption.
There are, however, two significant problems with the bill that will have a detrimental impact on exposing serious corruption in arms deals and other defence contracts. The first problem is being widely criticised and we cover it in some detail.
Problem 1: Private hearings as default
The inclusion of the 'exceptional circumstances' hurdle, on top of a public interest test, has been widely criticised as unnecessary and ambiguous, generating warnings it will act as a 'brake' on public hearings.
Why are public hearings important? They:
expose corruption and misconduct to the public – a core objective of corruption commissions.
enable more effective investigations: witnesses can come forward with new evidence. Without public hearings, witnesses with key information may not realise an investigation is occurring and may not know how the information they have fits into the case.
provide greater accountability. The investigation is conducted transparently meaning the Commission is accountable to the public and must treat witnesses and those under investigation fairly.
increase public trust. The public can see allegations of corruption being investigated fairly and in the public interest.
improve public sector integrity while deterring others from engaging in corruption and misconduct.
educate the public sector and community about corruption and misconduct issues.
(List source: The Australia Institute)
The government says the 'exceptional circumstances' wording will help protect the reputations of witnesses called to give evidence. Numerous experts have countered that reputations are sufficiently protected by other provisions in the bill. These experts have offered additional suggestions for protecting reputational concerns that don't use the 'exceptional circumstances' hurdle.
Anne Twomey, Professor of Constitutional Law at Sydney University, says in her submission (no 43), "As 'exceptional circumstances' is a very high hurdle, it can confidently be predicted that almost all hearings will be in private."
Public hearings are important for investigations into arms deals and other defence contracts because people with knowledge of the matter can come forward with additional information. In the complex and highly secretive world of defence deals, this may prove crucial in getting to the truth.
The Victorian Independent Broad-based Anti-corruption Commission (IBAC) submission (no 47) to the inquiry emphasised this point:
The nature of serious or systemic corruption is that many people may have knowledge of isolated pieces of information that may be relevant to a particular investigation. By holding a public examination, awareness and understanding of the matter under investigation is raised and witnesses can be prompted to come forward with relevant information that they had not previously understood the potential significance of.
The IBAC submission also noted that the NACC bill includes safeguards enabling public hearings to be held without unreasonable damage to the reputation or welfare of witnesses.
It is therefore IBAC's position that a requirement that exceptional circumstances must exist for a public hearing to be held is unnecessary given the safeguards that already exist within…the Bill.
The IBAC is the only anti-corruption commission in Australia required to operate with the problematic 'exceptional circumstances' wording. Its submission says these words have "the effect of placing an artificial limit on IBAC's ability to conduct examinations in public".
Former judge of the Victorian Court of Appeal, Stephen Charles KC, has long argued that these words inhibit IBAC's ability to expose corruption. Evidence collated by The Centre for Public Integrity supports this:
NSW ICAC (42 public hearings, 39 public reports from 2012-13 to 2019-20) has exposed more corruption to the public than Victorian IBAC (8 hearings, 14 reports).
The NSW Independent Commission Against Corruption (ICAC) conducts compulsory private examinations of individual witnesses to determine whether sufficient evidence of serious or systemic corruption exists. This can include multiple examinations of witnesses. The required evidentiary threshold must be reached before it is determined whether to move into a public hearing.
John Hatzistergos, head of NSW ICAC, appeared at the parliamentary inquiry. He stressed the importance of transparency and public accountability, telling the inquiry: "The organisation has to be accountable and, in my view, public hearings are a way of keeping the organisation accountable." He also said: "I beg to differ with people who think that you can make findings against people – serious findings against people – in private."
Breaking an important election promise
The unexpected inclusion of this requirement is a major backflip on Labor's promise to deliver a transparent Commission.
'A lawyer's picnic waiting to happen'
It's "a lawyer's picnic waiting to happen" said Fiona McLeod SC (who explained why in this webinar). Geoffrey Watson SC said these words will be "ruthlessly manipulated by well-resourced persons and businesses under investigation". He added, "Even if that litigation is doomed to failure, experience shows it will be pursued just to disrupt or delay the proceedings." Anthony Whealy KC has said that court challenges will require the Commission to reveal its information publicly in court before its investigation can be finalised.
Exemplifying concern about the likelihood of litigation by companies under public scrutiny, we recall the 2018 legal action by arms manufacturer Thales Australia against the Australian National Audit Office in the Federal Court. Thales sought to suppress sections of an ANAO report on the Thales Hawkei vehicle procurement, delaying the report's publication for six months. Thales' court action cost the ANAO $223,000 to defend. Thales dropped the action when then attorney general Christian Porter agreed to its first preference, providing a never-before-used certificate censoring the parts of the report to which Thales objected. That censorship was overturned in early 2021 by the Administrative Appeals Tribunal following a long-running appeal by then independent senator Rex Patrick.
Problem 2: No whistleblowing commissioner
Two international examples involving Saudi Arabia – to which Australia also exports defence goods – highlight the importance of whistleblowers in exposing serious corruption. UK expert Andrew Feinstein told ABC radio in 2018 that he had never seen a Saudi arms deal that didn't involve "massive amounts" of corruption.