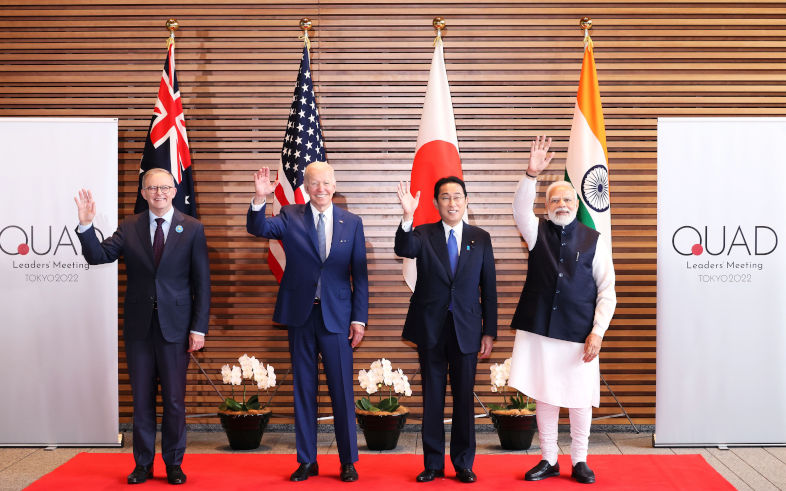 After the election, Prime Minister Albanese hightailed it to Japan for a QUAD meeting with Jo Biden, Narendra Modi and Fumio Kishida to join them in anti-Chinese posturing.
Perhaps our prime minister should have paused to think more seriously about QUAD and its future.
QUAD reminds me of SEATO – a paper tiger that lasted from 1954 until its inglorious end in 1977.
The QUAD was launched in 2007 in Tokyo by Japanese prime minister Shinzo Abe. It made little progress but was resuscitated when Abe returned to power in 2017.
Some commentators have described the QUAD as Abe's great achievement and Anthony Albanese has described Shinzo Abe as a giant on the world stage. But was he?
On the domestic front Abe kept some dubious company, most recently with the Moonies in the Unification Church. Because of that association and the assassination by an aggrieved son of a member of the church, the Japanese people have increasingly had reservations about Abe. Two thirds of Japanese people did not approve of the state funeral for Abe.
On the international front, Abe and his faction was known for its anti-Chinese stance. That hostility to China comes as no surprise. Abe inherited that view from his grandfather, Noboru Kishi, a former prime minister of Japan who was indicted for war crimes for his activities during WWII in Manchuria. Yes, Kishi became Prime Minister despite his record!
With the US at his back, Japan through Abe and others have been able to indulge their anti-China sentiment. In effect Japan is the spear-carrier for the US in North Asia like Australia is becoming in the South. Japan is often described as an unsinkable US Aircraft Carrier.
So Japan, under the influence of Abe and others in Japan, has been a keen supporter of the anti-China QUAD 'alliance'.
Another member of QUAD is India which, unlike Japan, has had a long tradition of non-alignment. It is close to Russia. Last December Modi and Putin signed 28 agreements between them covering investment, technical transfer, energy and defence. India intends to purchase copies of Russia's S-400 missile defence system. India has joined with Brazil, Russia, China and South Africa in BRICS. India has not joined the sanctions against Russia over Ukraine. It has abstained from voting on several UN resolutions criticising Russia's invasion of Japan. Against that background, India looks an odd member of an anti- China alliance. As Paul Keating has put it – it's hard to see the Indian navy confronting China in the South China Sea.
The key member of QUAD is the US which projects its military power against China in the numerous military bases in Japan, ROK and Diego Garcia that ring China. No wonder China feels threatened.
QUAD has a very mixed membership and like SEATO it has some very serious problems.
QUAD does not include most Asian countries and ASEAN in particular. Indonesia is not a member.
Despite the inclusion of India, it gives the impression of the developed western world telling Asian countries what is best for them.
It is more a reflection of fear of China than anything else and the US fear of losing its pre-eminence to China. It doesn't do anything to bridge or diminish gaps or differences.
If the QUAD does anything useful it should be seeking to do it in collaboration to China and not in opposition to it.
SEATO was established at the behest of the US in 1954. It was designed for the containment of China and communist influence in South East Asia, but the Philippines and Thailand were the only South East Asian countries to join. Pakistan was the only other Asian country. SEATO was dominated by outsiders- the US, UK, France, NZ and Australia. Those outsiders contributed 75% of SEATO's civilian and military budget.
QUAD looks to have many of the features of the failed SEATO. It doesn't contain significant South East Asian countries. It looks more and more like the paper tiger that SEATO turned out to be. The QUAD lacks a common view and a common purpose. It has a lot of action but little substance.
Paul Keating has described the QUAD as 'strategic nonsense' and a 'waste of time'. I agree.