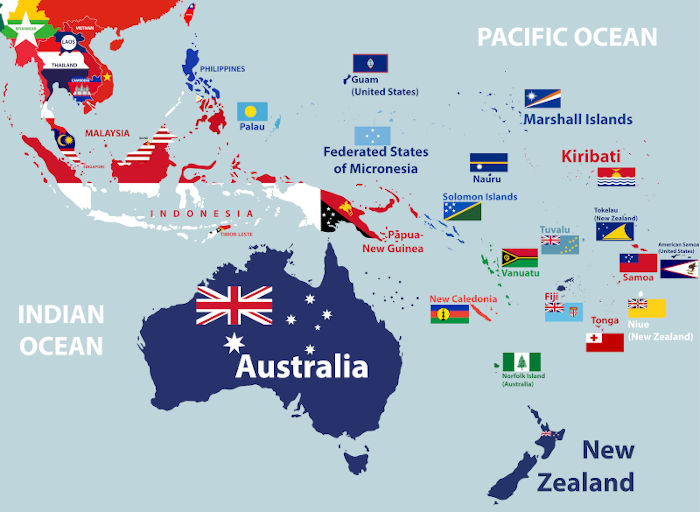 Suddenly the Pacific Islands have become a hot election issue. That is because the Solomon Islands agreed to China using its own security guards to safeguard Chinese businesses and projects from attack and looting in the wake of recognising China instead of Taiwan.
Here is how The Economist magazine described what occurred last November 2021: "Near parliament in Honiara, the capital, the protest descended into violence. Three days of looting in the city left much of Chinatown destroyed. Three people died in burning buildings. The damage runs to millions of dollars. It will be a long haul back to normality." In 2006, Chinatown was also burnt down.
Rather than viewing China's action as a natural response to defending Chinese people and property in the Solomons, Australia has accused China of wanting to establish a military base to create what Deputy Prime Minister Barnaby Joyce describes as "our own little Cuba off our coast." Both China and the Solomons deny that though the final terms of the security agreement are not yet public.
Whatever the intent, it raises the question; are the Pacific Islands Australia's "backyard" (a description to which Solomon's PM took umbrage), and if so, what could be done to keep out other powers such as China? Recent ideas have ranged from ramping up our foreign aid to Peter Hartcher's advocacy of an Australian naval base on Manus Island to cut off Chinese supply lines to the Solomons.
Such proposals ignore that Australia's greatest leverage in the Pacific Islands is entry rights to study, work, reside and become a dual citizen of Australia. The same is true for New Zealand. Except for Papua New Guinea, Fiji, and the Solomons, sovereign Pacific islands are too small to be economically viable (their GDPs largely consist of foreign aid), so their educated youth see their future in Australia or New Zealand (holding dual Islander citizenship).
Also, some islands are becoming unsafe with rising waters and worsening hurricanes. Their combined population excluding PNG, Fiji, and French/US jurisdictions is just 1.5 million people, yet they cover an ocean area seven times the size of Australia.
In my view, the best way for Australia to convince the Pacific Islands they are part of our family is to sign a Compact of Free Association with those too small to be economically viable and not aligned to the USA or France. Such a Compact would give their citizens special entry rights to Australia in return for them not accommodating foreign military bases or security guards.
That is something China could not match since indigenous islanders don't aspire to live in Asia. On everything else – aid, investment, security forces, gratuities, etc China can outbid us. On bribes, both China and Taiwan competed for official recognition so ensnared Islander politicians in graft and compromised good governance.
The USA has a Compact of Free Association with each of its three former Pacific Island colonies that give it and no other country the right to berth naval vessels. In return, it offers their citizens special entry rights to the USA.
There is nothing we can do to keep China out of the Pacific Ocean. It has freedom of navigation rights just as we insist our navy does in the waters off China. We do not recognise the East and South China Seas as belonging to China's sphere of influence so we cannot expect China to accept the Solomon and Coral Seas and beyond as part of Australia and New Zealand's patch.
The Pacific Islands are sovereign states that can negotiate any deals they like with China (such as selling one of the 25,000 islands under their authority to China). They know their bargaining chip with bigger powers is holding a seat in the UN (with a vote equal to that of every other member) and offering berthing and telecommunication facilities in a huge ocean with no large landmasses. But the possibility of forfeiting entry rights to Australia should dissuade any Island from signing up to a security pact hostile to us.
On 4 April 2022, the Australian government replaced its previous Pacific migrant worker programs with the Pacific Australia Labour Mobility (PALM) visa stream. A Pacific Islander who obtains sponsorship for seasonal (up to 9 months) or long-term (up to four years) work with an approved Australian employer may now obtain a temporary work visa for A$315.
The Labor Party as part of its election campaign is promising to make this new scheme more generous as well as protect temporary migrant workers from exploitation and mistreatment.
Primary visa holders on long-term work could bring their partners and children to Australia, which they cannot do at present. Seasonal agricultural workers could return to Australia each harvest season for up to four years. Finally, Labor would boost permanent migration from Pacific countries and Timor-Leste to Australia by allocating up to 3,000 visas annually through a lottery process like New Zealand does with 1,750 visas a year. Places would be within Australia's existing permanent migration intake with each Pacific Island given a quota.
While this initiative is welcome its 3,000 annual limit seems too small to bind the future of the Pacific Islands to Australia rather than China. If we are serious about making the Pacific Islands part of our family, we need to build up their local diaspora with a much larger permanent migrant intake of say 10,000 a year. That would be just over 6% of our overall permanent migration of 160,000.