Politics
With a statesmanlike press club speech, is Turnbull on his way back into politics?
Oct 1, 2021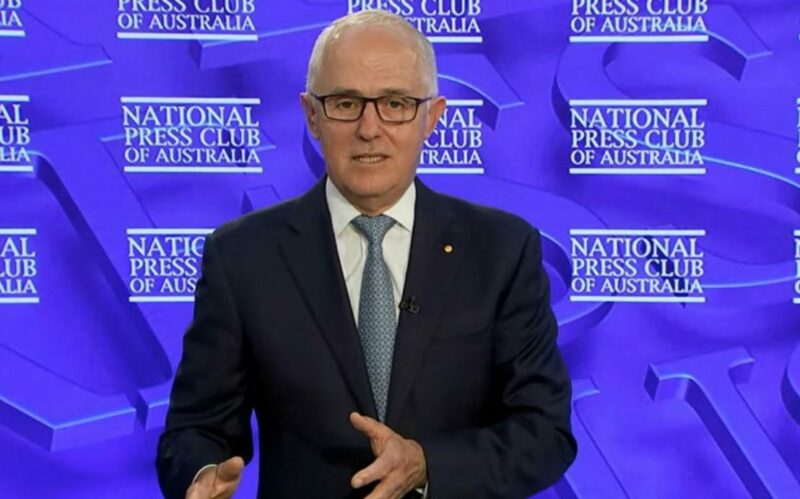 Former prime minister Malcolm Turnbull's online National Press Club address was extraordinarily good and could yet have significant political consequences.
The main theme of Turnbull's speech was — and the adjective is apt here — a forensic dissection of Scott Morrison's extraordinarily badly conceived and badly executed French submarines cancellation on September 16, and its very damaging consequences for Australia in the world and in our region.
A word count would show frequent usage of the words "clumsy", "deceitful" and "trust" in the speech and answers. I did not hear the word "treachery" but it was certainly implied: Turnbull as a lawyer would avoid loose resort to such a legally weighty word.
He methodically, as in a legal statement of case, recalled the history of the French deal.
He dwelt on the significance of the low-enrichment uranium used to power the French Attack-class submarine which Australia had asked in 2015–16 be converted to a non-nuclear powered submarine to be built and serviced in Australia, as a key component and stimulus to a revived Australian naval shipbuilding and maintenance industry.
He emphasised the great trust France had placed in Australia in 2016 in agreeing to so much sensitive strategic submarine technology transfer. He recalled the warmth of Macron's visit to Sydney at the time the deal was struck.
He emphasised in his speech and answers to questions that this was not just a business deal but an important extension of Australia's independent network of Indo-Pacific alliances, France being a significant Indo-Pacific regional power in its own right.
He expounded on the major breach of good faith in Morrison's handling of the cancellation — the "stab in the back", as significantly termed by the French foreign minister. He was scathing on the naïve and ill-informed admiration of parts of the Australian media for the allegedly skilful way Morrison had deceived the French, lulling them into a false sense of security as trusted partners.
He noted US President Joe Biden's known annoyance at Australia's mishandling of it all. He spoke repeatedly of the importance of preserving international reputation, and of the essential ingredient of trust in diplomacy. Morrison had squandered this.
He noted that though the Australia-France rift might superficially be papered over, the true damage to Australia's international standing as a trustworthy dialogue partner was large and longlasting.
He referenced the trade negotiations with EU and Indo-Pacific cooperation as likely early casualties. He noted his continuing good personal relationship with Macron but declined to act as a mediator for Morrison.
He emphasised that while deceit in domestic politics is par for the course, Morrison here as PM had spoken in Australia's name, and the resulting damage was to Australia — not just to Morrison or his party.
He was clear and persuasive on the important differences between France's low-enrichment and non-weapons grade nuclear submarine fuel, and the highly enriched nuclear weapons grade fuel used in US, UK and Russian nuclear-powered submarines: and that these three countries are all nuclear weapons powers.
He noted the profound technical and sovereignty and non-proliferation contradictions in Morrison's proposal to build subs in Australia powered by US or UK weapons-grade fuel elements, that supposedly would sit in sealed units that would (improbably, he intimated) not need servicing for the 35-year design life of the submarines.
He noted that any such servicing would have to be done in the US or UK, taking the sub out of service for months.
"This is not like slotting a recharged battery into your Makita power drill," he said. He mocked boastful claims that US or UK highly enriched uranium nuclear power technology would be shared by the US or UK with Australia: one might as well claim, he said, that Apple shares its technology with its iPhone users. Australia would have no real sovereignty over these US or UK submarines.
To a question on whether anything was retrievable with the French, he replied: not under Morrison, who is unable ever to admit fault or apologise, but under the next Labor government if elected, just possibly. But the damage to trust might by now be irreparable.
He sketched out how the matter should have been handled.
Morrison should have gone candidly to Macron in the first place, asking: can we revert to your nuclear power submarine model, perhaps after building the first two or three conventionally powered subs in Australia? Would you be willing to assist us, meanwhile, to transfer your low-enrichment nuclear powered submarine technology to us for an eventual fleet of sovereign Australian nuclear-powered submarines that could be built and serviced in Australia?
If the French had declined this request, Morrison could have honourably turned to the Americans, without deceit or breaking faith.
In this part of his presentation, I wondered whether Turnbull may perhaps have been offering the next Labor government an action plan? Certainly no progress will have been made before the next election on closing any US or UK deal.
He was reticent on his own political intentions. He professed personal liking for Liberal moderates like Dave Sharma and Trent Zimmerman but noted this group had no current influence on the Liberal Party's ideology. In other words, he owes them nothing.
Let me finally speculate freely on a possible political future for Turnbull after this remarkably thoughtful and statesmanlike speech.
He could stand again for Wentworth as an independent, loosely affiliated to the present independents' group in Parliament (Helen Haines, Zali Steggall, Andrew Wilkie, possibly to be joined at next election by additional members).
He would, I believe, easily defeat Sharma. Assuming that Labor forms government after the next election with supply support of the independents, leaving the reduced Liberals in opposition to reflect on their errors, the independents might gravitate towards Turnbull as a natural leading figure.
Let's assume Labor were somehow able in government to retrieve the French submarines debacle (a very big if). Turnbull — fully vindicated — would then be in a strong position to deal himself back in as leader of a reformed Liberal Party–Independents coalition in time for the following election.
I think he still has a lot of petrol in the tank.
His demeanour and delivery at the press club was alert. Every word was well measured. He would make an enormous contribution to the national interest, even if only as an independent federal member for Wentworth.
Nothing he said at the press club excludes this possibility. He is, as he said, "out of politics now". But now is now.
Who can predict the future of this remarkable politician?