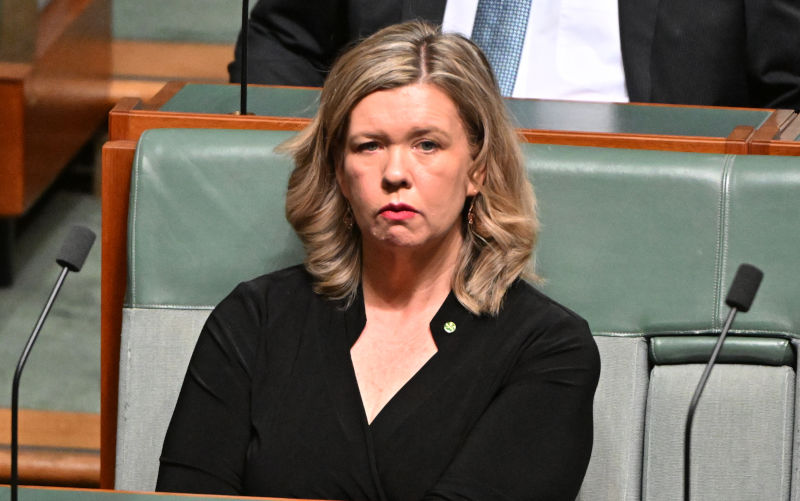 How drearily predictable it is that in the wake of another loss in Victoria that mythical cohort "women" is being bandied about as key to a resurrection of the floundering, flailing and failing Liberal Party at both State and Federal levels. Brad Hazard is the NSW Health Minister retiring at the forthcoming March 2023 election. He's not confused. "'Obviously it would be helpful to have more women in the parliament,' he said on 20 November. '"But would you do that to the exclusion of getting good people in?"'
"Women", as perceived by 1950s men, are already a fatuous construct. But this time women are to be joined on the Salvation Train by "minorities" – meaning progress-resistant men who are not white. Even "millennials" are to be sought by chaps in grey suits and eye-matching blue ties. Millennials? They are the group of over 25s and under 40s whose success in life and even basic home ownership is now determined less by the privileges of their education in "fair go", "classless" Australia than by the extent to which their parents or grandparents can help fund an "aspirational lifestyle" denied to so many. Millennials are also the oldest of the young people who will be most affected by the unforgivable lack of action on global warming by the Liberal/National Coalition.
The strange thing is that almost everything about the voting outcome in Victoria should have been predictable, except in the collective, narrowed mind of the right-wing media. The historic win of a third term for Premier Daniel Andrews came after weeks of horrendous confected ad hominem attacks, especially from the Herald-Sun which must rank as the most rank of Murdoch's propaganda in print. Meanwhile on SkyNews Australia, a chorus of gossip and threats about the "horror" of a Labor victory was at least partially led by Peta Credlin.
A star of SkyNews's nightly tilt to the Very Far Right, Credlin is arguably best-known for her equally self-dramatising assaults on much-needed carbon pricing, an assault shamelessly and successfully renamed by Credlin and Tony Abbott as a "carbon tax". What that cynical play for power has cost this nation and planet is immeasurable. But there can be no doubting that the price paid by those already suffering climate disasters in our nation and region is already severe, if not deadly.
In 2017, Credlin admitted that she and Abbott knew that pricing carbon was a policy, not a "tax".  To quote from an article published on 17 February, 2017 by SBS News:
'Peta Credlin admits the climate change policy under Julia Gillard's Labor government was never a carbon tax, but the coalition used that label to stir up brutal retail politics. (My italics.)

'Credlin, the former chief of staff to Tony Abbott when he was prime minister and now a political commentator for Sky News, said the coalition made it a "carbon tax" and a fight about the hip pocket rather than the environment.

'"That was brutal retail politics, and it took Abbott six months to cut through and when he did cut through Gillard was gone," she told Sky News on Sunday.'
This guilt-less "confession" demonstrates that some in the Coalition parties have been practising "brutal", integrity-free politics for years. This is despicable power-seeking for its own sake, along with a wilful abandonment of the national good (in this instance, the global "good" also) and ending the climate action so sorely needed.
Bad enough? I'd say so. Especially given the near decade of climate inaction that followed. But whether this was Credlin's idea or Abbott's, the support they had for this was not just excused but cheered and amplified by far too many in the mainstream media, regardless of gender, and by the vast majority of their conservative colleagues, regardless of gender.
This same point needs making repeatedly. The numbers of women, "minorities" or millennials active in status quo conservative parties (or their complicit media) will make little or no difference when those individuals' politics are not just "brutal" but ruthless. I lived through the early Thatcher years in Britain and lost any hope then that gender (or sexuality, race, social class) can, of itself, bring a heightened sense of insight and fairness. Quite evidently, after more than 50 years of Second Wave feminism, such hopes are not faint but dashed.
In the catastrophically dysfunctional Morrison Government, only Bridget Archer, the Liberal member for Bass, was willing to cross the floor of the Parliament in November 2021 in support of an integrity commission, while the far more senior and experienced Coalition women sat on their hands. Bridget Archer is also the sole Liberal to have supported the Morrison censure on 30 November. One woman. One person. Among how many?
We could also usefully look at so-called unaligned female politicians like Jacqui Lambie who, in December 2019, used her power in a "secret deal" with Morrison to end the extremely hard-won Medevac legislation that for the shortest time had allowed sick, suffering asylum seekers to be brought to Australia for treatment. The Coalition fought this as a pathologically perverse act of "principle" despite some confessing reservations in private, while entirely lacking the gumption to speak up in public even on a human rights question as serious as that was and is.
Back, finally, to the Victoria state election, and we see Renee Heath newly elected to the Upper House for the Eastern Region, despite belonging to an extremist Christian group led by her father and known for objecting with painfully little originality to gay, transgender and reproductive rights. This was enough to warrant investigation by Channel Nine's "60 Minutes" yet had raised little or no alarm in the Liberal Party pre-selection processes.
To his credit, then-Liberal leader Matthew Guy announced pre-election that while he could not dis-endorse Heath, he would not be allowing her into the Party room. Post-election, though, and post-Guy, that handy phrase "broad church" has again been evoked to weaken Guy's determination, even while Renee Heath's NSW counterpart, Katherine Deves, is berating Victorian voter via Twitter for re-electing Andrews and supporting a "socialist utopia".
It has become questionable whether the Liberal Party (or the Nationals with their Jacinta Price-led race to silence the Voice that's yet to be heard) have any credible place in 21st-century politics. Certainly, as John Hewson makes clear here each week, a bracing investigation is needed of whose interests they are prepared to rally for and why, and what the continuing consequences of that will be.
A profound ideological shift requires not "just" more women, minorities, millennials. It demands a profoundly rigorous exploration of what "representation" means and where it takes national not vested interests. Gender, class, sexuality, religion all inform how we interpret the world. No single factor, though, or even a combination of factors, fully determines how generously, or otherwise, a person will see their place in our world and how honestly they are prepared to question this.
Shulamith Firestone, author of the key 1970 radical feminist classic, The Dialectic of Sex, wrote that, "Feminists have to question not just all of Western culture, but the organisation of culture itself." Any version of political engagement that supports corporate greed over human life or planetary survival, that cheers the military-industrial complex, ignores the calculated impoverishment of millions while blaming those same people for their fate, that cheerfully incarcerates children and refugees, that exhibits no comprehension of the honour of living among the first of the world's First Nations, may well be best left to fade. Or rot.
A few more women here, a slightly richer range of cultural backgrounds there, and what would change? Colour, gender, a subdued tolerance for LGBTQI+ will gradually be true for some. But on the most fundamental matters of human dignity and decency for all, or unconditional protection of people and planet before profits, those "conservative" resistances to questioning "culture" will almost certainly remain the same.