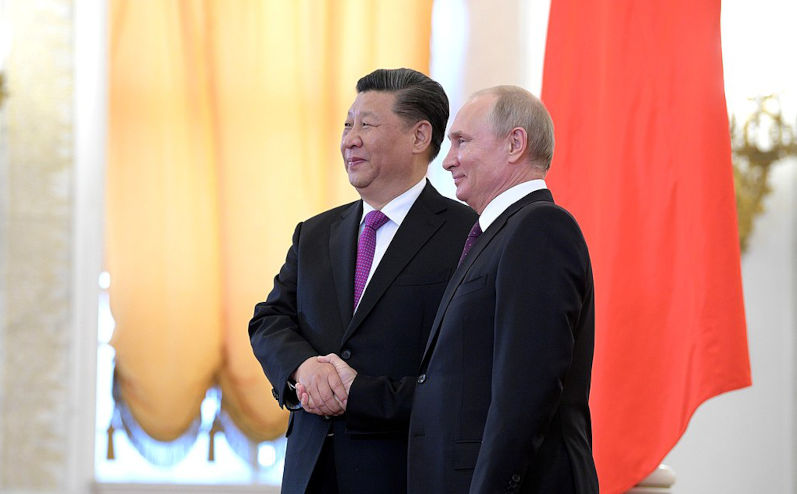 Leaders of China and Russia agree to expand cooperation in areas such as trade and agriculture, but no mention of armed forces.
The powers insist their partnership is not an alliance, suggesting their collaboration will 'stay short of joint military operations', security expert says
In their first face-to-face meeting since Russia invaded Ukraine, Chinese President Xi Jinping and Russian President Vladimir Putin pledged to support each other on "issues concerning their respective core interests", but analysts say the chance of the two powers defending each other militarily remains unlikely.
Putin addressed his Chinese counterpart as "Comrade Xi Jinping, my dear friend" during their reunion on Thursday, while Xi reciprocated by calling Putin his "old friend", according to the Kremlin's readout.
The two agreed on expanding "pragmatic cooperation", including in trade, agriculture and connectivity, but left out military cooperation, with Putin acknowledging Beijing's "questions and concerns" about the Ukraine crisis.
"China is ready to work with Russia in extending strong support to each other on issues concerning their respective core interests," Xi was quoted by state news agency Xinhua as saying, without referring to Ukraine.
According to S. Mahmud Ali, associate fellow at the University of Malaya's Institute of China Studies, China has historically described matters of territorial integrity and jurisdictional claims as "core interests", but Russia has not used this particular phrasing.
"It can be surmised that both states consider certain aspects of vital national interests as 'core interests' which effectively define their strategic 'red lines', whose violation by third parties – in this case, the United States – would not be countenanced and would be counteracted," said Ali.
Ali said China and Russia perceived "fundamental threats to their national interests and respective sovereign agency" within a unipolar system, leading them to deepen ties "in a defensive dyad". He added that China had developed a "grand strategic vision" of a multipolar world, which was "utterly different" from that of the United States.
Before the Ukraine crisis, China and Russia said their relationship had "no limits". Chinese ambassador to the United States Qin Gang later clarified that Beijing was not interested in a confrontation and that China and Russia were "not an alliance".
"Since they insist their partnership is not an alliance, the message seems to be that collaboration will stay short of joint military operations," Ali said, adding that honouring each other's "core interests" could take various forms, including diplomatic and economic interactions.
China, alongside India, recently took part in the Vostok 2022 military drill in Russia's Far East, where more than 50,000 military personnel engaged in combat training.
Observers noted that many Russian politicians, including Putin himself, had strongly condemned US House Speaker Nancy Pelosi's visit to Taiwan, while reiterating their support for the one-China principle, whereas Beijing had maintained a neutral position on the Ukraine crisis.
But to compare instability in the Taiwan Strait with the Ukraine crisis is "inappropriate", according to Xu Qinduo, a senior analyst at the Pangoal Institute, a public policy think tank in China.
Xu said Moscow's verbal support for Beijing on Taiwan was an example of the "moral support, political endorsement and diplomatic alignment" that were often observed between the two countries.
Similarly, Beijing's understanding of Russian concerns about Nato expansion did not equate to an endorsement of its military actions, Xu said.
A Chinese readout of the meeting also did not mention Ukraine. But in his opening speech, Putin said the Kremlin appreciated "our Chinese friends' balanced position in connection with the Ukraine crisis".
"While 'core interests' for Russia may imply national security vis-à-vis Nato's expansion to the Russian border, it's hard to imagine the two countries militarily defending each other, unless, maybe, their own territories are under attack," Xu said. "For one thing, they are nuclear powers and few countries would choose to risk a war of complete destruction."
Discussing Ukraine behind closed doors was a possibility, but it was unlikely China would participate in a Nato-style alliance in which "an attack on one member is an attack on all", he said.
"If China builds an alliance with a country, there must be a target. But no country is regarded as a rival or enemy by China, which seeks to integrate relations with other nations and engage in win-win cooperation … China is against a return of the Cold War, and it doesn't seek an alliance with Russia."
Cyril Ip joined the Post in 2021 after graduating from the University of Bristol with a degree in Sociology, specialising in post colonialism. He wrote opinions for Young Post between 2016 and 2020 and has interned at the Trade Development Council and the New People's Party.
First published in the South China Morning Post 16 Sep, 2022