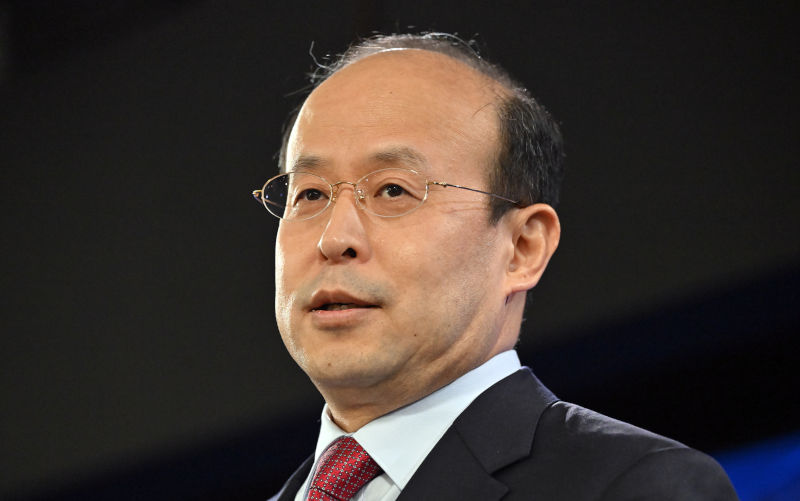 The recent bilateral meeting between President Xi and Prime Minister Albanese on the sidelines of the G20 Summit in Bali has charted the course for the future development of the China-Australia relationship.
Excellency Madame Fu Ying, Excellency Dr Stephen Fitzgerald, Excellency Ambassador Graham Fletcher, Mr Iain Watt, Professor James Laurenceson, and other participants either in China or in Australia, ladies and gentlemen, good afternoon to you all.
It is indeed my great honour to be with both former and current ambassadors. China's ambassadors to Australia, Australia's ambassadors to China. I'd like to thank UTS ACRI and Professor Laurenceson for organising the event today. We're just about to celebrate December 21st, the exact day that diplomatic relations were established between our countries. The event today is significant and meaningful, and very timely as well. And I thank Madame Fu Ying especially for taking your time to attend.
Madame Fu is a senior diplomat and a seasoned parliamentarian who I respect. I used to work under her leadership for a number of years. As Chinese Ambassador to Australia from 2003 to 2006 Madame Fu made tremendous contributions to the friendly relations and cooperation between our two countries. And she has indeed set an example, a good example, on how to be a good ambassador.
This year marks the 50th anniversary of the establishment of diplomatic relations between our two countries. And when we look back, the history of our relationship has fully demonstrated that the nature of the relationship is one of mutual benefit and of win-win. China and Australia, we are different in many respects. We are different in our histories, political system, ideology, culture, religion – you name it. But there are so many areas that we have in common. Where we share common ground. There are so many areas in which China and Australia have been cooperating to the benefits of both sides. So, all in all, when I look back at the 50 years into the past, generally speaking, it's been a very successful story of friendship and of constructive cooperation.
In the past few years, unfortunately, this relationship encountered some difficulties. And we might have different views about why it happened, how it happened. But there is one thing that we all agree to. That is, the difficult relationship was not something that we would like to see. It's not in the interests of our two countries. It's not in the interests of either of our two countries.
When the Labor government came to power in May, of course it was a domestic affair in this country. But it offered us – for both sides – an opportunity for us to reset the relationship. And with joint effort from both sides, we have got off to a good start. Through high level exchanges, through the messages between the Chinese Premier and Prime Minister Albanese, through the face-to-face meetings between Defence Ministers and Foreign Ministers, some important consensuses that have guided the relationship for the last five decades have been reconfirmed.
These are not new consensuses. They were there, but they are important. Both sides agreed to continue to develop our comprehensive strategic partnership. We agreed to move forward with constructive cooperation. We agreed to properly handle our differences. And we agreed to jointly celebrate the 50th anniversary of our diplomatic relations.
The recent bilateral meeting between President Xi and Prime Minister Albanese on the sidelines of the G20 Summit in Bali was very successful. It was positive, it was constructive, and productive. And it has basically charted the course, the direction, for the future development of our relationship.
Looking ahead, the Chinese side is ready to make joint efforts with the Australian side to take the 50th anniversary of diplomatic relations as a good opportunity to improve, to uphold and to develop the China-Australia relationship. In a spirit of mutual respect and mutual benefit. This is in the fundamental interest of our two countries and our two peoples.
Currently, we are now working on the follow up of the bilateral meeting between the two leaders. We are now comparing notes with our colleagues in DFAT and through our diplomatic channels – those in Canberra and in Beijing – to gain an idea of where we can continue to cooperate, where are the differences, what are the concerns from both sides, and how we can find solutions to address those concerns.
And we are ready to, together with the Australian side, to bring the relationship back on the right track.
And finally, I wish to express my appreciation as well of all the friends and colleagues from different walks of life, those in Australia and in China, for your long-standing support to the development of the China-Australia relationship. Thank you.
H.E. Ambassador Xiao Qian is the current Chinese ambassador to Australia, a post which he assumed in January 2022. Previously he served as Chinese ambassador to Indonesia (2017 – 2021), and before that, Chinese ambassador to Hungary (2012 – 2015).
An edited transcript of a speech delivered 7 December 2022 at ACRI '50 years of Australia-China relations: Views from the envoys-webinar'.