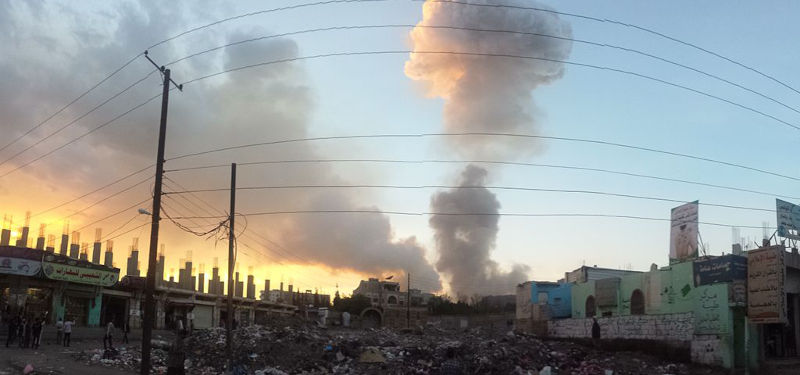 The Saudi-led coalition and its allies on the ground have been accused of systematically targeting Yemen's cultural heritage through indiscriminate strikes and looting campaigns.
First published by The Cradle News Desk February 20, 2023
The head of Yemen's General Authority for Antiquities, Manuscripts, and Museums, Dr. Obbad bin Ali Al-Hayyal, visited several historical and archeological sites in the provinces of Marib and Jawf on 18 February to assess the damages caused to them by the Saudi-led coalition airstrikes, SABA news agency reported.
Hayyal and his team visited the ancient city of Baraqish in Marib's Mazjar district, the Rusf Temple in Al-Jawf, and several other archeological sites.
According to SABA, they received briefings from local authorities on the damages to ancient columns, inscriptions, and structures due to "Saudi and Emirati warplanes," as well as the "looting and theft" of antiquities and artifacts by coalition forces from museums across the country.
During the visit, Hayyal stressed the importance of "integrating official and popular efforts" to protect these sites from 'vandalism and looting.'
Since the start of the Saudi-led war against Yemen in 2015, coalition airstrikes have posed a significant threat to the country's archeological sites and historical monuments.
In May 2015, coalition airstrikes struck the ancient Sabaean ruins of the Great Marib Dam, which date back to the seventh century BC.
That year, the Saudi-led coalition bombarded the ruins of the ancient city of Baraqish, several ancient temples, and an entire museum filled with countless precious artifacts – which was "reduced to piles of shattered stone," according to a 2015 report by US media outlet The Intercept.
The Saudi-led bombing also decimated sections of the capital Sanaa's Old City, which is listed as a UNESCO World Heritage site and dates back 2,500 years.
Several ancient buildings and structures have since collapsed from weakened foundations. Until October 2019, over 237 archeological sites had been directly targeted by the coalition in what has been described as a systematic campaign aimed at deliberately erasing Yemeni culture and history.
Aside from bombing, several ancient sites and museums have been looted and stripped of valuable artifacts by UAE-backed mercenary groups, whose ranks are filled with ISIS and Al-Qaeda militants.
In 2019, a member of Yemen's Supreme Political Council, Mohammad Ali al-Houthi, said about UAE-backed groups: "The mercenaries are antiquity thieves. Where did the antiquities of the Marib Museum go? … Where are the monuments from the rest of the museums in the occupied governorates? … The mercenaries are committing historical, social, and cultural crimes."
Saudi Arabia is well-known for its destruction of heritage, particularly within its borders, where many of the ancient cities, towns, and sites dating back to the birth of Islam have been wiped out as part of a campaign motivated by the kingdom's Wahhabi ideology.