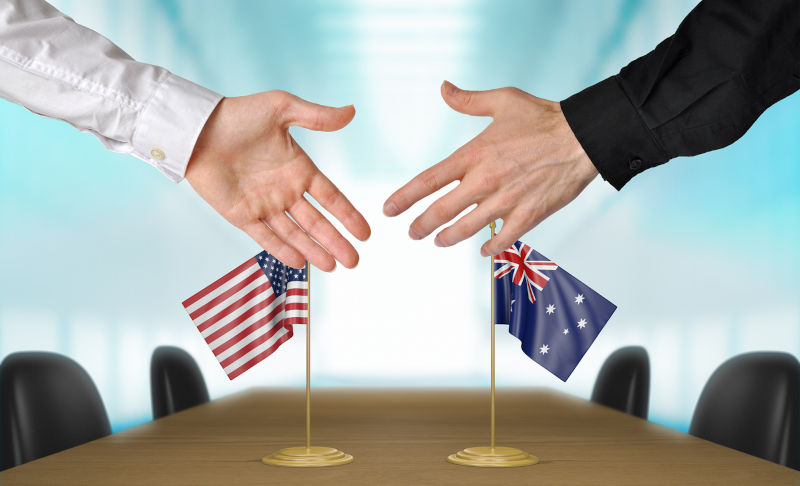 What is the Australian Strategic Policy Institute (ASPI), what are its sources of funding, and why does it so consistently advocate for positions favourable to the United States and the weapons industry? Follow the money trail.
Editor's note: Jocelyn Chey argued in Pearls and Irritations yesterday that hysteria over a supposed immediate China threat is being peddled by the Sydney Morning Herald and The Age in the first of a series of three reports titled Red Alert; a series which brings together five 'experts', none of them China experts, and including Peter Jennings, former head of ASPI. In this reposted article from 13 January 2023, John Queripel explores what ASPI's sources of funding are, exposes its close links to US weapons industries, and asks: whose interests does it serve?
Throwing something at the T.V. could become an expensive habit. Yet how often I feel like it, especially so with the increasing referral in just about any story to do with defence, Australian policy, and China to the 'experts from the Australian Strategic Policy Institute (ASPI).' The turning to them on these stories has become, it seems automatic, especially from our public broadcasters, the ABC and SBS.
But what is ASPI, and what are its sources of funding?
ASPI, established by the Australian Government in 2001, employs 64 people (June 2020) and has its headquarters in Canberra and a second office in Washington.
ASPI describes itself as, 'an independent, non-partisan think tank that produces expert and timely advice for Australia's strategic and defence leaders.' But just how independent?
An old maxim is when you want to know what interests are being served, follow the money trail.
ASPI's website shows their 2020-21 funding as follows:
Department of Defence $4,000,000 (described as core funding)
Federal Government Agencies $2,620,978.73
Overseas Government Agencies $1,955,782.25
Private Sector Funding $737,362.30
State and Territory Governments $445,000
Defence Industries $316,636
Civil Society and Universities $89,600.76
Other $514,474
ASPI's listed sponsors also include some of the world's largest armament manufacturers, Lockheed Martin, SAAB and Thales.
More detail can be found through the Australian Government Transparency Portal (AGTP).
That portal shows Boeing (Australia, NZ and South Pacific) Boeing Australia Holdings, and Naval Group Australia also being sponsors, and details funding received by ASPI as follows:
U.S. State Department $762,559.52
U.S. Department of Defence $201,136.68
U.S. Embassy Canberra $400,576.76 (China Defence Universities Tracker)
UK Foreign and Commonwealth Office $437,026.04
Lockheed Martin $25,000
Naval Group Australia $100,000
Northrop Grumman $67,500
Rafael $20,000
Raytheon $19,090.91
SAAB Australia $25,000
Thales Australia $113,334
Two foreign governments, those of the U.S. in particular, but also the U.K., have significant financial inputs into ASPI. ASPI also has extensive links with arms manufacturers, of which just a few are listed on its own site.
Given the advocacy of ASPI and the figures for arms manufacturers contributions, I would judge, they are clearly getting excellent value for money.
Integral to ASPI's work is its International Cyber Policy Centre (ICPC), designed to 'inform and influence policy debates in the Indo-Pacific.' The centre has nine listed projects, five of them centred on China.
The first project listed, 'Understanding Global Disinformation and Information Operations' unsurprisingly finds the vast majority of misinformation is found to emanate from China and Russia. Of Western nations only Spain is mentioned, responsible for a trickle of disinformation. Nothing is mentioned of any U.S. disinformation campaigns, though such are well documented by Stanford University and others.
The next two projects. 'The Xinjiang Data Project' and 'a 3D satellite Deep Dive into the India-China Border,' are very much centred on satellite technology, which supposedly was able to show 380 'internment camps,' containing 'hundreds of thousands' of 'forced labourers'. Many of these 'camps' have since been shown to be schools, with clearly identifiable sports ovals, apartment blocks, and even a 5 star hotel.
Another project centred on China is the 'China Defence Universities Tracker' Research carried out by ASPI led to the Australian Research Council naming 32 academics suspected of Chinese defence ties. The Council later was forced to admit that 30 of 32 academics were cleared of any national security issues. Former Foreign Minister, Bob Carr has dammed ASPI for using funds from the US State Department, to track Australian universities with Chinese research collaborations, and 'vilifying and denigrating Australian researchers and their work.'
Again it is good to follow the money trail. The AGTP shows ICPC funding from:
Google Australia Pty Ltd. $75,000
Microsoft Pty Ltd $158,272.74
Twitter Inc $147,319.23
Amazon Web Services Australia Pty Ltd $125,000
Facebook Australia Pty Ltd $100,000
Of course each of these corporations, headquartered in the U.S., would gain handsomely if their Chinese competitors were blocked from entering the Australian market.
It is little surprise then that given its funding sources ASPI concludes:
"a more assertive China with rapidly growing military strength means a direct threat to Australian interests could develop with little notice. … The key problem is that most of Canberra wants to avoid a difficult conversation about China … The endlessly repeated talking point is that Beijing must cleave to the 'international rule of law', but … this hope is a dead parrot if ever there was one. Does anyone see a flaw in this strategy?"
Of course the question is rhetorical. ASPI is advocating for Australia to become part of a U.S. policy to constrain China. There is no attempt to understand China as a rising world power, with increased interests to protect, and surrounded by a curtain of U.S. military bases.
ASPI has developed a 'Northern Australia Strategic Policy Centre' through which it calls for, "developing a modernised way of thinking about the north and security by updating strategic frameworks that remain anchored in the 1980s 'defence of Australia' context.'" ASPI's intent is for Australia to shape its 'defence' needs in line with U.S. aggression towards China.
As Bob Carr asserts, ASPI provides a 'one-sided, pro-American view of the world.' Such calls for Australia to be part of an aggressive U.S. led policy set to contain China places Australia at odds with its Asian neighbours. It orients Australian defence policy away from its prime goal, defence of Australia, and risks further damaging our economic relations with by far our largest partner. It hearkens back to an Anglo-centric world, long extinct.
ASPI, driven by the interests of its core funders, is anything but an independent source for advice.
Will ABC and SBS journalists begin to question their source?
A repost from January 13, 2023