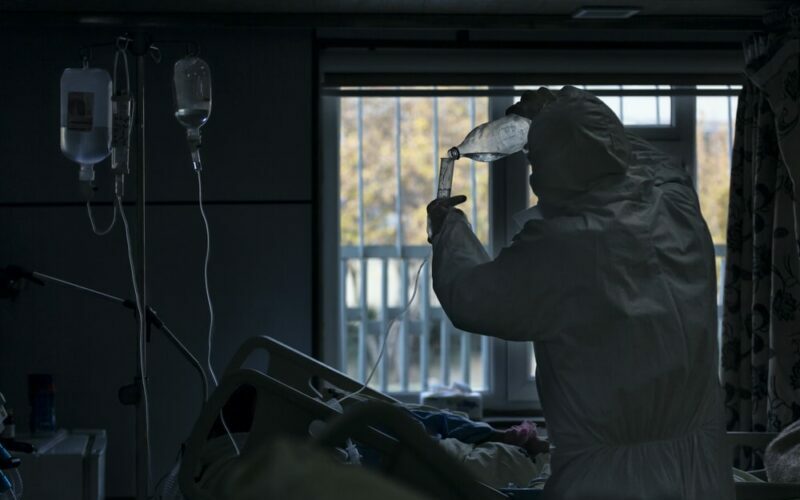 The attempts to discover the truth about the origins of the pandemic have been undermined by secrecy, vested interests, suspicion, accusations and politics.
The report from US President Joe Biden's nine-month investigation of COVID-19 came out in the same week as Prime Minister Scott Morrison awarded his Science Prize to a Sydney researcher who identified the genome. But very few of us know the origins of the pandemic.
The genetic sequence of SARS-CoV-2 was known in China by January 1 last year at least but was not published there until January 11. A day earlier, Professor Edward Holmes of Sydney University uploaded the genome to a "virus chat" website, making this the first public release of the sequence.
Holmes had been in close contact with a Shanghai colleague, Professor Zhang Yong-Zhen of Fudan University, where Holmes has an honorary professorship. Both had experience with HIV and SARS-CoV-1, and Holmes had worked on hepatitis C, dengue, Zika and Ebola as well. They shared a conviction that "virtually every human virus comes from an animal reservoir somewhere", Holmes told the ABC.
They knew from experience that it is common for coronaviruses to jump between species. They were predisposed to consider a Wuhan wet market as the source of the virus, as were other Australian scientists, including some at the Doherty Institute. For most of 2020 this explanation dominated Australian policymaking and public reporting. With US backing, Foreign Minister Marise Payne called for an independent international inquiry into the origins of the pandemic, which infuriated China and led to costly reprisals against Australia.
The World Health Organization (WHO) is the appropriate body to investigate a pandemic, or it would be if the nations that resource it had not politicised it. Donald Trump as US president took the US out of the WHO, leaving it dependent for much of its funding on China. Biden resumed American support for the agency, but while the world waited for another WHO inquiry he asked 17 US agencies to investigate the source of COVID-19.
Not surprisingly they focused on China but their results were inconclusive. Declassified and released on October 29 this year, the final report was published by the Office of the Director of National Intelligence, an umbrella agency for government intelligence services including the CIA, FBI, four Cabinet agencies and the intelligence arms of the military services. Several sat on the fence, perhaps knowing more than they cared to reveal, even to each other.
Vested media interests quickly imposed their own interpretations. The report "effectively demolishes the lab-leak theory", according to a Los Angeles Times report by Michael Hiltzik. The proposition that the virus was created in and escaped from a laboratory, Hiltzik scornfully wrote, was "kept on life support by partisan propagandists, abetted by amateurs posting on social media and credulous journalists reluctant to relinquish their story".
The journalists he had in mind would include Nicholas Wade in the Bulletin of the Atomic Scientists, Katherine Eban in Vanity Fair, and Sharri Markson in The Australian. Markson has done copious and well-funded research for more than 18 months, arguing that the origins of the virus were in China, where symptoms were found as early as November 2019 among workers at the Wuhan Institute of Virology (WIV). In numerous articles and in her book What Really Happened in Wuhan, she proposes that US agencies and international bodies have information about SARS-CoV-2 which should be released.
Sceptical about the Biden inquiry's results, Markson briefed a US congressional committee in early November and recommended that subpoenas be issued for material held by US agencies which for years had funded the WIV and continued to finance coronavirus research elsewhere in China. Congresswoman Cathy McMorris Rodrigues called for bipartisan support for further investigation of what she called a cover-up between US health agencies and their Chinese counterparts.
While inquiries multiply, what do we know? There are three possible explanations for the pandemic that continues to cripple the world economically, socially and politically. Possibly, SARS-CoV-2 originated in nature and jumped to humans, as others have done, but this doesn't explain its unique features or the absence of an intermediate vector. Or it was manipulated in a Chinese laboratory with gain of function (GOF) to enable it particularly to infect humans, and accidentally released. Or it was a pathogen manipulated as a biological weapon and released in some other way.
The "natural origin" theory is now widely challenged by independent scientists and researchers, whose work has exposed several virologists with vested interests in perpetuating it. What we don't know is who did the GOF work, where, and who released the pathogen.
While the present onus of proof is on China, US laboratories and government agencies have been working on "ethnic bioweapons" for decades. In 2018, 25 US laboratories were reported to be participants in a $2.1 billion program ostensibly to develop antigens for Russian biological weapons, but possibly creating pathogens themselves (Max Parry, Global Research June 2021). Chris Ford, who in January 2021 headed arms control and international security in the State Department, admitted to Markson that "the US Army has been deeply involved in virus research in the United States for many years".
Markson's privileged access to then US secretary of state Mike Pompeo and the State Department may have been for their anti-China setup. But other Americans were more candid, like a senior scientist in the US Army's bioweapons program, who said that although they knew the Chinese had been working on GOF viruses, so had Americans: "We've been doing it for decades so don't fool yourself that COVID-19 had to be zoonosis [transmission from animals to humans]."
If Americans knew what was happening in China before September 2019, as a Republican congressional report now claims, and in the US earlier, they aren't saying. Do we want more lies and further pandemics, or do we need the whole truth about this one?